Kim Kardashian's Make-Up Leaves A Stain On The White Wall Amid Her Brawl With Sister Kourtney; Fans Cannot Stop Laughing-WATCH
Kim Kardashian unleashed her fury on her sister Kourtney Kardashian and fans could not stop giggling as some noticed that the SKIMS founder's make-up left a stain on the wall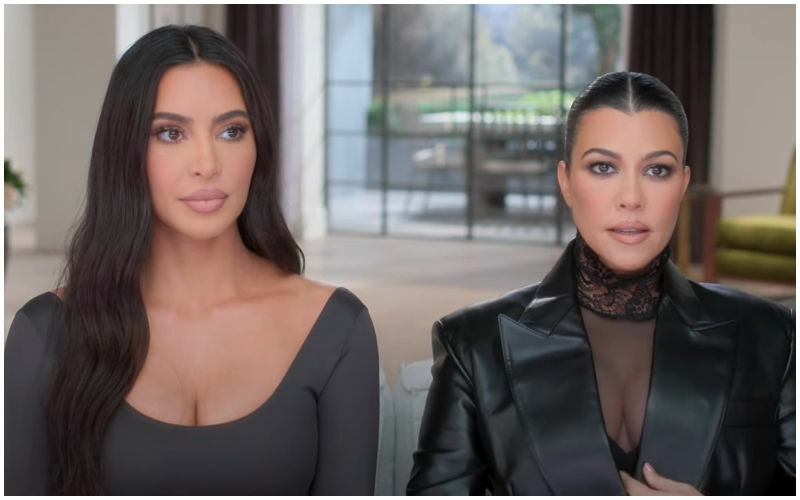 Kim Kardashian and Kourtney Kardashian have been decorating the headlines for quite some time now, and their brawls have gotten a bit too intense even for the fans. Now, a new video of Kim unleashing her fury and hitting her sister Kourtney with all her might has surfaced on social media. However, fans could not stop giggling as some noticed that the SKIMS founder's make-up left a stain on the wall.

Kourtney and Kim, the daughters of Kris Jenner and the late Robert Kardashian shot to fame following their reality show Keeping Up With The Kardashians. The show also featured their sisters Khloé Kardashian, Kendall, and Kylie Jenner.
Speaking of the viral video, the events conspired after Kourtney Kardashian confessed that she was done filming and did not want to do it anymore. The reality TV star claimed that the channel did not pay for one of her trips.
Reacting to the same, Kim Kardashian pointed out that their mother is used to seeing her and Khloé work rigorously. However, SKNN founder's comments did not go well with Kourtney and she said that if she wanted to be a stay-at-home mother, it would be fine.
Kourtney began the brawl and started hitting Kim. Well, the fashion mogul was nowhere behind, and she attempted to slap her elder sister. As she hit the wall on her side, she left some of her body makeup on it.
Well, guess what? Netizens noticed the stain on the wall, and it has prompted a memefest on social media.
Many rushed to the comments section and trolled Kim. One user wrote, "Kim body makeup left a stain on Khloe's wall." One also wrote, "Bro, the more I watch it, the funnier these Barbie dolls get."
One also wrote, "The makeup mark on the wall."
Another Instagram user wrote, "Grown f**king women," while one more penned, "First time I saw a battle where plastic fights plastic."
Kourtney Kardashian, in her birthday wish for Kim, recently revealed that these fights were nothing compared to how she and her little sister used to fight in high school.
She wrote, "Thank you for all those years of bossing you around and you actually listening to all of my crazy ideas. People think the fights they've seen on TV are bad if only they got to witness the hair-pulling, nail-digging ones from early high school."
Image Source: Instagram