Kourtney Kardashian Brutally SLAMMED For Allowing Daughter Penelope, 10, To Post 'INAPPROPRIATE' TikTok With Cousin North West!
Kardashian fans claimed that Penelope replicated the gestures of older people as she 'somewhat posed seductively' in the new TikTok video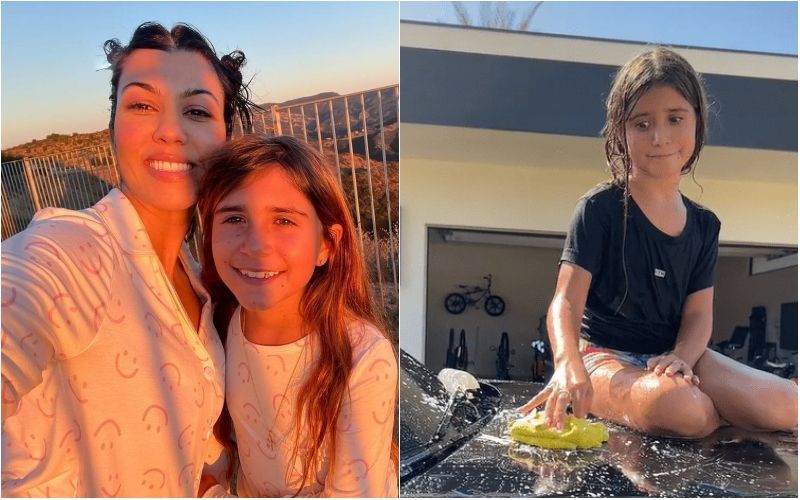 Kourtney Kardashian has once again come onto the radar and she was brutally slammed for allowing her daughter Penelope, 10, to post an inappropriate TikTok video with her cousin North West.

For the unversed, unlike most of the kids, the 10-year-old Penelope is quite an avid TikTok user. However, her action did not seem like those of the kids! Several fans and followers were left unhappy as she posted a video of herself wherein she can be seen donning a black T-shirt and shorts leaving the garage at the begging of the short clip.
Soon, Penelope's 9-year-old cousin, North who attended her spa sleepover party was seen carrying a bucket of water as the 10-year-old began lip-synching to Ellie Goulding's song 'Lights'.
North began fiddling with the hose and shooting water into the air while her cousin continued to apply soap to the car, reported Meaw. The caption of the TikTok video read: "Car wash."
Taking the video into account, the fans of Kardashians claimed that Penelope replicated the gestures of older people as she 'somewhat posed seductively'.
Shortly after the video went viral, many condemned Penelope's mother in the comments.
"This situation gave me a whole new perspective on children on the internet and how unsafe it can be," one fan said. "I wish Kourtney would just be hyper-aware and overly cautious about it," said another concerned fan.
One fan stated: "I think it's inappropriate because North's father has said several times that he doesn't want her on TikTok. So Kourtney shouldn't put her on there. I don't care what they were doing."
"Penelope is too young to be doing social media," said a Kardashian fan while another added: "My only takeaway is Penelope's account shouldn't be public. Social media is toxic in so many ways and Kourtney knows that."
Recently, Kourtney shared pictures of her celebrating her daughter's 10th birthday at a pool party on her Instagram.
Image Source: Instagram/TikTok