Jennifer Lopez LEGALLY Changes Her Name To 'Affleck' After Her Vegas Wedding With Ben Affleck-READ BELOW!
Ben Affleck and Jennifer Lopez first got engaged back in 2002 and they parted ways in 2004; they rekindled their love in 2021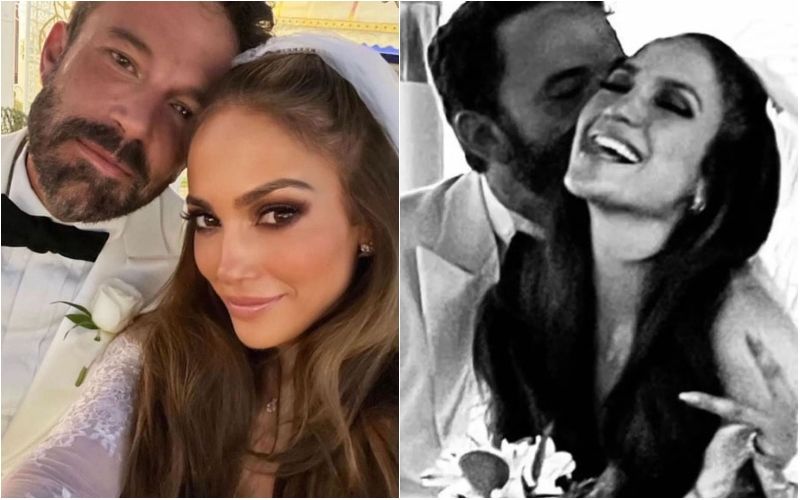 Jennifer Lopez and Ben Affleck are officially husband and wife. Interestingly, JLo has even adopted her new husband's surname as well.

The twice-engaged couple formally got married on a late-night Saturday at the 'A Little White Wedding' Chapel in Las Vegas, Nevada. Over the weeked, the singer-actor took to the Instagram handle to share a special picture of herself from the bed glowing and smiling after tying the knot with actor Ben Affleck in a Vegas drive-in.
As reported earlier, the latest court records show the couple used their legal names, Benjamin Geza Affleck and Jennifer Lynn Lopez for the official document. However, in the 'new name' section, Jennifer Lopez was listed - she will now be legally known as Jennifer Lynn Affleck.
Jennifer, in her latest newsletter, confirmed her marriage with Ben. But, in an email to her followers, JLo who is now known as JFleck wrote: "Love is beautiful. Love is kind. And it turns out love is patient. Twenty years patient."
She added: "Stick around long enough and maybe you'll find the best moment of your life in a drive-through in Las Vegas at 12:30 in the morning in the tunnel of love drive-through with your kids and the one you'll spend forever with."
Interestingly, her white wedding dress was reportedly from an 'old movie' while Affleck's white jacket was from his 'closet'. Meanwhile, their ceremony was something JLo had 'dreamed of long ago'.
She even revealed that they stood in line for their marriage license with four other couples at the Little White Chapel. "They were right when they said, 'all you need is love'," she wrote in her blog post.
"We are so grateful to have that in abundance, a new wonderful family of five amazing children, and a life that we have never had more reason to look forward to."
Earlier, Ben and Jennifer first got engaged back in 2002 after starring together in the film Gigli. Fans couldn't stop crushing over them and they quickly tagged the couple as 'Bennifer', however, this intense media pressure would see them call off their engagement in 2004 and they parted ways.
The former couple rekindled their romance in 2021 and got engaged earlier this year. Lopez revealed on her website how Affleck popped the question to her.
Taking to her blog post, she revealed: "Saturday night while at my favourite 3place on earth (in the bubble bath), my beautiful love got on one knee and proposed."
She further added: "[I] just looked in his eyes smiling and crying at the same time trying hard to get my head around the fact that after 20 years this was happening all over again...I was quite literally speechless and he said, 'Is that a yes?' I said, 'YES of course that's a YES.'"
Jennifer explained how neither she nor Ben thought they would have ever gotten back together again.
Image Source: Instagram