Kylie Jenner Gets Trolled For Attaching Lion's Head To Her B**bs At Paris Fashion Week 2023! Internet Says 'This Collection Is Just Horrendous'
Kylie stunned everyone on Monday (IST) as she attended the Schiaparelli Haute Couture show in Paris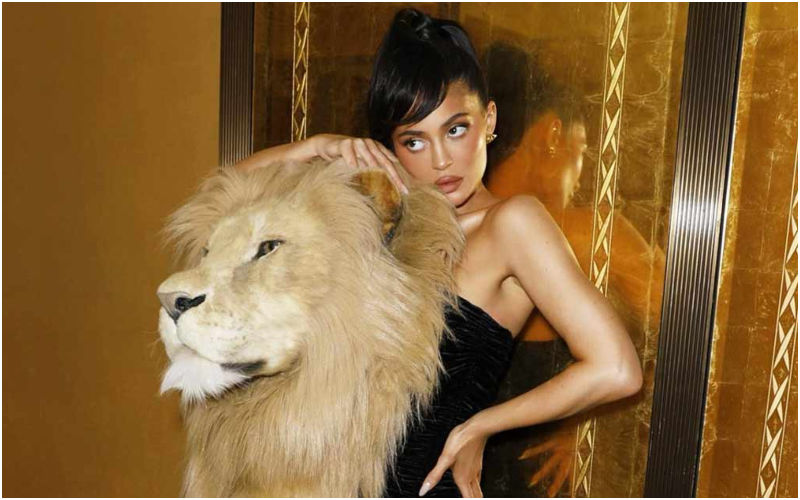 Fashion is vaguely an ambiguous term which differs from person to person. Apparently, nothing beats Kylie Jenner's latest Paris Fashion Week look. The mom of two slayed at the PFW with her avant-garde looks created by Daniel Roseberry and reminiscent of founder Elsa Schiaparelli's designs.

Well, the Paris Couture Week certainly received a wild start as heritage couture house Schiaparelli showcased their Haute Couture Spring-Summer 2023 collection.
For the show, Kylie chose a black dress attached with a faux 3D lion head, while Doja made a stunning entrance in a red ensemble with her entire face and body painted red and decorated with crystals.
Kylie stunned everyone on Monday (IST) as she attended the Schiaparelli Haute Couture show in Paris. The sensual diva made heads turn at the event in an ensemble that clearly stole the show. The supermodel chose a ruched black velvet maxi dress completed with an unlikely accessory - a giant 3D lion head. The faux art creation was attached like a corsage and covered most of her torso. She channelled her jungle fury with golden toe-capped heels, a golden snakeskin bag, and gold earrings.
The designer shared a video of Jenner from the show via Instagram, and wrote, "Leo Couture. Embroidered Lion in hand sculpted foam, wool and silk faux fur, and hand painted to look as life-like as possible, celebrating the glory of the natural world. Nothing is as it appears to be in Schiaparellis Inferno Couture…" They added, "NO ANIMALS WERE HARMED IN MAKING THIS LOOK."
As obvious, Kylie's look at PFW garnered mixed reactions from the fans. One user wrote, "What is wrong with you fashion people, lately?" Another added, "Even though it is not real, its ridiculous😂🤦‍♀️" A third commented, "rip aslan from lion witch and the wardrobe" One more noted, "I've been loving every single design from every single if your collection… but this collection is just horrendous. I can't believe you would stoop this low. It's tacky and disgusting" Some more, commenting on Kylie's look added, "Shame on you, this is so fucking wrong," "No animals harmed but wool and silk? Really?" "Hell to the NO!"
The fashion event also saw the attendance of Ruth Wilson, Diane Kruger, and Balmain creative director Olivier Rousteing, among others.
Image Source: Instagram