Kylie Jenner Goes BRALESS! Flaunts Her Cleavage As She Channels Her Inner Catwoman While Announcing Her Collaboration With Batman-READ BELOW!
Kylie Jenner has once again brightened up the Halloween season as she announced her collaboration with the Dark Knight, ahead of Halloween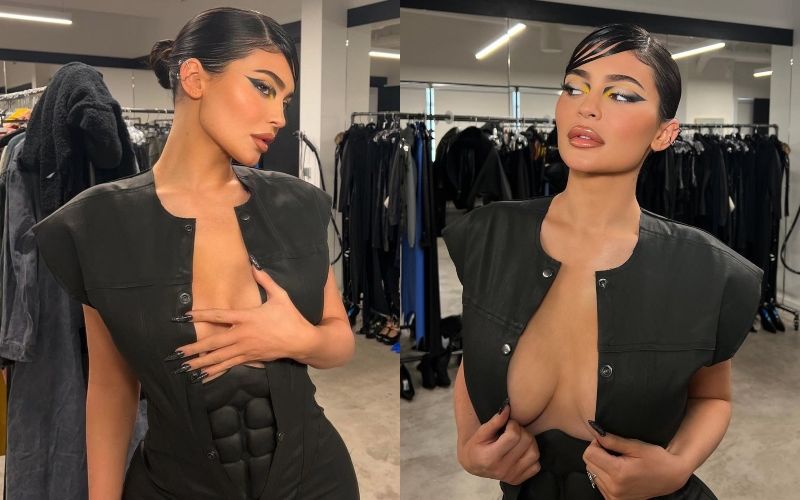 Kylie Jenner has once again impressed the internet as she announce her new make-up collaboration and she even shared a few pictures of her new look as a Catwoman.

Nevertheless, the world of makeup never ceases to amaze us, and there are always new techniques to be learnt and ideas to explore. Capitalizing on the same idea, supermodel and entrepreneur, Kylie Jenner who knows better than anyone how to cause a sensation just by applying cosmetics to her face, announced her collaboration with the Dark Knight, ahead of Halloween.
The mom of two is busy arranging real Halloween costumes, she has brought in the festive spirit by giving her fans a new makeup palette they can use to glam up their costumes for October 31st.
Jenner dropped the news on Instagram with a set of risqué pictures and videos of her showcasing the glitzy eyeshadow palette.
Well, even if you aren't interested in makeup, the packaging is definitely out of this world! And it is ought to grab your attention.
In her latest Instagram post, Jenner was seen posing with her slicked side bangs and a bun in an all-black outfit. The pictures even featured her showing off her incredibly gorgeous eye makeup featuring hues of yellow, white, cream and black.
Meanwhile, the second picture gives her followers a bold look at Jenner's cleavage, and she held open her shirt like she is transforming into her super suit. Kylie went braless while covering her falunting her cleavage and busty assets.

Her latest ensemble encompassed a full body shot revealing Jenner's look; a jumpsuit with a black, leather, bustier covering her stomach. The costume also featured fake abs on the waist trainer that teased Jenner is using her hand to cover up her exposed cleavage. She was even seen giving the camera a suggestive look while advertising a wingtip eye makeup design.
Kylie captioned her Instagram post: "batman x kylie coming 10.19 🦇 @kyliecosmetics" letting her 371 million followers know where and when they can pick up the new product in her Kylie cosmetics line.
Interestingly, it seems Kylie is now watching over Gotham and Calabasas. In of picture sits on prop buildings with Batman's logo reflecting behind her.
There is no question that the reality star is watching over Gotham, well in this case, Calabasas while in one photo, she sits on prop buildings with Batman's logo reflecting behind her. She is looking over the rest of the fake buildings but also clutching the opening in her jumpsuit for dear life because it looks like sitting down almost caused her to have a nip slip.
Image Source: Instagram