Machine Gun Kelly SMASHES Champagne Glass On Face After His Madison Square Park Gig; Here's Why! WARNING GRAPHIC IMAGES
Machine Gun Kelly was seen yelling at one of his fans from the audience and later smashed his guitar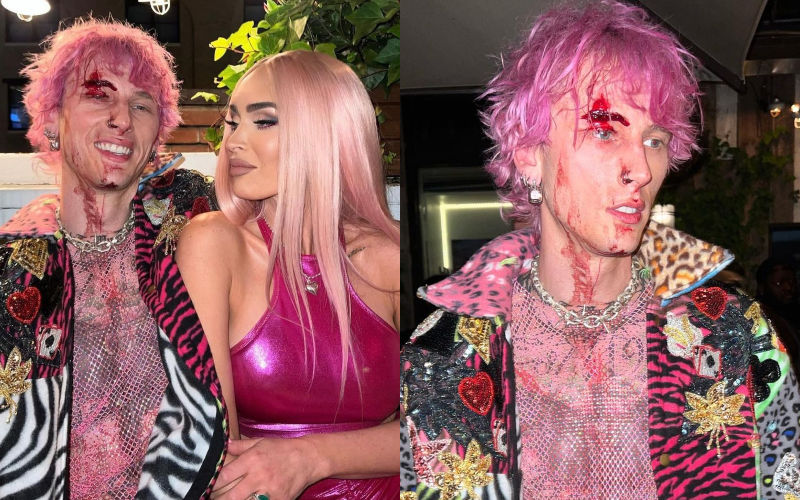 Popular music artist Machine Gun Kelly aka MGK lost his calm in the middle of his jam-packed show at Madison Square Garden on Tuesday, June 28. But, things turned bloody when he broke a glass on his forehead while performing at the party.

The American rapper was seen yelling at one of his fans from the audience and later smashed his guitar. Furthermore, he even smashed a champagne glass against his face with such a force that it shattered, causing the singer to bleed profusely from his forehead at Catch in New York City late Tuesday.
Later, a crew member caught hold of the 32-year-old artist when he was yelling from a short distance. However, the band continued playing regardless and MGK made his way back to the stage eventually.
The singer even shared the eye-brow-raising moment on his Instagram story. He even shared the pictures after the incident occurred.
As per Page Six report, Kelly also celebrated at Catch after performing at a sold out concert at Madison Square Garden.
However, the following day, he woke up and updated fans and followers via his Instagram Story. "I don't give a f–k, bro. I don't give a s–t," said the artist. The 'I Think I'm OK' artist performed his hit song 'My Ex's Best Friend' while he was still bleeding.
Later, during his appearance to the Seth Meyers' show, the Emo Girl rapper revealed why he broke the glass. Meyers recalled that during his previous visit on the show Kelly had injured his hand after performing at the VMAs, to which Kelly quipped in reply, "Yeah, I'm going to start having doctors around me every time I see Seth Meyers on my schedule."
While describing the eye popping moment at Madison Square Garden the artist revealed how he was feeling after the incident, the rapper said, "There are censors, right? I feel like s**t," per ET.
Meanwhile, he went on at the afterparty, Kelly simply explained, "You know when you clink a champagne glass with a fork to kind of [get people's attention]? Yeah, well, I didn't have a fork. So I just clinked it on my head." Meyers joked and added, "You know, in medicine, they call that 'asking for it,'" as Kelly burst out laughing. The rapper also chimed in the fun and continued, "Yeah, so I had a serious case of that last night."
Later on Wednesday, the rapper shared several snaps from the day of his gig via Instagram. He attached images of his injured face to the thread as he captioned the post, "NYC you're my bloody valentine."
Image Source: Instagram/meganfox_italy