Madonna's New 'Alien' Look SHOCKS Internet; Top Singer Flaunts Her Bleached Eyebrows And Braided Bright Pink Hair; Netizens Say 'She Needs To Get Serious Help'
Madonna seemingly went topless while capturing her image, and wrote 'Alien' over the image, however, her braided hairdo and bleached eyebrows caught everyone's attention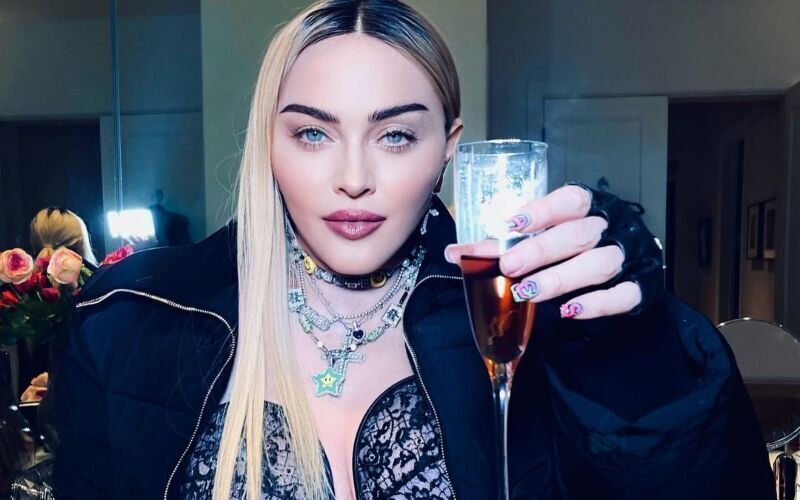 American singer-songwriter Madonna never fails to surprise her fans. The top singer is popularly known for her versatility in music production as well as her unique and bold fashion style.

Talking about her bold and contemporary fashion, Madonna recently debuted a new brand - 'Alien' look on her social media platforms. She posted a selfie on her Instagram story as she stared at the camera with her bleached eyebrows on Monday, September 5, 2022.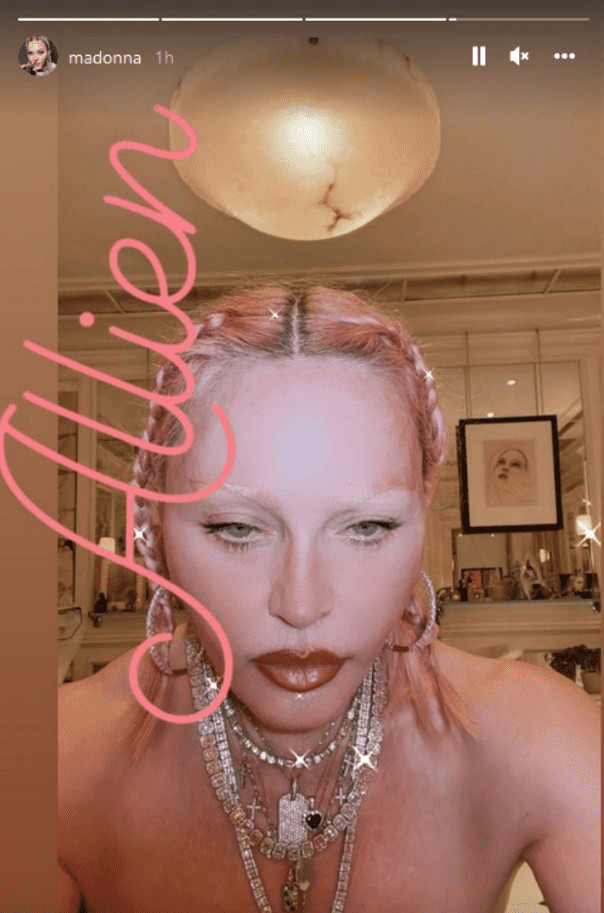 She seemingly went topless while capturing her image, and wrote 'Alien' over the image. Her braided hairdo was coloured pink, and she even sported red lipstick, a bunch of necklaces, and a pair of big hoop earrings.
Interestingly, prior to introducing her bleached eyebrows, the Michigan-born singer had dyed her hair bright pink. Shortly after celebrating her 64th birthday in August, the 'Vogue' hitmaker debuted her pink hair makeover on social media.
For her birthday, Madonna celebrated her 64th birthday in Itlay, and she apparently changed her hair colour during her latest vacation. During her time in Itlay, she shared several pictures from her birthday. Hence, going pink must have been a recent decision.
As a part of her birthday celebrations, the 'Like a Virgin' hitmaker put out a sensual display as she kissed two women in the back of a car in the controversial pictures and videos she shared on her birthday.
Interestingly, the Queen of pop passionately kissed the two glamorous women sitting on both sids of her in car. The post was a reminder of her on-stage kiss with Christina Aguilera and Britney Spears at the 2003 MTV Video Music Awards, reported Meaww.
However, social media fans believe that the singer should seek professional help owing to her latest posts. It is also being reported that her posts have received mixed reactions as many suggested that the star's youthful and smooth skin is highly photoshopped and pointed out that "Someone needs to help her get evaluated for dementia." One person said, "She needs to get serious help. fr."
One fan commented on the post, "I have prayed to that porcelain throne a many of times and never looked that fabulous doing it 👏." "OMGGG AGAIN PINK HAIR I LOVE ITTTT 😭😭😭😭😭😭," another one wrote.
"And do a massive amount of retouching after a huge amount of filler Madonna !! I'm so worried about you !! since 1980 I've been loving you supporting you I spired by you. I'm worried," one user commented on the Instagram post.
Image Source: Instagram