MeToo In Indian Wrestling: Olympian Wrestler Vinesh Phogat Accuses WFI President and BJP MP Brij Bhushan Sharan Singh Of Sexually Harassing Athletes-REPORTS
The protest at Jantar Mantar was held in the presence of the country's top wrestlers against the 'dictatorship' of the WFI President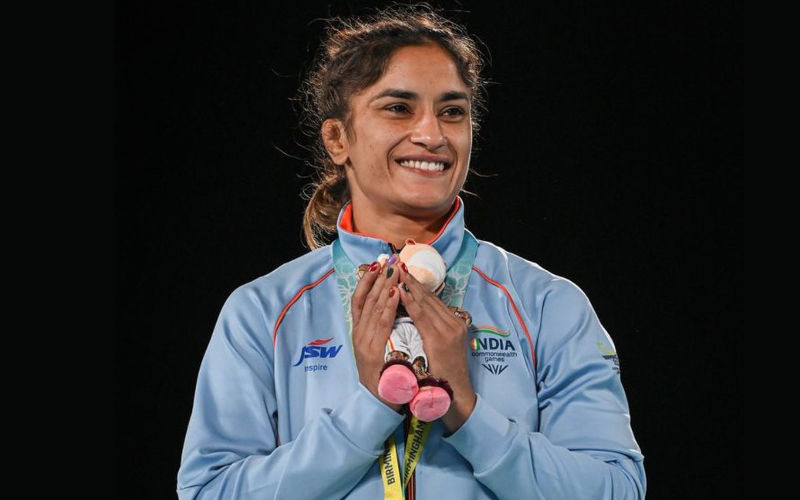 Professional wrestler Vinesh Phogat has come out with stirring allegations on Wednesday, January 18. She alleged that the Wrestling Federation of India (WFI) President and BJP MP Brij Bhushan Sharan Singh, has been sexually harassing women wrestlers for many years and she has also sought the intervention of Prime Minister Narandra Modi and Home Minister Amit Shah for his ouster.

The 28-year-old World Championship medallist and Olympian has also claimed that several coaches at the national camp in Lucknow have been involved in the harassment of the woman wrestlers. She added that there are a few women at the camp who approach wrestlers at the behest of the WFI President.
However, Vinesh has reportedly clarified that she herself might have not faced such harassment but alleged that she had received death threats on behalf of the WFI President from officials close to him because she dared to draw Prime Minister Narendra Modi's attention to several issues plaguing Indian wrestling when she met him after the Tokyo Games.
Vinesh while addressing the media after staging a four-hour dharna (protest) at Jantar Mantar stated, "I know at least 10-12 women wrestlers who have told me about the sexual exploitation they faced at the hands of (the) WFI President. They told me their stories. I can't take their names now but I can definitely reveal the names if we get to meet the Prime Minister and the Home Minister of the country."
Tokyo Olympics bronze medallist Bajrang Punia, who sat beside Vinesh Phogat, said that the federation is being run in an arbitrary manner and that they will not compete in any international competition unless the WFI President is removed.
Interestingly, the protest was held in the presence of the country's top wrestlers against the 'dictatorship' of the WFI President.
The protest at Jantar Mantar on Wednesday saw the presence of more than 30 professional wrestlers including Rio Olympics medallist Sakshi Malik, world championship medallist Sarita Mor, Sangeeta Phogat, Satyawart Malik, Jitender Kinha and CWG medallist Sumit Malik.
"We will not compete in any international competition until WFI President is removed. This is a fight to save Indian wrestling," Punia later said while addressing the media.
Brij Bhushan Sharan Singh has been the president of WFI since 2011, after she was elected for the third consecutive time in February 2019.
Image Source: Instagram