Mia Khalifa Flaunts Her Assets In Monokini As She Waits With Tea For The Moroccan Football Team Ahead Of Their Clash With France At FIFA World Cup 2022-WATCH
Mia Khalifa posted a video on Twitter as she was seen pouring liquid from a silver teapot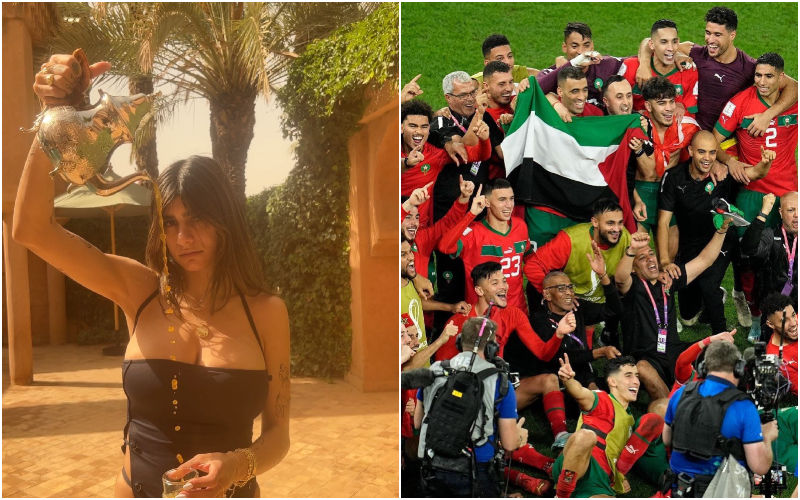 The former Pornhub legend Mia Khalifa has once again raised the temperatures as she bared it all and posed sensually while serving tea. Not to mention, Mia and tea seem to be a deadly combination this winter.

The OnlyFans model posted a video on Twitter as she was seen pouring liquid from a silver teapot while sporting a tiny black bathing suit leaving her busty assets on display. She was careful enough to not hide her attributes behind the eastern teapot.
Apart from that she even posted a picture of the Moroccan football team holding the national flag while they waved at the fans. She captioned the post in Arabic: "أنا أنتظر مع الشاي للفائزين اليوم" which loosely translates - "I'm waiting with tea for the winners today".
The recent post comes just minutes before Morocco's clash with France in the semi-finals of the World Cup 2022 on Thursday, December 15, 2022.
Previously, Mia had revealed that she is supporting the Morrocan side at the FIFA World Cup 2022. Taking to her Instagram post, Mia Khalifa seductively poses in a silky brown and patterned outfit and showed her support for the Morrocan national football team.
For those unaware, The Morrocan side has truly emerged as underdogs at the FIFA World Cup 2022. They even eliminated major teams including Belgium, Spain and Portugal, which featured Cristian Ronaldo's most likely final tournament appearance.
The team has sparked a frenzy amongst its fans and the countrymen and generated major interest in football fans following the tournament. The support for the team has been incredible in Qatar with fans filling out the stadiums, especially in the latter games.
In the post, Mia appeared to be in Marrakesh, Morocco owing to Insta Location. From the looks of it, she has gone all out in support of the country's achievement in the global tournament. Well, it seems Mia Khalifa has been instrumental in Morocco's swiping success.
Image Source: Instagram