Mrs World Caroline Jurie Gets Arrested By Police For Snatching The 'Crown' From Mrs Sri Lanka Pushpika De Silva's Head – Reports
As per the latest reports, the former Mrs Sri Lanka winner Caroline Jurie and model Chula Padmendra got arrested by police after snatching the crown from Mrs Pushpika De Silva's head and offering it to the other runner-up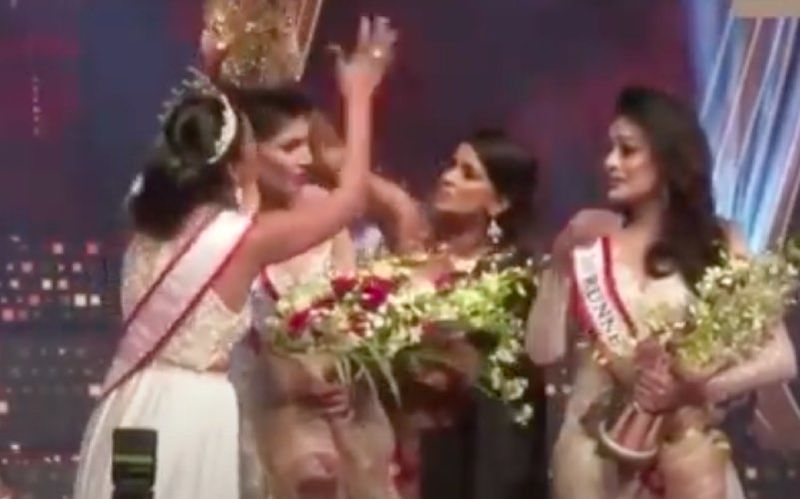 Mrs Sri Lanka Pageant went into controversy and witnessed a lot of drama when the reigning Mrs World, Caroline Jurie snatched the crown from the winner of Mrs Sri Lanka Pushpika De Silva. However, the latest reports suggest Mrs World Caroline Jurie and model Chula Padmendra got arrested by police after snatching the crown from Mrs Pushpika De Silva's head and offering it to the other runner-up. Before this, she told in a press conference, 'There are a lot of single mums like me today who are suffering in Sri Lanka.'
"This crown is dedicated to those women, those single mums who are suffering to raise their kids alone," she added that she would take legal action for the 'unreasonable and insulting'. Having said that, "Police arrested Caroline Jurie and model Chula Padmendra over Sunday's incident on charges of simple hurt and criminal cause," police spokesman Ajith Rohana told the BBC. Both Mrs Jurie and the chief organiser of Mrs Sri Lanka pageant, Chandimal Jayasinghe, were questioned by police on Thursday and Mrs Jurie and Padmendra were bailed to appear in Colombo Magistrates Court on 19 April, as per the reports.
After the fiasco, Mrs De Silva has now been re-crowned, and the pageant's organisers are expecting a public apology from Mrs Jurie.
For the unversed, during the pageant, former Mrs Sri Lanka winner Caroline Jurie announced that Mrs Pushpika De Silva is the winner of 'Mrs Sri Lanka' of the beauty pageant. However, much to everyone's surprise, Jurie took away the crown from her head and claimed that one has to be 'married and not divorced' and hence, she gave it to the first runner-up.
This obviously did not go well with De Silva who was in tears after the crown was pulled from her. She then took to her Facebook account and penned her ordeal, mentioning how she is separated from her husband and not divorced. She also revealed she suffered head injuries from the incident.
Image source: YouTube/ Colombo Gazette