Mukesh Ambani's House 'Antilia' Lit Up Ahead Of New Year 2023; THIS Stunning PIC Of The Building Lighting Up The Sky, Will Blow Your Mind!
The Ambani family is certainly beaming with happiness and they have seemingly taken their celebrations a notch higher this time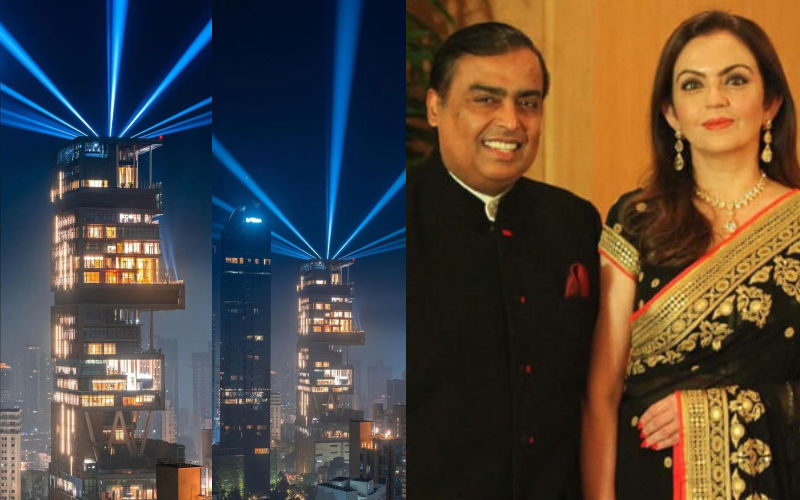 The Ambanis are always known to make celebrations a grand affair! Mukesh and Nita Ambani are leaving no stone unturned to celebrate the birth anniversary of the business tycoon Dhirubhai Ambani, who founded Reliance industries. He was born on December 28, 1932.

Well, apart from that, the Ambanis have yet another reason to celebrate, as Isha Ambani and her husband Anand Piramal became proud parents of twins in November, this year, and they have finally arrived in Mumbai. The couple received a grand welcome from the Ambanis and they also revealed the first glimpse of the twins in some of the video that is currently making headlines across the internet.
Well, no wonder the Ambani family is beaming with happiness and they have seemingly taken their celebrations a notch higher this time.
Considering the special occasions and the new year is just around the corner, the Ambanis made sure to light up their luxurious Mumbai home Antilia, with huge lights.
For those unaware, Antilia is home to the richest Indian industrialist Mukesh Ambani, and it was designed by the Chicago-based architects Perkins and Will, and an Australian-based construction company, Leighton Holdings. Nestled in South Mumbai's Altamount Road, Antilia is estimated to be the world's second most expensive property after London's prestigious Buckingham Palace, as it costs an estimated amount of USD 1-2 billion.
Speaking of Dhirubhai Ambani, the late industrialist was a true Indian visionary and a risk-taker. He believed in building yarn inventories to increase profit.
Tina Ambani, clearly missed her father-in-law, and she penned a heartfelt note on her father-in-law Dhirubhai Ambani's birth anniversary. Taking to her social media handle on Wednesday, December 28, 2022, she shared a throwback family picture to pay tribute to the late business tycoon and wrote: "You are missed beyond measure Pappa. But when we close our eyes, gather our thoughts and look for inspiration, there you are, unfailingly! Thank you for the memories and the motivation to empower us to be the best we can be."
Image Source: Instagram