Newly Single Madonna Gives Maluma STEAMY Lap Dance While Performing In Colombia-SEE PICTURES
Maluma's Medallo en el Mapa homecoming concert in Medellin, Columbia took place at Atanasio Giradot stadium over the weekend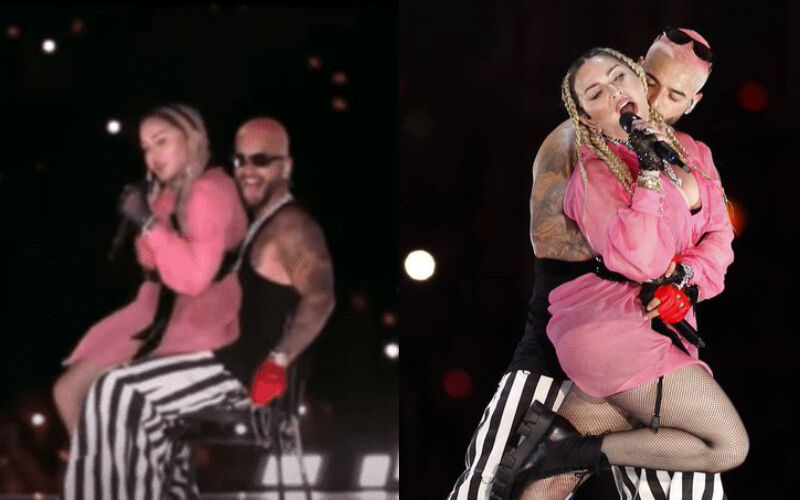 Madonna seems to be enjoying the time of her life and the newly single Madonna met Papi Juancho in Colombia. However, the duo not only performed their collaboration music together, but they also put on a show for the audience.

Madonna gave Maluma a steamy lap dance on stage!
Maluma's Medallo en el Mapa homecoming concert in Medellin, Columbia which took place at Atanasio Giradot stadium over the weekend was long-awaited. Reportedly, this show was everything he promised it to be. Energetic performances, special guests, like Madonna, this had it all.
Madonna and Maluma sure enjoy performing and hanging out together.

I hope they collab on a new record pic.twitter.com/oeIHDIZqDq

— Madonna Pop Crush Fan 🇺🇦 - New Frozen Remix out (@Madonna86049046) May 4, 2022
The 63-year-old singer joined the 28-year old Columbian singer towards the end of his homecoming concert.
They sang their collaboration 'Medellin', which is also a part of her iconic album from 2019, Madame X and Madonna's 'Music'. Madonna joined the backup dancers and shook a leg before doing something even crowd-pleasing.
Madonna gave Maluma a steamy lap dance that audiences seemed to love. Following the completion of her performance, Madonna said, "Medellín." "Thank you, Medellín. So good to be back," she said recalling the time in 2012 where she performed at the same stadium during her MDNA tour.
I've never been more jealous of Madonna 😩😭😭😭

— Calla 💛💙💛💙 (@Survive_thriver) May 4, 2022
Awesome granny lap dance - how classy

— sue (@beach_girl58) May 4, 2022
For the unversed, Madonna and Maluma first met during the 2018 MTV Video Music Awards and since then Maluma revealed that the songstress has 'changed his vision' in many ways.
He said, "I'm still young and I'm still learning a bunch of things in this industry and my career, but it was an important thing to just be more confident in myself. Since I met you, that's something I always do, and I really appreciate that. Cheers," of Madonna.
Before 2022, the duo gave a smashing performance at the 2019 Billboard Music Awards. Then, Madonna told Maluma, "I hope that after you worked with me, you started paying more attention to lighting and costumes and things like that."
Image Source: Twitter/Madonna86049046