OMG! Virat Kohli Gets A NASTY Kiss From Female Fan! Netizens Are Grossed Out With Her PDA: Yeh Dekhne Se Pehle Main Mar Kyu Nahi Gayi
A viral video featured woman seen kissing Virat Kohli's wax statue at the Madame Tussauds wax museum in Delhi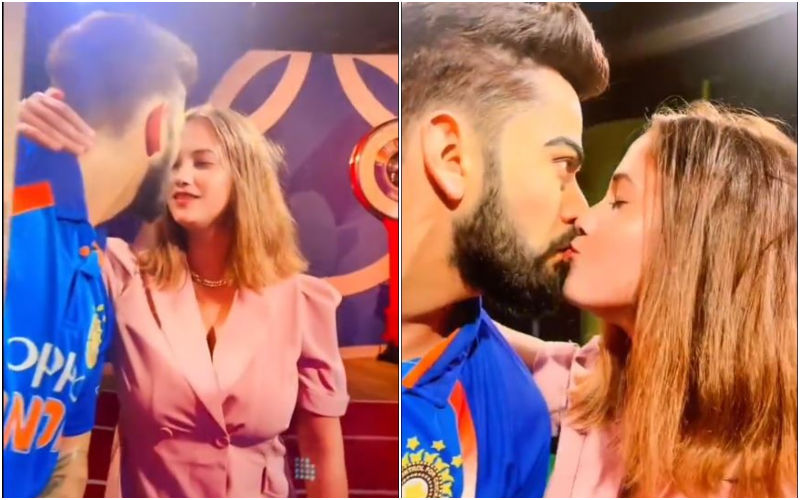 The Internet is full of bizarre videos and pictures, however, a new unsettling clip concerning Virat Kohli has surfaced on social media and it has particularly left the netizens baffled. Apart from ruling the cricket pitch, Virat Kohli has been exploiting people's hearts, not to mention the cricketing sensation enjoys a massive fanbase. And at times fans can go to extreme lengths just to express their love for their favourite celebrities.

In a recent viral video, a woman was seen kissing Virat's wax statue at the Madame Tussauds wax museum in Delhi. The clip featured the woman placing her arm around the statue's neck and staring right into the eye of Virat's statue before she kissed him on his lips. The woman seemed excited as she had the most cringe-worthy intimate moment recorded.
Meanwhile, netizens and fans did not hold back on commenting on the viral video and many seemed to be grossed out by the incident.
Reacting to the video one person wrote, "Yeh dekhne se pehle main mar kyu nahi gayi": Before seeing this, why didn't I die?
Check out more reactions below:
Virat Kohli likes to keep his personal life away from the media glare and he maintains a low profile when it comes to his private life and family. Recently, the actor was left furious after an inside video of Virat's hotel room went viral on social media and this has irked the cricketer as he took to social media to express his resentment.
In his lengthy Instagram post, Kohli mentioned he is "not okay with this kind of fanaticism and invasion of privacy."
Maybe, the woman could have taken cues from her favourite cricketer/celebrity's post and held back from engaging in a gross activity.
Image Source: Instagram