Pakistani YouTuber Azlan Shah Gifts 'Awdorable' Baby Donkey To His Newly Wedded Wife And Netizens Cannot Stop Crushing Over The CUTEST Foal-WATCH!
Pakistani YouTuber Azlan Shah clarified that the baby donkey has not been separated from its mother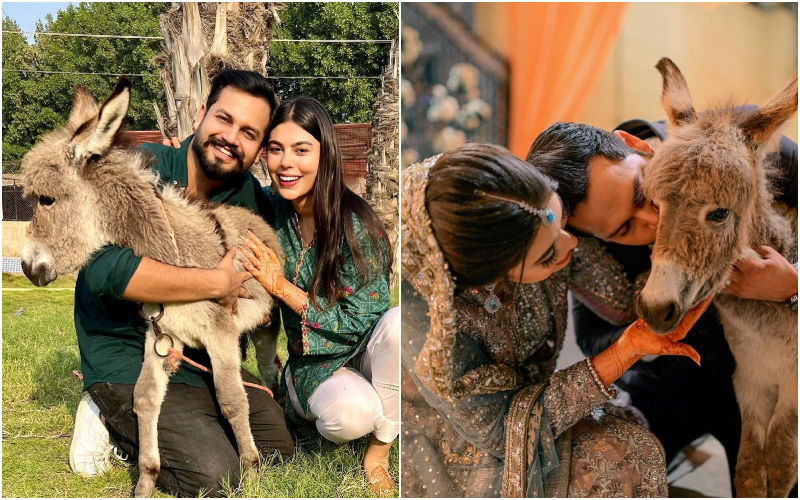 Pakistani YouTuber Azlan Shah got hitched to his ladylove Dr Varisha Javed Khan in an intricately planned wedding that has gained immense popularity on social media. It all conspired in their favour as Azlan had a bizarre yet the most adorable gift for his newlywed wife and the internet couldn't stop itself from being awed!

The YouTuber gifted his wife a baby donkey and it has sparked discussions amongst the netizens!
Taking to his Instagram handle, Azlan shared a picture of his awdorable gift in the post as he wrote, "I always knew that Warisha loved baby donkeys, so this is my wedding gift". Before netizens could start expressing their concerns about the baby donkey and its mother, Azlan clarified that the baby donkey has not been separated from its mother, which is why he has brought her along.
Interestingly, the Pakistani YouTuber was already married to Varisha and the Nikah was followed by the Dawat-e-Walima (wedding feast).
During the reception party, he gifted the baby donkey to his wife as she posted a video along with pictures of the event on his Instagram handle.
Explain the details of his thought behind gifting a baby donkey to his wife, Azlan was heard saying, "the question is why only a donkey in the gift? So the answer is that one you like it (donkey) and secondly it is the most hardworking and loving animal in the world."
Notably, Varisha seems to have loved her gift and she also expressed her appreciation for the gift from her husband. She said, "I won't let you become a donkey." Azlan further spoke about this unique gift and said, "Even though some people may disagree, the donkey is my spirit animal, and I love them, so this is my gift to Varisha."
Following the witty remark, Azlan chuckles and urges everyone not to mock his decision.
Informing the netizens about the baby and mother, Azlan Shah pointed out, "I always knew that @warisha.jk loves baby Donkeys so here's a wedding gift to her from my side. P.S: we didn't separate this baby Donkey from his mother we brought her along."
Reportedly, Azlan and Vrisha's wedding was by far one of the most expensive weddings in Pakistan which was attended by a large number of YouTubers, TikTokers, and Pakistani celebrities.
However, gifting the baby donkey was one of the most talked about events on social media.
Image Source: Instagram