Pop star Bebe Rexha Gets Injured As A Man Purposely Threw Phone At Her Face During Live Concert! He 'Thought It Would Be Funny'-WATCH VIDEO
Bebe Rexha's fans were left shocked beyond belief as a man from the audience threw his phone at her face, leaving her badly injured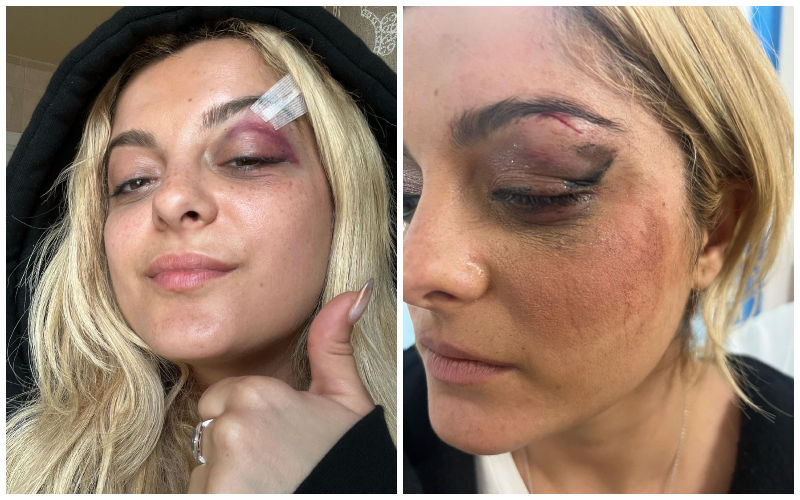 Over the years, live concerts have witnessed a slew of weird moments and people tend to do weird things. While some just hold up their phones to record the performance, some even take calls, and some even spill their drinks on you. But, who would have thought some might even hurl their phone at the artists?

Bebe Rexha's fans were left shocked beyond belief as a man from the audience threw his phone at her face, leaving her badly injured.
Now, a video of the same has surfaced on the internet and the clip featured her getting hit with a mobile phone during a concert is going viral. The video was taken at The Rooftop at Pier 17, a concert venue in New York City, when a concertgoer hurled a phone at her.
Following the shocking incident, Rexha was immediately rushed to the hospital and she shared a health update on Monday with two photos on Instagram that showed the left side of her face bruised.
She also had some bandages over her left eyebrow. The multiple Grammy-nominated singer simply captioned them "Im good."
According to a report from the Independent, 27-year-old Nicolas Malvagna was apprehended for hurling his phone at the artist. He was released without bail and has been charged with assault and aggravated harassment.
As per Malvagna's arraignment, as received by the Independent, Malvagna told a New York police officer, "I was trying to see if I could hit her with the phone at the end of the show because it would be funny."
Malvagna's shocking revelation has sparked a widespread debate about concert etiquette.
Bebe Rexha commented on the video after getting hit and a Twitter user wrote, "bebe rexha is one of the sweetest people so to see the constant online dogpiling lately making fun of her and now seeing her getting physically hurt is heartbreaking. she deserves way better and a lot of u are not seeing the pearly gates".
Another person wrote, "This is crazy! It reminds me of a fan who accidentally threw water bottle at IU's face. That was an accident but I hope fans will be extra careful with stuffs they're throwing at these celebs. A freaking phone could injure someone's face seriously. Don't throw anything!"
Image Source: Instagram