Princess Diana's Iconic Wedding Dress With 25 Foot Train Goes On Display At Kensington Palace, 40 Years After She Married Prince Charles
Princess Diana's wedding dress has gone on display in London, and is a part of the exhibition 'Royal Style In The Making'. Read on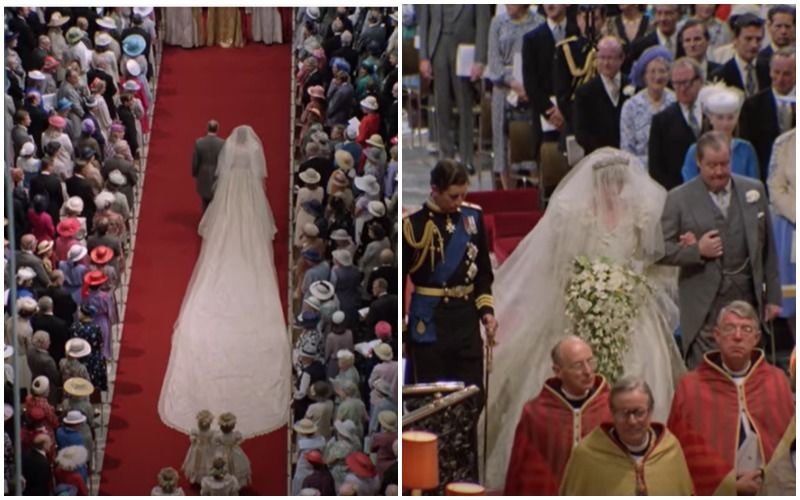 Princess Diana had been among the greatest fashion icons of her time and was known for her impeccable style. 40 years ago, when she married Prince Charles in July 1981, her iconic wedding dress had been the topic of discussion. Back then, people had been extremely curious to find out about the wedding dress, but it had been shrouded in secrecy until their wedding day. Now, according to a report in Associated Press News, her wedding dress has gone on public display on Thursday at the Kensington Palace, Princess Diana's former home in London.
The wedding dress had been designed by David and Elizabeth Emanuel and it reportedly had a 25 foot (8-meter) train and a 153-yard tulle veil, valued then at £9,000. Prince Harry and Prince William agreed to loan their mother Princess Diana's dress for the exhibition 'Royal Style In The Making', which will go on from 3rd June until January 2, 2022. The sketches, photographs, and gowns designed for 3 generations of royal women, including Princess Margaret and the Queen Mother, will be exhibited.
Princess Diana and Prince Charles separated in 1992, and they got divorced in 1996. In 1997, Princess Diana died following a horrific car crash while reportedly being chased by paparazzi photographers in Paris.
In other news, a few days ago, Prince William and Prince Harry slammed BBC over the 1995 Princess Diana interview, after an investigation concluded that one of its journalists used deceitful behaviour to obtain the interview. Prince William said that the 'deceitful way' that the interview was obtained, influenced what his mother, Princess Diana had said during the explosive interview.
Read more about it here.
Image Source: YouTube/AP Archive