Saloni Gaur Mimics Kangana Ranaut As India Faces Shortage Of Oxygen Cylinders; 'Why Are You Asking The Government For Oxygen? Ask Plants' – VIDEO
Comedienne Saloni Gaur takes an indirect jibe at Kangana Ranaut as she talks about oxygen cylinders and the second wave of COVID-19. She makes a funny video, mimicking Kangana. Watch it here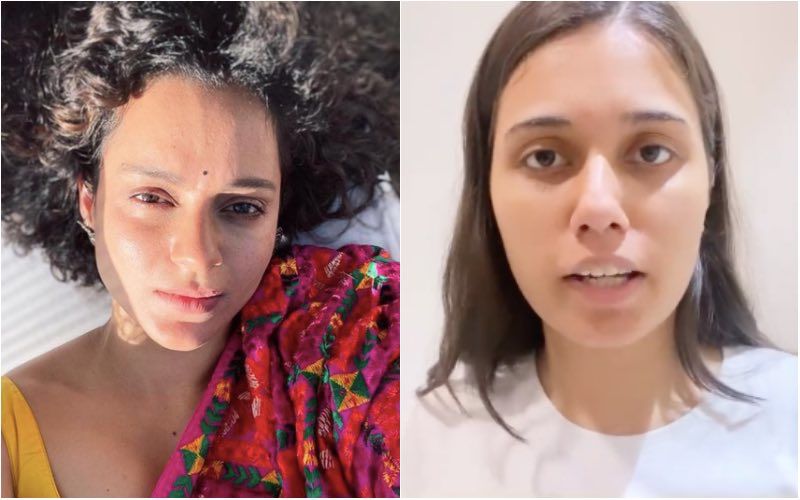 Comedienne Saloni Gaur is often seen dressed as actor Kangana Ranaut and imitating her. Saloni makes funny videos in such a way that either contradicts the actor's statements or takes a sly dig at her. Similarly, she was seen doing the same recently while talking about oxygen cylinders and the second wave of COVID. She recently shared a funny video where she is seen doing an impression of Kangana. In the video, she is seen dressed in a white saree with a wig and sitting on the chair with a plant pot in her hand.
Gaur started the video by saying how the government didn't even realise the second wave of COVID. Correcting herself, Gaur then says that her 'system' is not functioning properly and then quickly mouths 'I hate Taapsee and I hate Saloni'. Furthermore, in Saloni is heard saying that people are complaining about not receiving oxygen cylinders amid the crisis; however, she claims to have ample amount of oxygen as she has planted a few plants at her home, she said while sniffing oxygen from the plant.
After the video was shared, the next moment Kangana Ranaut shared a tweet that seemed to be directing to Saloni's video. She wrote, "Meanwhile stupid doctors also asking patients to plant trees, just like me, how lame!! Please go on, cut them all and next time if you need oxygen cylinders go after Prime Minister, your endless breeding, your lungs, your lack of common sense all his fault."

Kangana Ranaut and Saloni recently had an ugly Twitter spat when the latter corrected the actor on 'population control'. Her tweet irked Ranaut who then gave a befitting reply to Saloni.
Image source: Instagram/ salonayyy/ kanganaranaut