Scared Kim Kardashian WALKS OFF 'The Ellen DeGeneres Show' As Host Pranks Her With Fake Spider: 'Ellen DeGeneres Is A Freaking Bully'
Kim Kardashian exited 'The Ellen DeGeneres Show' for the nasty prank made by the host during her appearance on the show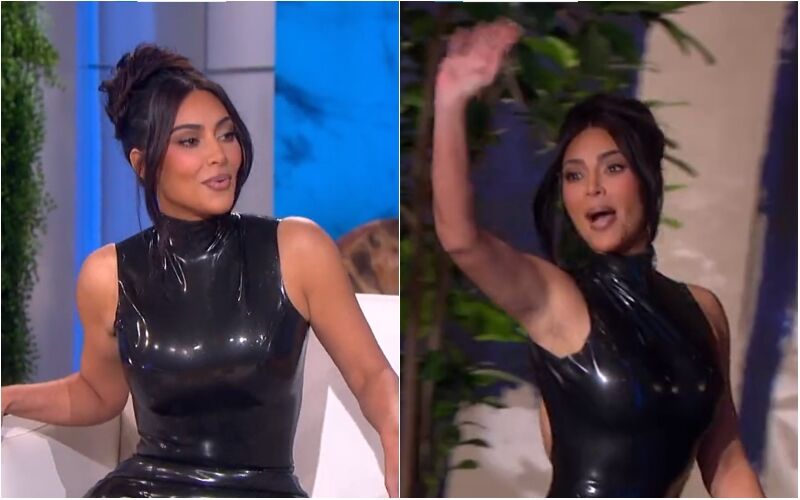 TV host Ellen DeGeneres has landed herself in public scrutiny and she has been receiving a lot of flak for her latest prank on Kim Kardashian. The nasty prank went on to the point where she is forced to walk off the stage.

The recent incident occurred on the sets of a new episode of the Ellen DeGeneres Show. Kim Kardashian made an appearance on the show on April 13, Wednesday.
During the episode, the duo started by reminiscing over Kim's fear of spiders, and despite her constant objections, screams, wails and insistence that she wants not to 'get over her fear. The host offered to 'cure' her fear of spiders as she threw a spider in her direction, causing Kim to shriek and jump.
To elaborate, during her time on the show, Ellen brought out a plastic box and said that it contained a live spider. Notably, the fashion mogul has been quite transparent about her arachnophobia - fear of spiders.
Previously, Kim shared that she had broken down in tears in a 2007 episode of 'Keeping Up With The Kardashians' when her mum Kris Jenner spotted a live spider on her shoulder while vacationing in Puerto Vallarta, Mexico.
"You're not doing this to me, I'm never going to get over it," Kardashian told DeGeneres as the host showed her the box on the show. In her capacity as the host, DeGeneres assured her, "It's not loose, it's not a loose spider."
Kardashian was visibly distressed as she left her seat and started yelling, "No! No. No. No. We've been through this before."
Despite knowing of Kim's fear, DeGeneres lifted the lid off the box that allegedly contained the live spider. However, it was in fact an empty container that the host held. She also pretended to throw something at Kardashian, laughing and shouting, "It's not real!"
The video instantly sparked a conversation on social media and many slammed DeGeneres for exploiting Kim's genuine phobia and leaving her so distraught that she had to walk off set entirely.
Ellen is a bully. It is unethical to taunt at someone's phobia.

This wasn't funny at all.

— 3x3 (@Wel1Alan) April 14, 2022
Again @TheEllenShow you have proven what a bully you truly are. You know Kim is afraid of that and yet you tortured her on air. You find it funny, and it's not. Time for you to go!

— Tomlinson28_StylesFan (@DHTigerFan24) April 14, 2022
One of them read, "Go Kim! I'd have done the same exact thing. Respect people's boundaries. "I don't care to get over my fear" says it all. She composed herself and waved graciously. Well done, Kim!"
One fan wrote, "She's a goddamn bully who gets her rocks off torturing guests w/fear. There's nothing funny about being terrorised. I've hated her ever since I watched her throw a spider on Emma Stone YEARS ago. This is #trauma."
Another person commented, "Not cool to provoke someone when you know they have a real phobia. Ellen once again has no respect for boundaries. No means no. Why make people uncomfortable?"
One viewer said, "Unless someone has a phobia, they have no idea what its really like. I have arachnophobia and if I'm near a spider I will literally get dizzy, hot flashes, nauseous and nearly pass out. It's not just being scared of something. I'm working on it and have done so much better but I have to do it on my own time and pranks like this can REALLY set someone back in their progress, like Kim, who was trying to get over her phobia for her daughter who loves spiders. Ellen is such a joke. I hope they take her off air."
Image Source: Instagram