VIRAL! 'Cigar-Shaped' UFO Spotted In Sky? Mysterious Object Approaches An Airplane In Mid-Air Leaving Passengers Baffled-WATCH
New shape of a UFO was spotted in the latest clip leaving a plane full of passengers spooked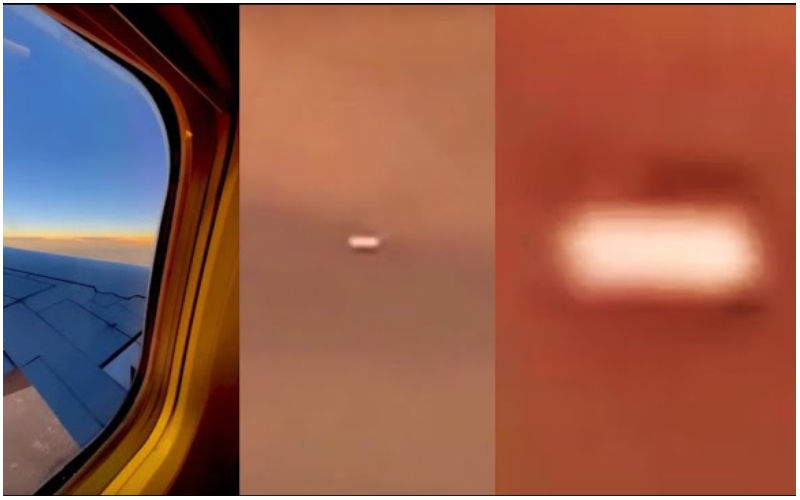 The existence of UFOs and aliens still remains a mystery and new proof of their actuality has come to the light. While a slew of videos and pictures have previously gone viral on the internet, a new shape of UFO was spotted in the latest clip leaving a plane full of passengers spooked when they saw a cigar-shaped UFO travelling towards the plane before it disappeared in the clouds. Apparently, UFOs come in all shapes and sizes.

Interestingly, conspiracy theorist Scott C Waring shared the footage on his YouTube channel "UFO Sightings Daily" to show what the flight passenger saw on March 11.
The viral clip featured a silver-like rectangular spot moving at a steady pace when the camera is zoomed into the clouds. The supposed UFO moves towards the right at a similar altitude as the plane. As per the video, a passenger told Scott that they were on a Southwest Airlines flight heading towards San Diego and the tic-tac appeared when the plane was flying over California.
They described the UFO as a "white cylinder craft with no wings, windows, markings or discernible features".
The video's description wrote: "Seen from passenger jet, Eyewitness states: On Saturday March 11, 2023, I was flying south over central California on Southwest Airlines 2463 from Sacramento Airport (SMF) to San Diego (SAN). I was seated in the window seating, on the left side in the middle of the plane, right behind the left wing."
The channel continued, "About halfway through our flight, I was looking out the window and saw a tic tac ufo in the distance traveling perpendicular to us. It was a white cylinder craft, with no wings, windows, markings, or discernible features. It was a smooth white cylinder with no visible means of propulsion or exhaust, plumes. The tic tac ufo was in the distance a few miles from us. It was moving in a constant path. There was nothing remarkable about it - it didn't move fast, or hover, it was just moving at a constant speed and disappeared soon into the clouds. It was a few degrees above our plane, so at a similar altitude. And was northwest of our plane's orientation (note the plane is heading south)."
I used Flight Aware and converted this time to Sun March 12, 1:58 AM UTC and that put the plane just near Selma in Fresno county. There were no planes in the immediate vicinity, nor that match the orientation the tic tac was viewed from my window (NW orientation relative to the plane's nose, which was traveling southwards)"
Previously, a UFO researcher told Daily Star that snake-like flying objects could be some unknown life forms.
Image Source: YouTube