VIRAL! 'Creepy Uncle Joe' Biden Spotted Sniffing Young Girl's Hair AGAIN At Baskin Robbins Store; Internet Says 'Stop Sniffing And Groping Children'
Joe Biden was seen making a pitstop to grab an ice cream at a Baskin Robbins in Portland, Oregon and a viral video featured him sniffing a young girl's hair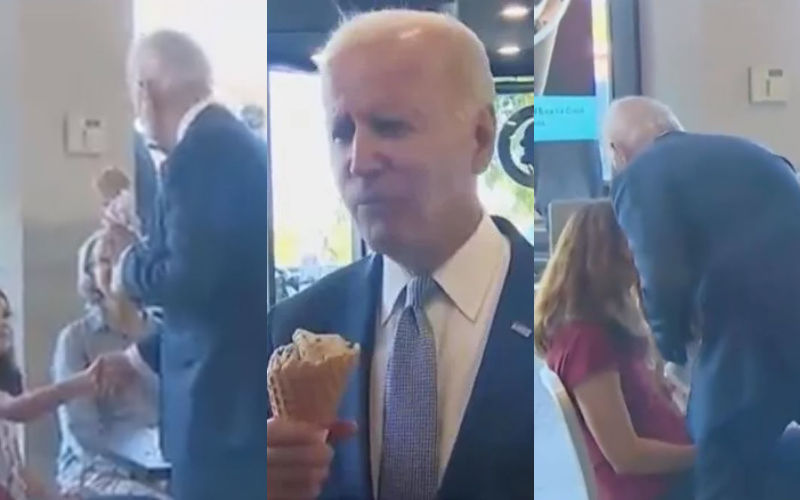 US President Joe Biden is yet to work on his public interactions, but people seem hopeful. Earlier, many women claimed that Biden had touched them in ways that made them uncomfortable, and the Democratic candidate even promised to be "much more mindful" of people's personal space, as reported by Vox.

However, nothing seems to have changed so far!
Recently, Biden was seen making a pitstop to grab an ice cream at a Baskin Robbins in Portland, Oregon. A video of the same has been going viral and he can be seen sniffing a young girl's hair at the ice cream parlour.
Bizarre!
The video has been going viral and internet users believe that his behaviour is very 'creepy' and many have reacted to the same expressing their concerns while mocking the US President.
Check out the internet users' reactions:
Joe Biden has a long history with girls and women!
The now-US President is long known for touching and standing close to women and his reputation has even earned him the nickname - 'Creepy Uncle Joe'. But, the press has often treated his behaviour more as a joke than as a serious issue — until this year, reported the Vox.
Back in March, former Nevada lieutenant governor candidate Lucy Flores in an essay at New York Magazine's The Cut that Biden had smelled her hair and he even planted an unwelcoming kiss on her head during the campaign event in 2014.
Later other women also came forward to describe their encounters with 'Creepy Uncle Joe' that made them uncomfortable. The former vice president eventually released a video statement saying that "social norms are changing" and pledging to change along with them, reported Vox.
Image Source: Twitter