VIRAL! People Cheer Couple Kissing On Balcony In Mumbai's Marine Drive On New Year's Eve; Netizens Mixed Reaction Goes Viral On Social Media-WATCH
The couple can be seen kissing in the balcony infornt of the people at Marine Drive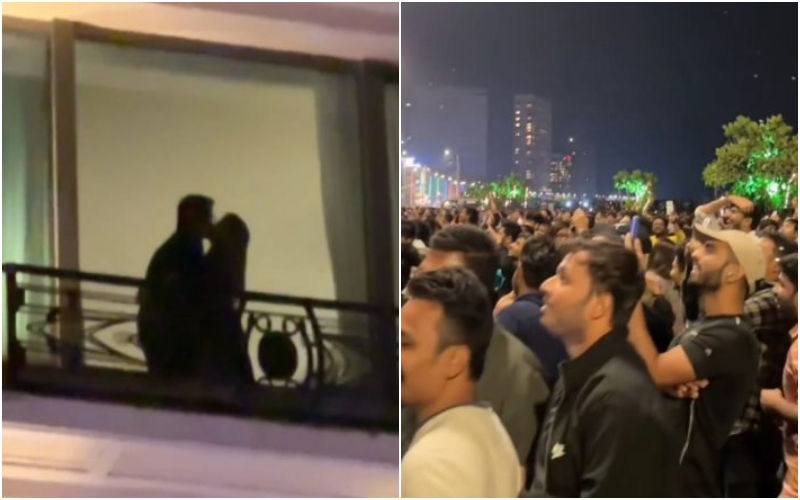 Mumbai is undoubtedly one of the most lively towns. The city of 7 islands is home to some of the most scenic and picturesque locations; one of them being the Marine Drive, which is nothing short of a lovers paradise. However, it is the Mumbaikars who bring out the best of this gorgeous city and it just gets better on every New Year's Eve.

Now, a video of the couple kissing on a balcony in Marine Drive in Mumbai on New Year's Eve has gone viral. The video posted on Instagram has garnered over 57k views and has amassed over 2,300 likes on the social media platforms.
In this viral video, the couple can be seen kissing in the balcony infornt of the people at Marine Drive. While the couple shared a romantic kiss, the video showcased Kala song being played in the background and the love-strucks were being cheered by a sea of people who celebrated New Year on the streets of Mumbai.
Meanwhile, the video has witnessed a mixed reaction from the users as one wrote, "moment hai bhai moment hai." Others wrote, "What a lovely capture, pure love", "Sab single log hai", "Single log be like yh dukh kahe khatam nhi hota."
Meanwhile, a few criticized the people for taking pictures and videos of the couple, a few comment, "Dusro ke ghar mein zhankne ki adat kabhi jayegi nahi logon ki", "Give them privacy", "Agar unko privacy ki chinta hoti to parde band kar dete".
Image Source: Instagram