VIRAL! Woman Touches Feet Of Ramayan's Ram Aka Arun Govil At Airport As She Lays At His Feet And Prays To Him-See VIDEO
A video of a woman touching Ramayan's Ram Aka Arun Govil's feet at the airport and praying to him goes viral on social media!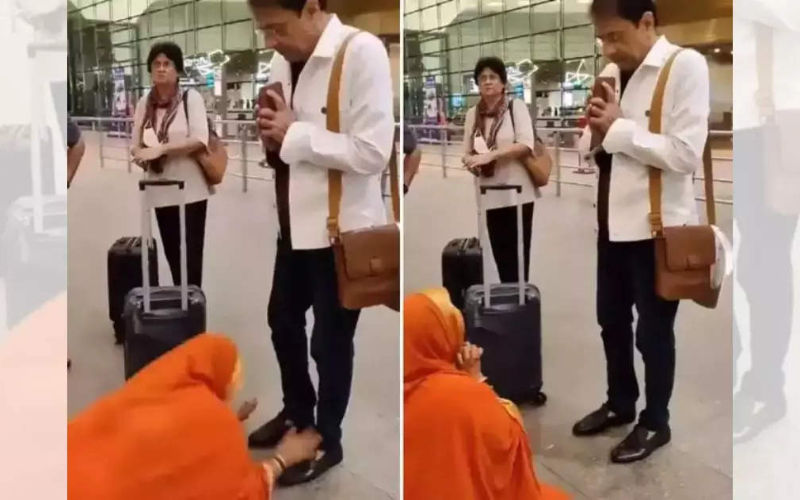 Actor Arun Govil is widely known for playing Lord Ram in the mythological show 'Ramayan' and even after so many years, he is adored by fans. Although it's been 35 years since he played iconic Lord Ram on the small screen, fans and people still love and respect him the way they did in the late 1980s. Speaking of this, a woman seeing the actor at Mumbai airport got emotional and touched his feet to seek his blessings. A video of the same has gone viral on social media.
In the clip, Arun was left surprised after a woman touched his feet and lay on the ground in front of him. She prayed to him with folded hands with the utmost respect. The woman, clad in a saffron saree, could be seen kneeling down on all four legs and bowing in front of him. Even the onlookers and shutterbugs were left stunned by this kind gesture of a woman at the airport. Even a man was seen touching the floor, just inches away from the actor's feet. Arun Govil was so moved by the woman's gesture that he folded his hands and indulged in a conversation with her. The senior actor also wrapped a yellow dupatta around the woman's neck.
ALSO READ: Arun Govil Recalls Working With Late Arvind Trivedi In Ramayan; 'Ram And Ravan Were Two Strong Characters, But There Was No Rivalry Between Us'
Govil was accompanied by his wife at the airport and she waited for her husband at a distance. She looked equally surprised at the woman's mark of respect.
Ramanand Sagar's TV show Ramayan was one of the most loved shows in the late 1980s. It starred Arun Govil as Ram, Deepika Chikhalia played Sita and Sunil Lahri was seen as Lakshman in the show which was aired from 1987-88. The show returned on television during Covid 19 induced lockdown in 2020.