VIRAL! Zomato Delivery Guy Has The Most Adorable Reaction As He Gets Invited By Customers To Join Them For New Year Celebrations-WATCH
A Zomato delivery man - after completing his delivery - was invited by a group of men who were celebrating the New Year party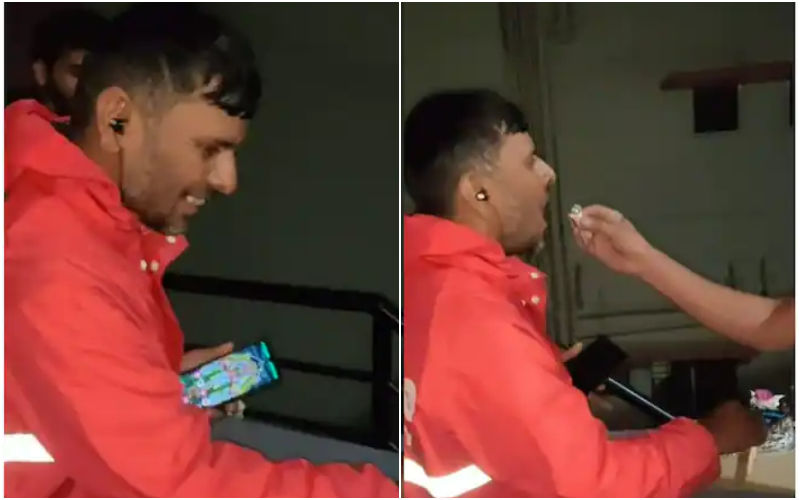 The Internet can be one of the most entertaining places, but it definitely isn't just full of cringe or weird videos. Well, it seems the netizens have finally found the most heartwarming video of all time and netiznes cannot seem to hold back their tears.

There's no denying, the delivery executives of online food apps can make your day special even if it is any festival, heavy rains, midnight cravings or New Year's eve, they are the real ones who always deliver joy to the table. This time, a Zomato delivery man - after completing his delivery - was invited by a group of men who were celebrating the New Year party, decided to call him in and a video of the heartwarming moment has been going viral on social media.
The video starts with Kishan Srivatsa and his friends ordering food on Zomato at 11 pm which was later delivered around 12 pm-midnight. Following this, Kisan and his friends decided to invite the delivery executive to join their celebration and even asked him to cut the cake.
A video of the small celebration where we can see the elated Zomato delivery man with his million-dollar smile cutting a cake was shared on Twitter by Kishan.
The viral video has garnered millions of views and the group of men was applauded by netizens.
Reacting to the video, many posted comments like, "Wonderful gesture. Keep spreading happiness and it will come back in many ways to you! Have a wonderful year ahead for each one of you including the delivery agent. May your New Year 2023 be filled with exploration, discovery, prosperity, and growth! Happy New Year Guys!", "Great job men," "Great work," and many more.
Image Source: Twitter