WHAT?! Joe Biden's Wife Locks Lips With Kamla Harris' Husband Ahead Of State Of The Union Address? WATCH VIRAL VIDEO
Jill Biden just kissed Kamala Harris' husband on the lips and this has left the netizens curious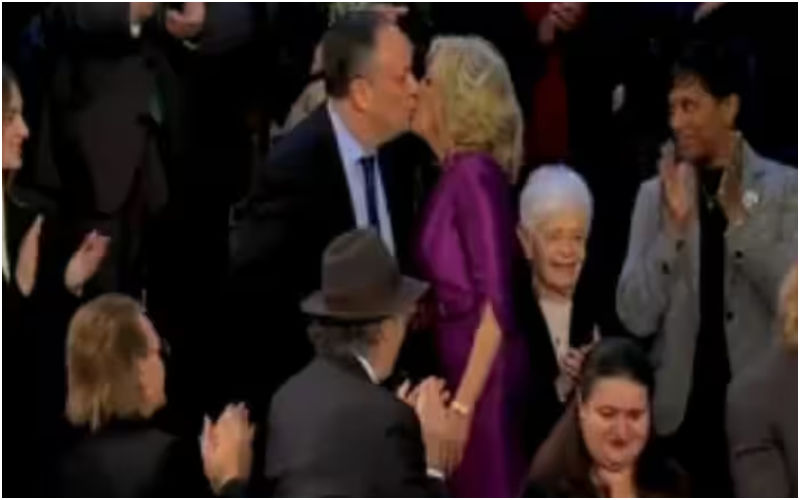 Shortly after Joe Biden prepared to deliver his State of The Union speech, his wife Jill Biden stole the show as she appeared to be kissing the lips of the vice president's husband. This has ultimately sparked a debate amongst the netizens about the reality of the clip.
The shocking incident occurred in a heartbeat after sweeping into Congress to cheers, the first lady made her way over to the second gentleman, Doug Emhoff, and clasped his hand.
The clip was destined to go viral and they leaned in for a friendly embrace but at least one of them appears to have miscalculated and the result was a kiss either on, or very, very close, to the lips, reported NDTV.
"Smooch of the Union," teased the New York Post tabloid, while zooming in on photos of what it declared without a doubt to have been a kiss on the mouth. Other pictures same to show Biden's kiss landing just to one side of Kamala Harris's husband's mouth.
Meanwhile, even the netizens were curious if the first lady actually kissed the Vice President's husband. "Did Jill Biden just kiss Kamala's husband on the LIPS?!," a user asked.
"Jill Biden just kissed Kamala Harris' husband on the lips. Didn't see that one coming," a person wrote on Twitter.
During his State of the Union address on Tuesday, said that the American economy is better positioned to grow "than any country on Earth" despite disruptions from Covid-19 and Russian President Vladimir Putin's invasion of Ukraine.
The president also acknowledged Hakeem Jeffries, the first Black party leader in the House and the minority leader of the House.
Image Source: Instagram