Who Is Arshia Goswami? THIS 8-year-old Sends The Internet In Overdrive By Deadlifting 60 KG-WATCH
Arshia's Instagram was flooded with immense love and accolades as netizens dropped fire emojis for the little dead lifter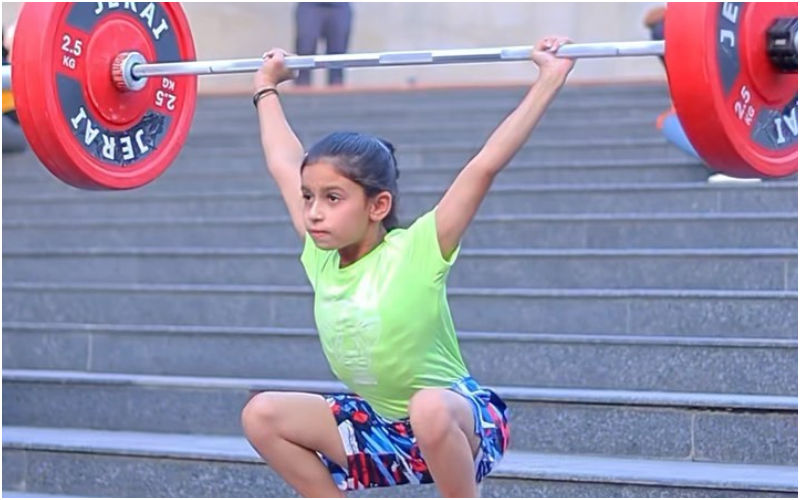 India is full of talented individuals! Many children has effortlessly managed to baffle the world with their stints, however, an eight-year-old Arshia Goswami has grabbed eyeballs as she was seen competing in the weightlifting challenge with tremendous perseverance and strength.

The youngling was seen effortlessly performing a 60-kg deadlift in a recent video. Her flawless skill and unshakable attention have garnered her praise from netizens. The caption on the now-viral video read, "Still the youngest and strongest girl 👧 (sic)."
In the video, Arshia was seen performing a single 60-kg deadlift and holding it for a brief period of time before flinging it down. Later, she was striding proudly and passionately in front of the camera.
In no time, Arshia's Instagram was flooded with immense love and accolades. Netizens dropped fire emojis for the little dead lifter.
One of the users wrote, "Again I am saying this Arshia. I can just imagine a very strong girl after a few years down the line. You are going to be an incredible athlete/ person. Hats off to parents who are so supportive 🙌❤️ (sic)." Another user wrote, "Very nice and keep up the efforts 🔥(sic)."
Many users labelled her champion in the comment section and heaped praises for supportive parents.
Well, this wasn't the first time Arshia Goswami has achieved this feat!
Earlier, Arshia Goswami achieved the record for the youngest deadlift at the age of six by deadlifting 45 kg. The India Book of Records has officially recognized her outstanding accomplishment.
As per the reports, the Olympic medal contender is devoted to both powerlifting and taekwondo. She also achieved bronze at the age of eight in a weightlifting competition held at the state level.
Arshia Goswami's Instagram account is run by her father, who is a certified fitness trainer. She developed an interest in weightlifting in his routine exercises.
Image Source: Instagram