WWE Star Nikki Bella Shares A Shirtless Mirror Selfie Flaunting Her Baby Bump; Updates Fans On The Pregnancy
Another day and Nikki Bella took to her social media to share an interesting picture updating fans on her pregnancy and her baby. Nikki shared a shirtless mirror selfie flaunting her baby bump and we are smitten. Check it out!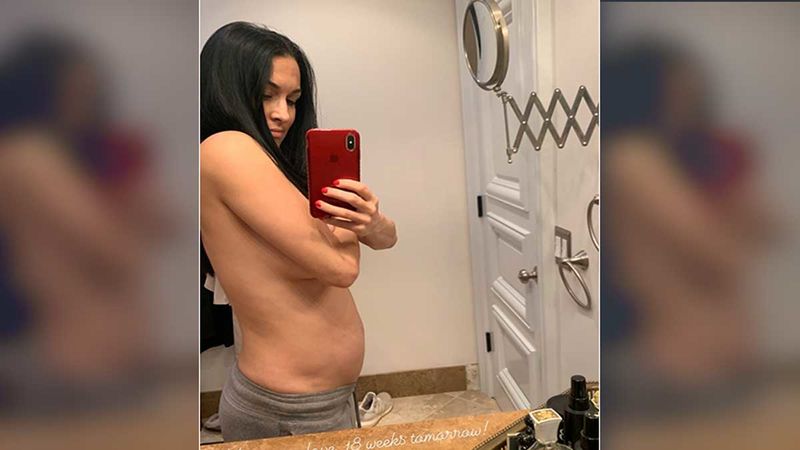 The Total Bella stars Nikki Bella and Brie Bella left everyone in shock when they announced their pregnancy recently. Call it a simple coincidence or just destiny, Nikki and Brie are pregnant at the same time and are looking forward towards embracing motherhood soon. While it is the first time for Nikki Bella, the former WWE star has been constantly sharing updates with her fans on social media. Another day and Nikki Bella took to her social media to share an interesting picture flaunting her bump.
On her Instagram story, Nikki Bella shared a shirtless picture and captioned it, "It's really cuz day after workouts abs really pop out in the morning. But one thing I am dealing with is retaining a lot of water throughout the day. I will not look like this tonight. I can't believe how much I will retain in a day. Obviously, Boobs have gotten huge." Sharing some information on her pregnancy with fans, Nikki Bella shared her shirtless mirror selfie holding her assets carefully and mentioned how her boobs have gotten big. Nikki also shared how her abs pop-out post-workout, which one can make out in the picture.
Nikki shared another side-facing mirror selfie showing off her baby bump. The Total Bella star captioned the picture, "There is my love. 18 weeks tomorrow!" As Nikki shared the almost jaw-dropping picture with fans revealing it all, she gave fans a peek-a-boo of her love, her 'baby' and mentioned that her baby bump will be 18 weeks tomorrow.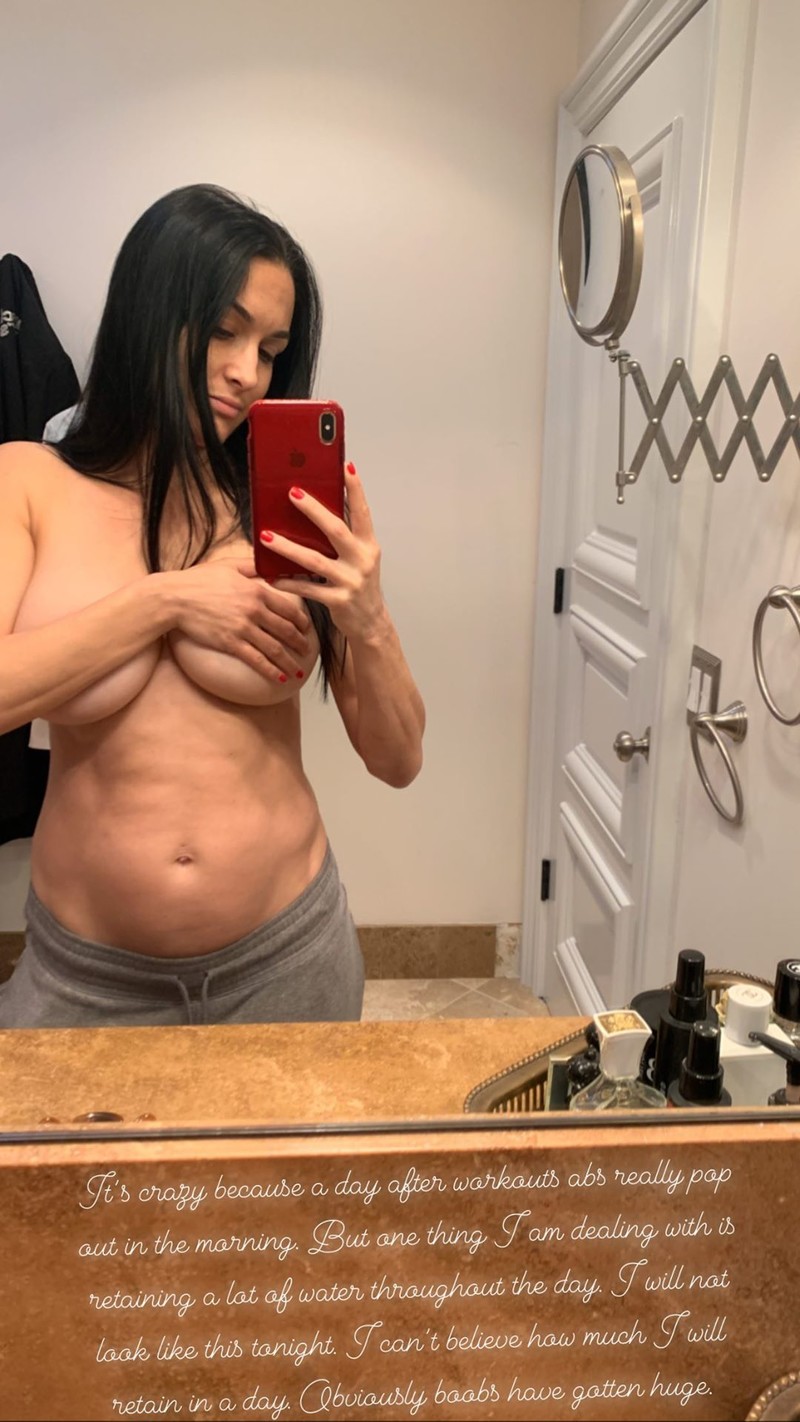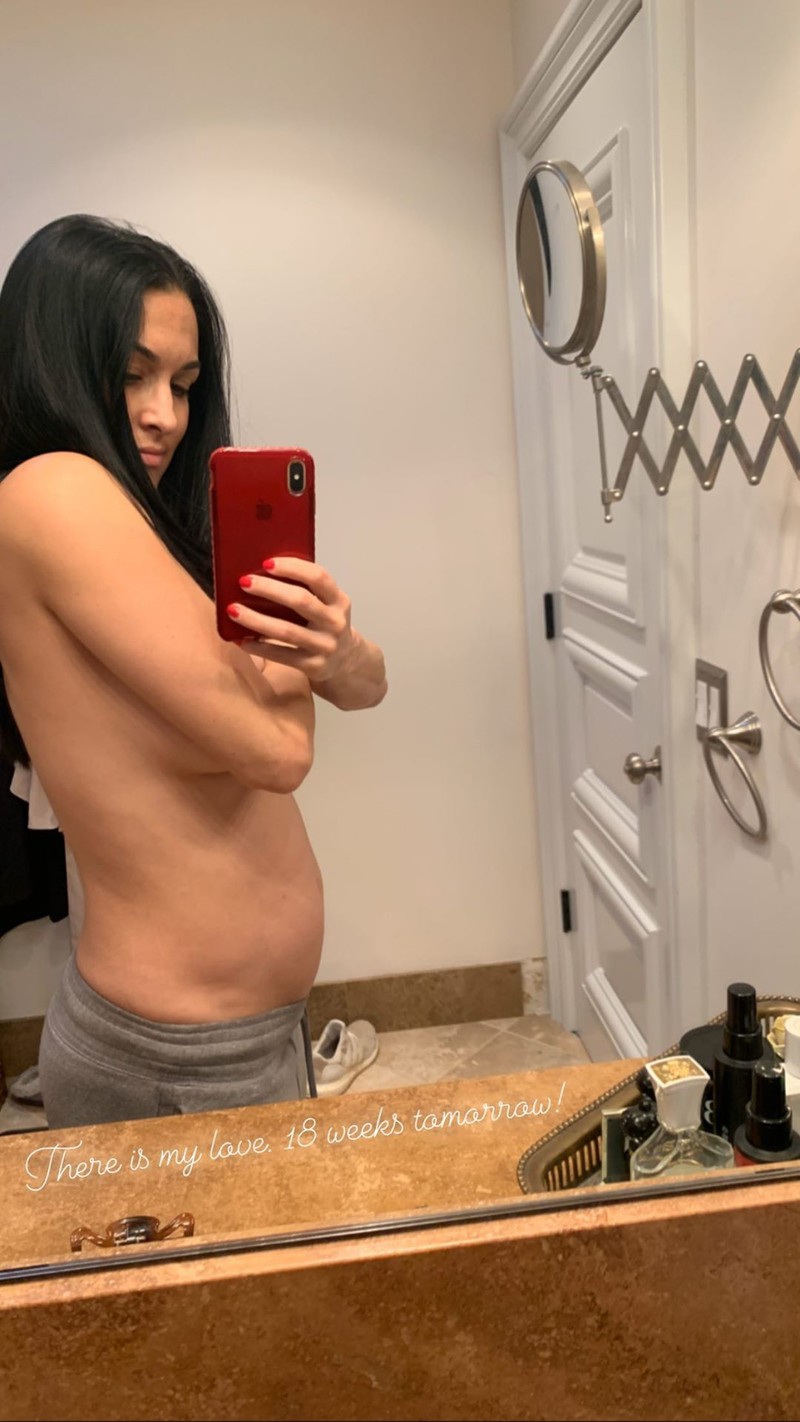 Meanwhile, this is not the first time when Nikki has shared a mirror selfie. The Total Bella star shared a picture posing in front of a mirror flaunting her 16 weeks baby bump, you can see it
HERE
. Also Read:
Pregnant Twins Brie And Nikki Bella Talk About FISHY CRAVINGS And Getting Inducted Into WWE Hall of Fame
Image source: Instagram/ Nikki Bella