Ayushmann Khurrana and Bhumi Pednekar have quickly established themselves as actors who can deliver both emotion and box-office numbers. Bhumi Pednekar joined the 100 Crore Club with her second film itself, Toilet: Ek Prem Katha opposite Akshay Kumar. And Ayushmann's Bareilly Ki Barfi won over both critics and the audience.

Their second film together after Dum Laga Ke Haisha was this Friday's release Shubh Mangal Saavdhan, which is gaining strength at the box-office after a slow start. They play a young couple who are dealing with the unspoken issue of erectile dysfunction.

In an exclusive interview with SpotboyE.com Ayushmann and Bhumi speak about their friendship, box-office success and a lot more. Watch the video above. Excerpts:

Toilet: Ek Prem Katha, Bareilly Ki Barfi and Shubh Mangal Saavdhan, all revolve around small-town and middle-class India. And the audience is lapping up these stories...
Ayushmann: 70% of our nation dwells in rural sectors and only 30% stays in urban localities. So I think the stories based in the heartland resonate with people across the nation. Audiences love simplicity now. Ultimately it boils down to entertainment. Small-town stories are the flavour of the season.

The big budget films are not making money, but these films are. Why do you think that is happening?
Ayushmann: As I said, it boils down to entertainment. Big stars like Aamir Khan and Akshay Kumar are marrying content and commerce together, and I think that's a great benchmark for us.
Bhumi: There are great stories of survival in this strata of society, and it's completely untapped. There is 'desipan' in these stories and people want to watch Indian stories and Indian characters. Cinema is now no more about a fairy tale. I think we are here because of this shift. My audience has definitely changed because five years ago, no one would have thought that a film like Dum Laga Ke Haisha would work.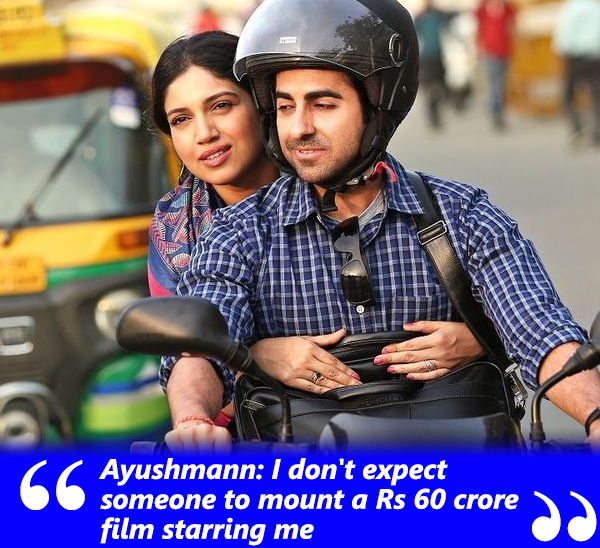 Ayushmann you began your career with Vicky Donor, where you played a sperm donor, and now you play a man suffering from erectile dysfunction in Shubh Mangal Saavdhan. Do you think your character has come full circle?
Ayushmann: Actually, a lot of people are saying that my life has come full circle (laughs). After too much donation, now it has come down to erectile dysfunction. There are a lot of memes doing the rounds. I think all of this works well for the film. I think I am putting male sexuality on a pedestal (laughs). It's good that people are talking about it and that is the main motive of the film. People should be open about it and not brush it under the carpet. This is a problem that exists and nobody talks about it in a patriarchal society like ours because of the male ego.

Bhumi you have played the quintessential desi girl in three films, how do you give each character its own style?
Bhumi: I hate it when people say that. You have different sets of friends, are you the same with each and every one? So, how can my characters be the same? Their worlds are completely different from each other. The only similarity is that they have a lot of self respect and strength.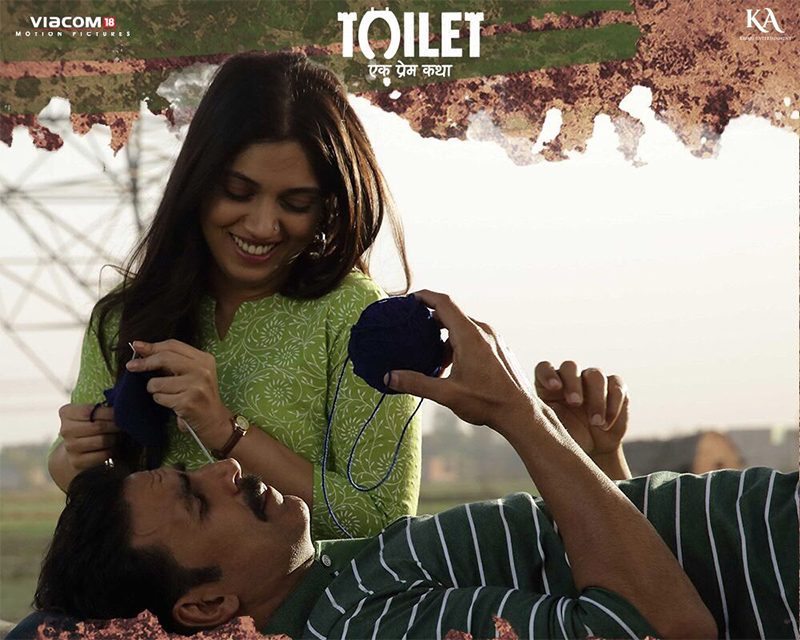 Akshay Kumar And Bhumi Pednekar In Toilet: Ek Prem Katha


Ayushmann, it's your second film with Bhumi. How has your rapport changed?
Bhumi: 30 kilos

(Both laugh)

Ayushmann: We have become better friends with Shubh Mangal Saavdhan. In Dum Laga Ke Haisha, we were more like co-actors or acquaintances, but with this film, we have become better friends. Having said that, I believe your chemistry does not depend on your offscreen friendship. If you are good actors, you would look good onscreen.
Bhumi: Exactly.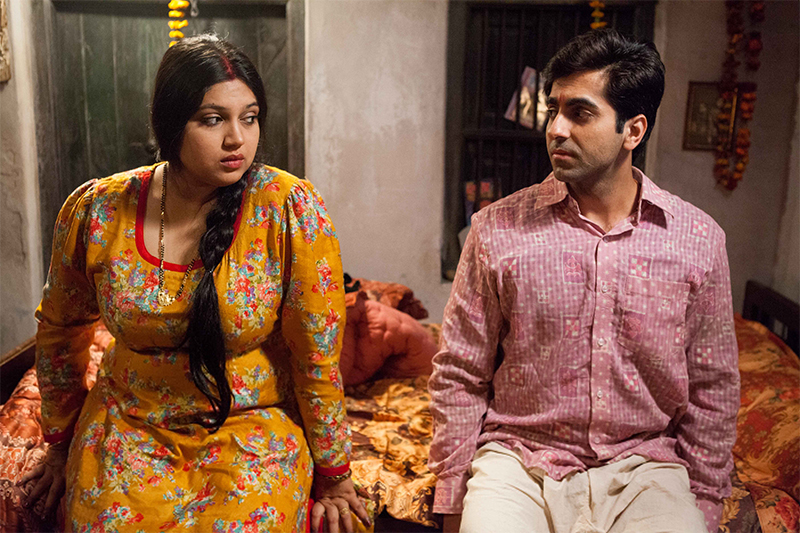 Bhumi Pednekar And Ayushmann Khurrana In Dum Laga Ke Haisha

You both were also doing another film, Manmarziyan. What happened to that?
Bhumi: Yes (pauses). There are certain projects that come to you but then they don't take off. It's a part and parcel of your professional life.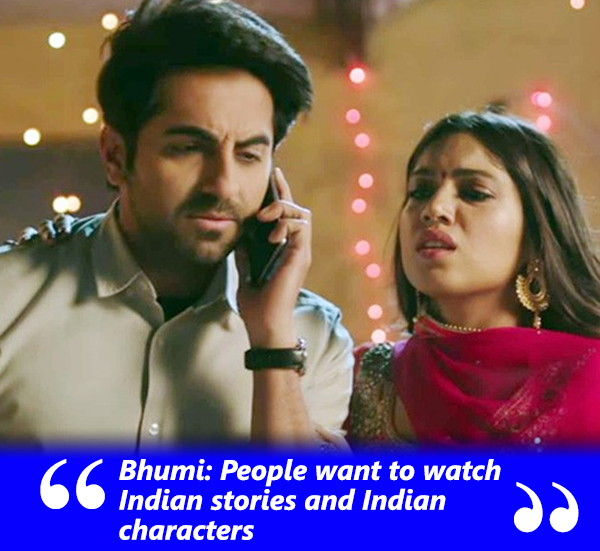 Ayushmann, talking about projects getting shelved, apart from Manmarziyan, you also signed Agra Ka Dabra and Hamara Bajaj, which got shelved. At one point you were labelled 'unlucky'. How do you react to that?
Bhumi: Can I go sock these people who say that.
Ayushmann: (Laughs) Hamara Bajaj and Agra Ka Dabra are the same project. It's just that Shoojit Sircar doesn't go ahead with a project until and unless he is 100% sure about the script. And in this case, he wasn't convinced about the script.
Bhumi: And I think you'd rather not do a film than have it turn out to be a bad film. Because a film lives with you forever.

Bhumi, on the other hand you are being tagged as the next 100 crore heroine...
Bhumi: I have done just two films and I hope that the third one is also a blockbuster. But I think this is unnecessary pressure. You alone are not responsible for a film doing well or not doing well. It's a collaborative effort. Film making is a directors' medium.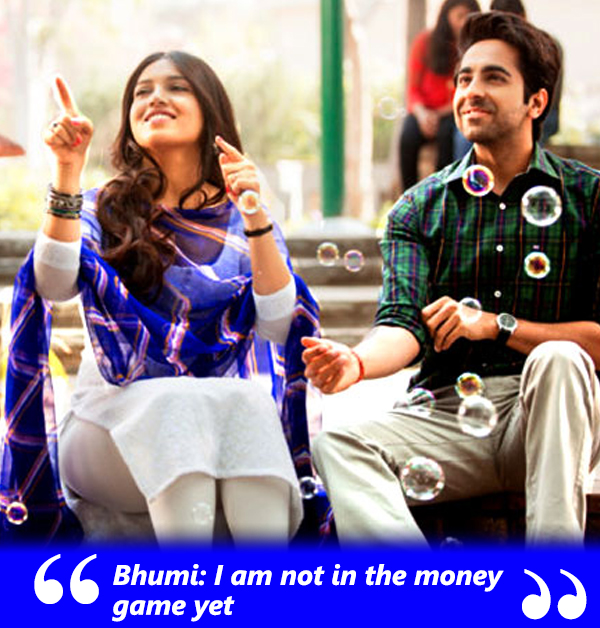 Ayushmann, when a film doesn't do well at the box-office, how does that affect your career?
Ayushmann: If your craft is not questioned and people like your work, projects will keep coming to you. It's just that the budget of the film changes. Of course interesting stuff is coming my way. I don't expect someone to mount a Rs 60 crore film starring me. I do medium to small budget films, which are high on content and the recovery is easy at the box-office. So, till the time I don't score a Rs 100 crore film, I think the big scale won't be there. But at the same time if they believe in me as an actor, then definitely the offers will be amazing.

Bhumi, there are rumours that after the success of Toilet: Ek Prem Katha you have hiked your price. How true is that?
Bhumi: My managers might know. I also want to know if there is any truth to that. I'll tell you what; I am not in the money game yet. I am just three films old. I am too new to care about how much I am paid. A good character means a lot more than money. Maybe, once I start getting those numbers it might change (laughs).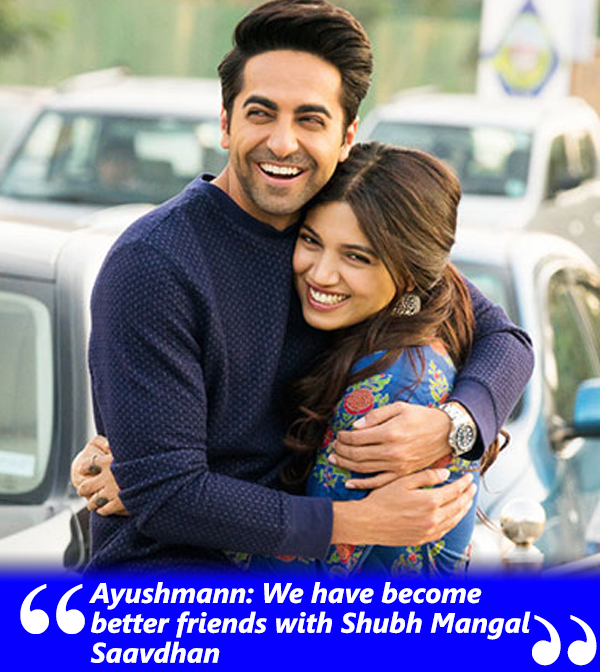 Do you believe that there is disparity between the money made by actors and actresses?
Bhumi: 100% there is. There have been times when the money offered to me was not even 4-5% of what the leading actor got. That is 90-95% less than what the hero was getting. And the hero could just be a few films senior to me. But it is just the way it is. Having said that, I have just done three films. There are great examples in front of us where actresses are demanding what they rightfully deserve. They are making things easier for newcomers like me, because they have already fought that battle. I am glad that actresses today are speaking up about pay disparity. Because a 90-95% gap in wages is ridiculous. We put in an equal amount of time and effort into the film. Look at what Kangana Ranaut does or a Priyanka Chopra does or a Deepika Padukone does. They are brilliant. Their characters will be remembered for generations so why have this disparity.
Ayushmann: I think it will take time. In this day and age we are making films which are women-centric, and when these film start churning out Rs 100 crore at the box-office, then definitely the actresses will be paid equally. We live in a time where gender parity is happening. So I think we will get there as well.

So what after Shubh Mangal Saavdhan?
Ayushmann: I am doing Sriram Raghavan's film. We have finished 40% of the film, and I will be resuming the second schedule in October in Pune and some days in London.
Bhumi: I won't talk about what I have, but I will talk about what I have already shot. I have shot for Zoya Akhtar's film in Bombay Talkies 2. It was wonderful working with her as she was on my wish list of directors to work with.


Image Source: erosnow & hdpics