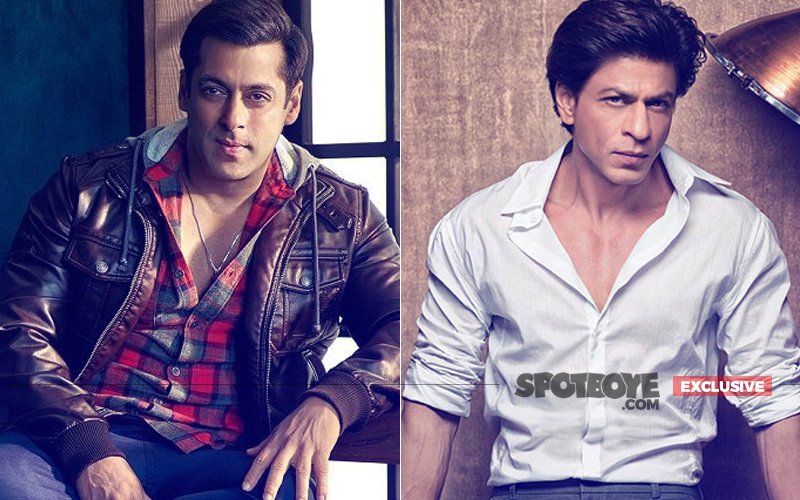 So yes,
Shah Rukh Khan
indeed did get a call from
Salman Khan
asking for a special favour. King Khan welcomed the offer with open arms. It is now a case of 'Yeh Dosti Hum Nahin Todenge'.
Hear it all from
Kabir Khan
whose Tubelight starring Salman and Shah Rukh (in a cameo) is ready to hit theatres on Friday, June 23. SpotboyE.com caught up Kabir this afternoon on the 17th floor of Lotus Grandeur in Andheri. It didn't seem that the man was nervous- no dark circles under his eyes, no nails bitten off.
Excerpts from the interview:
Only 2 days to go before Tubelight hits theatres. How are you feeling?
I am very excited. I am very happy with the film. This in turn brings confidence. Filmmaking is a collaborative effort, and sometimes everything that goes in the making does not fall in place and that is when you go wrong. The end product in such confusion is a product that you didn't set out to make.
However, in case of Tubelight, we have a film which are exactly the way they were envisaged. Ditto for Bajrangi Bhaijaan.
Fingers crossed. Now, let me hope that the audiences give Tubelight the love they have given to most of my films.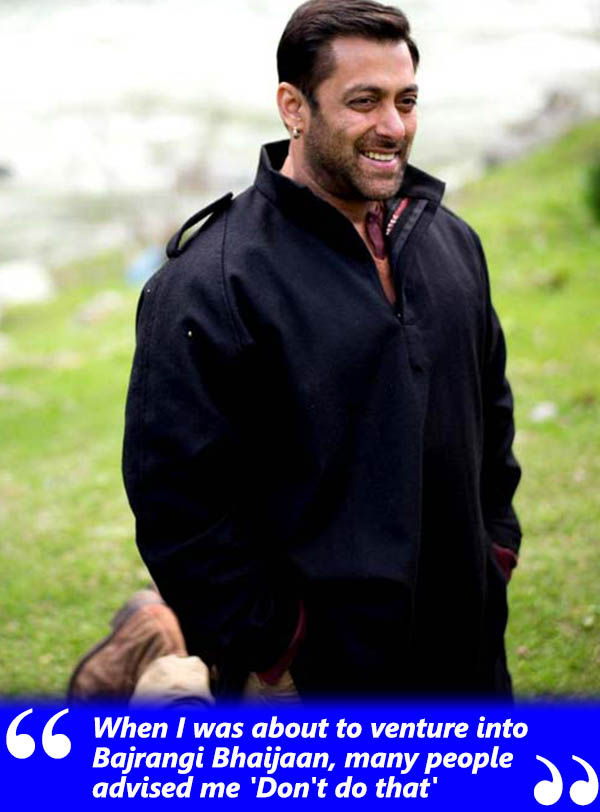 Salman Khan In A Still From Bajrangi Bhaijaan
The box-office collections of Tubelight will be compared to that of Sultan and Bajrangi Bhaijaan...
I know it will be taken as Kabir is making a political correct statement but the fact remains that I don't take numbers seriously. Else I would be pressurised and end up taking wrong decisions. LIke, the easiest thing after Ek Tha Tiger would have been to make an action film with Salman. But did I?
When I was about to venture into Bajrangi Bhaijaan, many people advised me 'Don't do that. You are stepping into a dangerous territory'. But we went ahead. And, Bajrangi Bhaijaan went on to become Salman's biggest film till date.
But yes, I am not taking deliberate decisions to be radically different every time. It is just that I am reacting to the story.
Let me explain. When I was first saw Little Boy (Tubelight is an official remake of Little Boy), I strongly felt that unlike the host of Hollywood blockbusters which I was asked to remake in the recent past, this was the story which was waiting to be told in India with a few modifications.
I wrote the script and narrated it to Salman, and he immediately said 'yes'.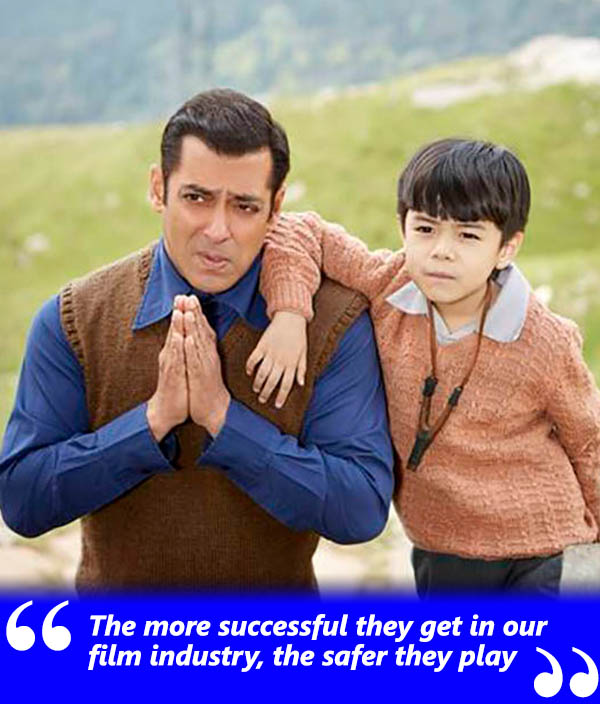 Salman Khan And Matin Ray Tangu In A Still From Tubelight
Again you have ventured into a dangerous territory. Is Salman's role in Tubelight his toughest role till date?
Absolutely. That's the excitement he felt as an actor. That's the excitement I felt as a director. I have always had this criticism towards the industry. The more successful they get in our film industry, the safer they play. You are truly succesful if you make changes.
After Bajrangi Bhaijaan, Salman and I were on a very safe wicket. Nobody would have asked any questions to us. That was the time when we should have pushed boundaries- and we did. We might fail, we might not reach the level of our earlier successes. It's okay. At least we made a film which we believed in. At least we made a film which we enjoyed making. Importantly, we made a film which Salman found challenging.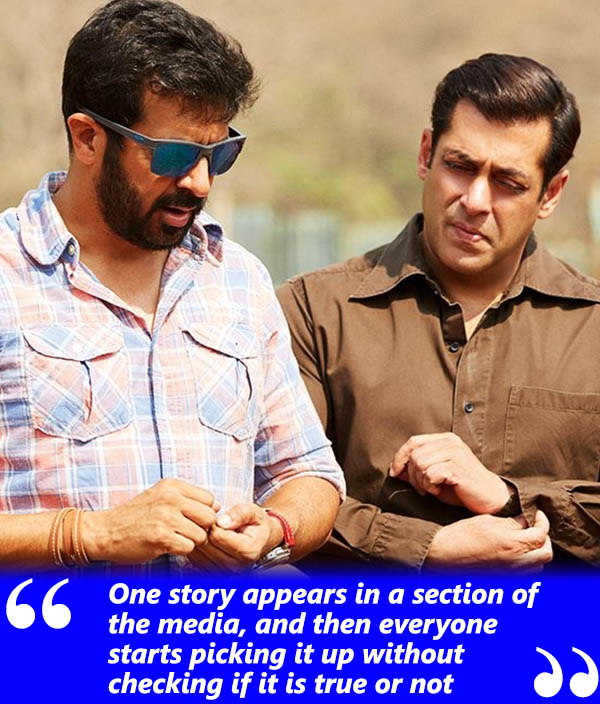 Kabir Khan And Salman Khan On The Sets Of Tubelight
You have been repeatedly saying that Salman's performance in Tubelight is 5 times better than Bajrangi Bhaijaan. I want you to elaborate on how he has grown as an actor...
I wouldn't say how that he has grown as an actor. The actor in him was always there. It's just that in Ek Tha Tiger, he was a little blase- I have done this. I dont need to push myself. I dont need to do it again.
In Bajrangi Bhaijaan, I saw him reacting to his character very strongly.
In Tubelight, I saw him unleash all his craft he has as an actor. Honestly, I was taken aback. For the first time, I saw him a little nervous. For the first time, I saw him searching for answers, wanting more information, looking for more references- doing everything that a good actor does to bring his role alive.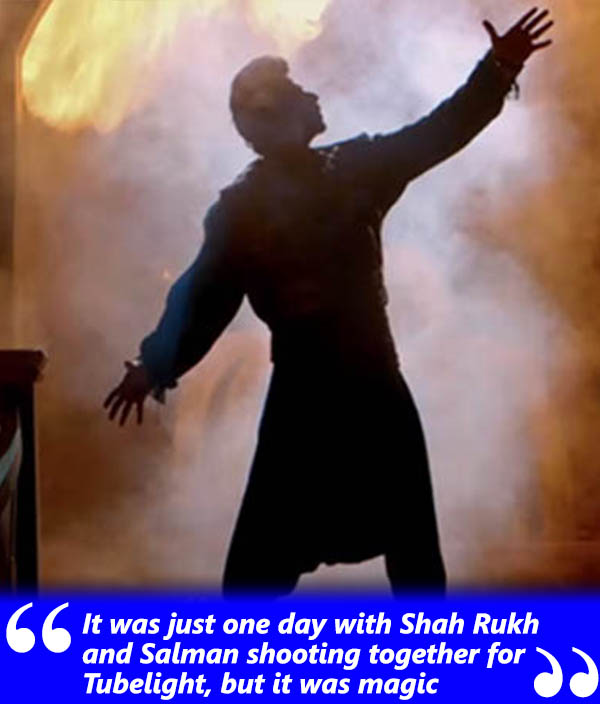 Shah Rukh Khan In A Still From Tubelight
Go on...
I decided to throw him in the deep end on Day 1 itself.
How?
I decided to flag off the film with the climax scene. I said: Kood jaate hain, dekhte hain kya hoga, dubenge toh we'll come back and change a few things.
And then?
We were in Ladakh. Just a few minutes before the scene, Salman disappeared. Some said he's in the loo, while the rest of them said that he is in his vanity van. But he was nowhere to be found. Suddenly, he appeared after 40 minutes. He was in a bit of zone. I reminded him to what he was doing in that scene, and he simply said: Haan, haan.
Trust me, he did that scene in one single take. And he added so much to it. Mind you, I hadn't told him any of those additions. I realised that he had been preparing for the scene.
All this just boosted my confidence.
I wouldn't like to take any credit for his performance in Tubelight. He was doing it all on his own. I was only monitoring that he maintains consistency.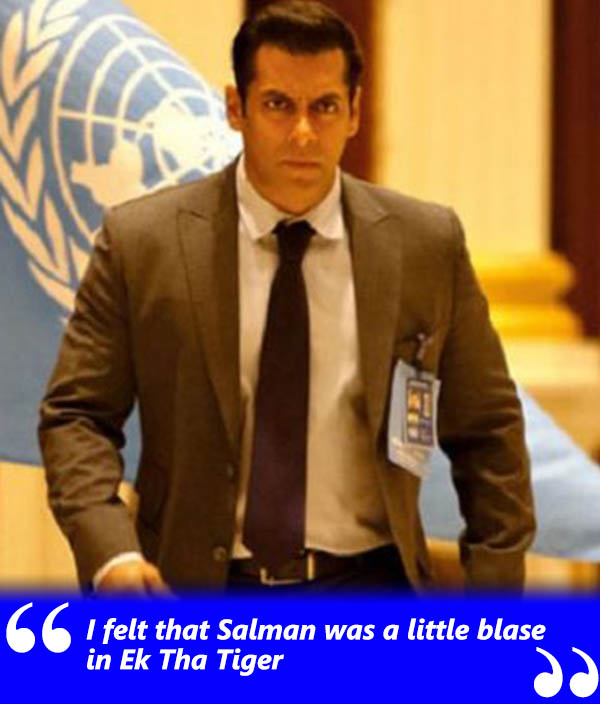 Salman Khan In A Still From Ek Tha Tiger
How did you confine him? It is likely that a commercial actor tends to go over the top...
True. Hmmm... I think that now he has that confidence in me. He knows that he needs to go subtle if and when I say that he is going over the top. Earlier in Ek Tha Tiger, in a similar sort of situation he would say: No, it needs to go at a higher pitch.
We have developed a very nice working relationship.
It's actually a very interesting relationship you have developed with him. Earlier it was rocky...
Yes.
Did you have arguments with him in Tubelight?
Always. And I enjoy that. Without discussions and arguments, a good film cannot be made. If Salman is not bringing his viewpoint on the set, I would say that this guy is not interested in the film, he's going to sleepwalk through the film.
Next comes the Convincing Round. Who convinces whom?
There are many times that he comes up with a viewpoint and I initiallly think that he is not right, but later I think 'Oh, he was right'.
Salman and I have a different set of sensibilities. Now, we are blending those sensibilities and not clashing them. Thus, we are covering a larger audience, we had both the audiences in Bajrangi Bhaijaan- the ones who like discerning cinema and even the ones who like the larger-than-life cinema.
A lot of times, Salman tells me, 'Kabir, you are underplaying it. It's a humorous scene, we won't go slapstick but let's take it a notch higher'. And I understand him.
So, any scene in Tubelight where you'll blended your sensibilities?
There are many, but if I tell you it will be a spoilsport. Those scenes are more humorous and joy now than if only I had executed them.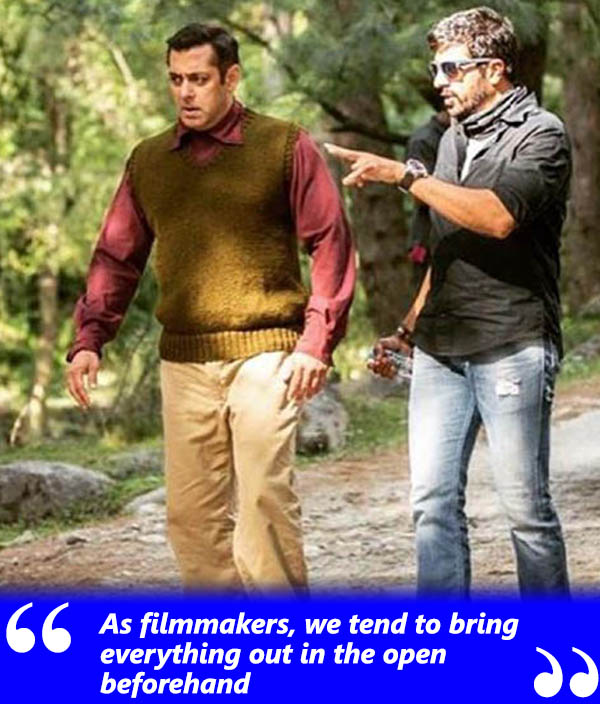 Kabir Khan And Salman Khan On The Sets Of Tubelight
Let's go over to Shah Rukh Khan...
Shah Rukh was the only person I knew when I landed in Mumbai. We studied in same college where I studied for my Master's from his notes. Gauri and I had danced together in Westside Story, which was our theatre production.
Frankly, I find cameos very gimmicky. Often I have analysed; Would a hit film with a cameo from a superstar failed if the cameo didn't exist? Did the supertar's cameo make any difference to the film? And more often than not, I would get 'No' as the answer.
Now, here in Tubelight, I really needed a superstar. And in Salman Khan I already had a megastar. How many people in our industry can hold that position vis-a-vis Salman?
I went to Salman and told him that Shah Rukh would be apt for the requirement. Salman said 'Perfect' and called up Shah Rukh, who graciously said 'yes' in 2 minutes. Shah Rukh has loved his role in Tubelight and the shoot day with him was full of warmth.
How many days did Shah Rukh shoot with you?
It was just one day, it was a long day--- but it was magic. There was so much electricity. Seeing SRK and Salman in the same frame after 22 years (they last starred together in Karan Arjun in 1997) was so thrilling. Even if you don't like the film, you will love that scene. Their chemistry is unmatchable.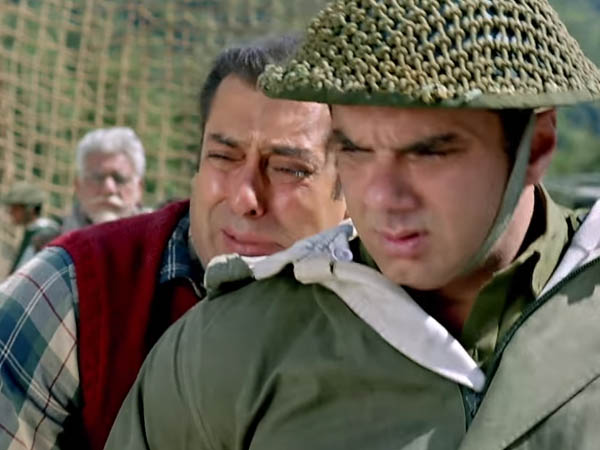 Real Life Brothers Salman And Sohail In Tubelight
You haven't brought Zhu Zhu in your publicity campaigns and she is the heroine of your film...
As filmmakers, we tend to bring everything out in the open beforehand. Let's start discovering films.
If you recall, I did not allow Harshali to come out either. Picture ke baad, no problem jo karna hai karo. Let's retain some mystery, let's keep the enigma.
Coming to Zhu Zhu, well, she has an integral part in Tubelight and the audiences will fall in love with her character.
Reportedly, Tubelight is Salman's shortest film...
That's not true. Tubelight is 2 hr 15 min, Ek Tha Tiger was 2 hr, 13 min. One story appears in a section of the media, and then everyone starts picking it up without checking if it is true or not.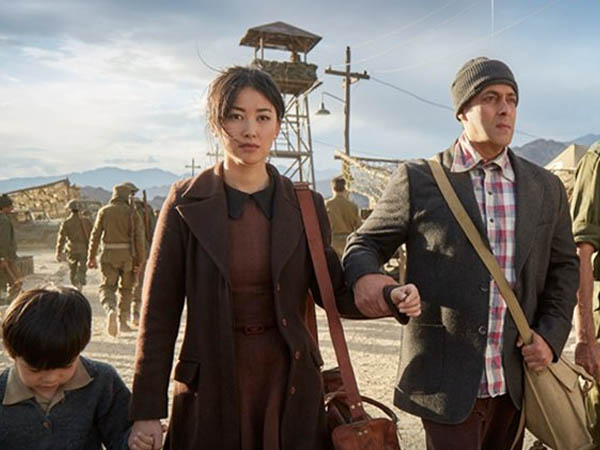 Salman Khan, Matin Ray Tangu And Chinese Actress Zhu Zhu In A Still From Tubelight
You have been voiciferous against the Censors. How was your experience with them in Tubelight?
I got an outright U certificate. They saw it very maturedly. To be fair to them, they understood everything in the context that it has been used. Tubelight has a very contemproary relevance, and my films will always have a comment on today's society.
Are you going to push boundaries in your next assignment as you won't have the Censors in the way since it is a web series (for Amazon)?
I firmly believe that we must speak on not just the issues which affect us but the issues which affect us as a whole- as an industry. as a society. If we speak about the issues which hit only us, then we are going down.
To quote Martin Niemöller:
First they came for the Socialists, and I did not speak out—
Because I was not a Socialist.
Then they came for the Trade Unionists, and I did not speak out—
Because I was not a Trade Unionist.
Then they came for the Jews, and I did not speak out—
Because I was not a Jew.
Then they came for me—and there was no one left to speak for me.
So yeah, if I feel that the Censors are oversteepping and doing something wrong, I will definitely speak up as a citizen of this country.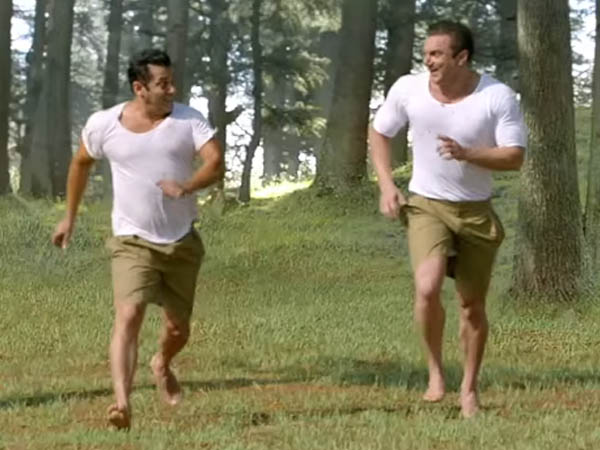 Salman Khan And Sohail Khan In A Still From Tubelight
Your son Vivaan is on a summer camp, and then he, your wife MIni and you go to IIFA. What's after that?
After the webseries for Amazon which you asked me in your last question- and that's about Netaji Subhash Chandra Bose's army- I will go over to another film which I plan to announce by end of 2017.
Image Source: Instagram/salmankhan, kabirkhan, hitang, corciva & mazale