Hrithik Roshan-Yami Gautam-starrer Kaabil, which hit theatres on January 25, proved to be a box-office success with the viewers applauding the cast's earnest performances.

Besides the lead stars' histrionics, it was Ronit Roy's villainous turn in this one that did not go unnoticed. SpotboyE.com caught up with the actor for an interview. Excerpts from the conversation that followed:

What do you have to say about Kaabil having done well at the box-office?
Firstly, I'm extremely thankful and overjoyed, just to be a small part of Kaabil. The film is special as Rakeshji and Hrithik are family to me. I was Duggu's bodyguard in the past -- from there to work with Hrithik is a huge honour.

Director of the film, Sanjay Gupta, is like a brother and it's my second successful project with him. My brother, Rohit Roy's association with the film adds to its exclusivity -- both commercially and emotionally.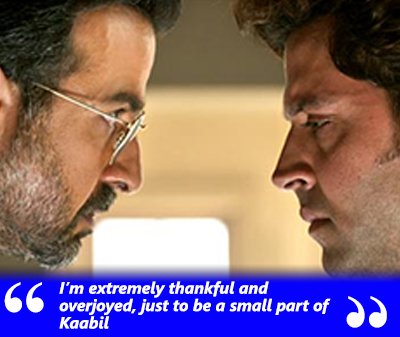 Image Source: media

Do you think that Kaabil's collections were affected because it clashed with Raees?
Both Raees and Kaabil are different movies, and SRK and Hrithik are huge stars. People who love SRK will go watch Raees, Hrithik's fans will watch Kaabil. Also, some will watch both films. What would have happened if they released separately? Well, no point discussing it since they didn't.

Was it difficult to pick up the Marathi accent in the film?
Marathi accent was a constant point of debate between director, Sanjay Gupta and I. When I spoke to Rakeshji, he was of the opinion that since it's a pan-India film, we will be keep it Hindi-ish. However, the challenge was to speak Hindi like a Maharashtrian, which is double jeopardy because when you have to speak a certain language in the accent of another language -- that makes it difficult.

Sandesh Kulkarni, Sonali Kulkarni's brother taught me Marathi and he used to come on set to rehearse lines. In the absence of Sandesh, Kashinath from Kaabil's security team helped me with it.

You injured yourself while shooting an action sequence …
Yes. The scene required me to break the glass in order to save Rohit's character, who was stuck behind it. Initially, I was wearing elbow pads, but as the shot progressed we realized that the viewers will be able to see them through the kurta I was wearing. Hence, I decided against wearing it. Also, since it was a last minute shot, the crew used normal glass instead of the usual crystalised sugar glass used in films. And I got a bit carried away.

Do you think that the industry has stereotyped you as the baddie now?
I don't really know what it is! When you realise that everything around you is redundant, the quest to prove that 'I am' goes away.

Having said that, I have to cater the needs of my family, I'm liable for their education and other requirements. All that requires money, and for money I need to work, to work I need to do films, and what I do in films is what's been mostly offered to me.
After Udaan, I was acknowledged as an intense actor and thereafter only got such roles -- thankfully.

But 2017 is going to be different. The audience is going to see different shades of this actor. I'm doing various interesting projects such as Lucknow Central, Sarkaar 3, Munna Michael and Machine.

Tell us something about your role in Lucknow Central?
Lucknow Central is a Nikkhil Advani feature film and is produced under Emmay Entertainment. I play the antagonist, but he's not a negative character; you cannot term him a villain. He's a character who is justifying what he stands for.

What about Machine and Munna Michael?
I'm an active part of the Abbas Mustan's Machine starring Mustafa Mustan and Kiara Advani but can't reveal much about the project at this point of time.
As for Munna Michael, the name ideally should have been Michael Munna as Tiger Shroff is the Munna and I'm Michael in the film. The story is about me finding Munna lying in a garbage bin, and how I bring him up.

The story is essentially about dancing and I play a flop Bollywood dancer. It's an interesting, loving, and funny role. The only thing that keeps my character going in the film is the love for his child. Sabbir (Khan, director) has projected me in a different light, which I hope the audience likes.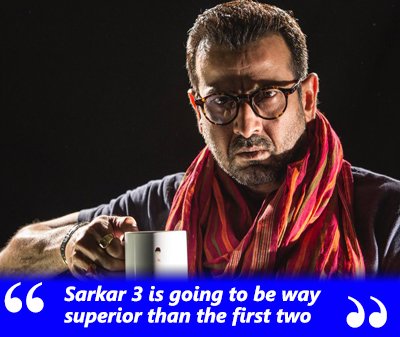 Image Source:vk

A number of Bollywood stars have set foot in Hollywood. Do you have such dreams too?
I was offered Zero Dark Thirty directed by Oscar winner Kathryn Bigelow. However, I couldn't do it because I had already given my dates to Karan Johar's Student of the Year.
I was also approached to essay the role of the villain in Homeland 6. However, at that time I was busy shooting for Gudu Rangeela. The makers of Homeland required 5 months at a stretch and wanted me to come on board immediately, which meant my other projects would have suffered. Plus, Adalat was on-air and I would have had to stay away from kids for that long. Therefore, with a heavy heart, I said no to the venture.
If I was notified well in advance, I would have figured something out.
At the moment, I am in talks with a French filmmaker for a project. The venture is scheduled to be shot in India and I'm the playing the main villain. I am still in talks and keeping my fingers crossed to finally set foot in Hollywood.

How was your experience of working with Ram Gopal Varma in Sarkar 3? Was it difficult to meet his benchmark?
Working with Ramu sir was a different experience. Before signing the film, he had texted me to come and meet him in the office. From the moment I stepped in and he started talking to me, I knew that this man is extremely intelligent and knows what he wants.
To meet the benchmark was a difficult task! Although I tried to make fewer mistakes, there were times when I would stumble in front of him. To make me feel comfortable, Ramu would made jokes about his earlier not-so-successful film, Aag. I admire him for that. People who can make fun of themselves and can crack jokes about their failures are great to have around.
After looking at the promos of Sarkar 3, I can say that the third installment is going to be way superior than the first two.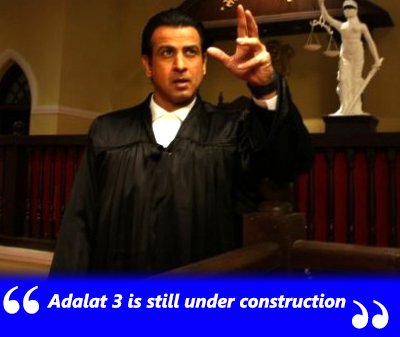 Image Source: images

How did you attain the title Bachchan of television?
I made my debut with Jaan Tere Naam (1992), which turned out to be a silver jubilee project. After that I did a few films here and there but nothing worked. I got written off. So much so that at one point of time, when my manager approached this filmmaker, he said 'Why should we sign Ronit Roy? He's performance is poorer than a junior artist.' I had to deal with all that!
There were critics, who questioned my acting skills, but I didn't take it in a negative way. I worked harder. Then, out of the blue, Ekta (Kapoor) called me and I got into television. Ekta is God to me, she gave me the break in Kasautii Zindagii Kay.
Post that I did many Balaji shows and also dabbled in anchoring. Suddenly, I was given the title of 'Bachchan of Television'. I was overwhelmed with the tag. I'm extremely loyal to TV because it is responsible for my re-birth as an actor.

What's holding up Adalat 3?
As of now, Adalat 3, is still under construction. The franchise is popular and the makers want it to be bigger and better this time around. If everything falls in place, it will meet the standard of any international global show, in terms of content and technique.