Stree, Yamla Pagla Deewana Phir Se Box-Office Collection, Day 2: Shraddha Kapoor-Rajkummar Rao Outpace Deols By A Distance
Stree starring Rajkummar Rao and Shraddha Kapoor registered a significant jump on Day 2. On the other hand, Yamla Pagla Deewana Phir Se starring Dharmendra, Sunny Deol and Bobby Deol is still struggling to stay afloat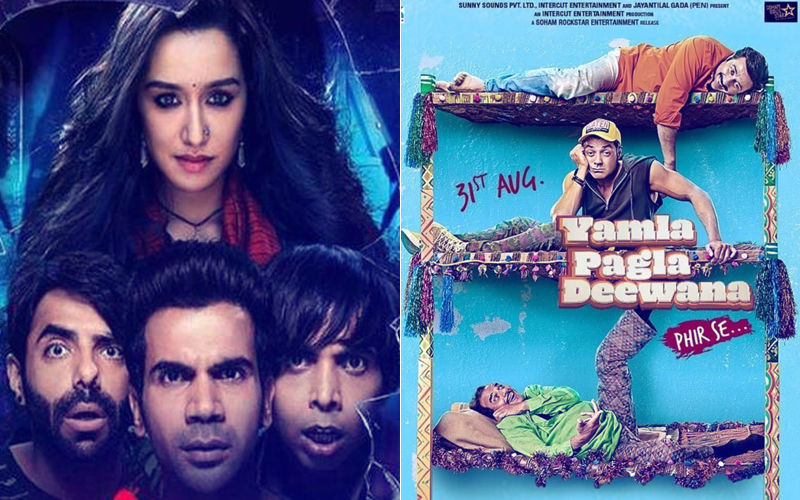 On Saturday, Stree earned Rs 10.50 crore, which is a great jump from Day 1. The project is reaping benefits of good word-of-mouth publicity, and a lot of it can be credited to the fantastic performance by Rajkummar Rao.
SpotboyE.com Editor, Vickey Lalwani, in his review
wrote, "Watch this film for Rao's histrionics, this man can give 4 expressions in one shot- comical, scared, romantic and dominant. That's exactly what Shraddha makes him do in the end to defeat the Stree."
At the same time, Yamla Pagla Deewana Phir Se is having a bumpy ride. On Saturday, YPD Phir Se earned Rs 1.80 Cr, which is almost similar to what it earned on Day 1.
SpotboyE.com Editor, Vickey Lalwani also questioned in his review
, 'why are Deols doing this to them?' He also added, "The background score is noisy. The choreography is tacky. The outfits are from God-knows which year! The dialogues are all forgettable. The direction is amateurish. And guess what's the message (if at all anybody deciphered)? That, the traditional Ayurveda medicines are superior to Allopathy. Phew! Itna outdated? YPD 3 seems to have been made to resurrect Bobby's career; he is in the thick of everything. Whatever, it's difficult to for me write anymore. Let me go."
Now, let's wait and watch how Rajkummar Rao and Shraddha Kapoor's histrionics fare on Sunday. Also, will the Deols be able to counter the uphill task ahead of them? Stay hooked onto SpotboyE.com.
Image Source: instagram/ypdphirse/streethefilm