Simmba Trailer: Is This Ranveer Singh Film, Singham 3? Well-Concealed Ajay Devgn Pops Out!
And the trailer of Simmba is here. From the looks of it, the Rohit Shetty film which stars Ranveer Singh and Sara Ali Khan is going to be a delight. And, we must admit, we are blown away by the surprise element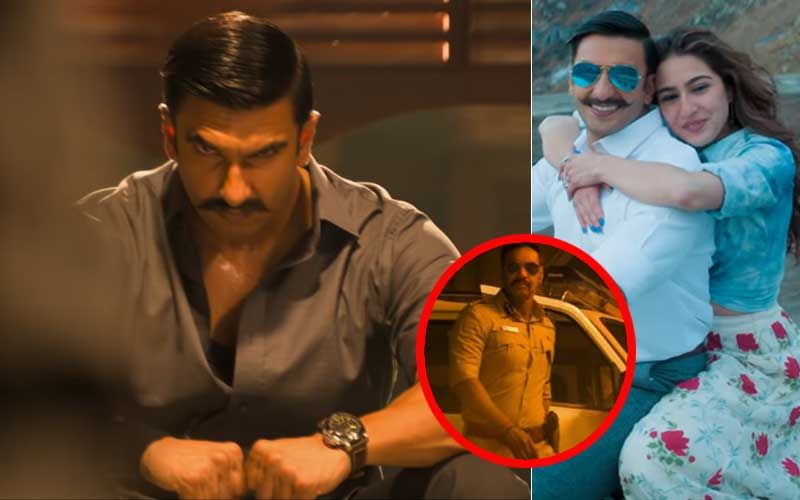 The much-awaited trailer of Ranveer Singh and Sara Ali Khan starrer Simmba (directed by Rohit Shetty) is here and the 2-minute 54-second clip is a treat to watch. It starts off by Ajay Devgn narrating the story of a certain boy who wanted to become a police officer just like him (takes off from Singham and Singham Returns), but his aims are completely different. The boy is seen mouthing dialogues like "Kidhar parr bhi de, parr sar pe nahin" instantly reminding audiences of the Singham dialogue – Aata Majhi Satakli. Cut to the present, the boy in question is Ranveer Singh.

As expected, the actor engages with his histrionics and proves to be a show-stealer. Sara looks striking and fits the part perfectly. The makers leave you with the nail-biting climax which sees Ajay Devgn's heroic entry to help Simmba.

This one has all the elements of a Rohit Shetty film along with a message. You may recall, SpotboyE.com Editor Vickey Lalwani was given a preview of Simmba on December 1. He was all praise for the perfectly-knitted story and Ranveer-Sara's acting chops.
Talking about Simmba, Ranveer had said during an event, "It is my first bona fide 'in and as'. It is with a director who has such a great, vast and sparkling equity. And he is really not holding back this time, with the way he is mounting the film and everything that he is pumping into the film. It really is my biggest outing and I am doing my best to perform my level best in this film and keeping my fingers crossed. I am excited about it and I hope people watch the film and love it."

"It has been a mind, soul enhancing experience. Rohit sir is the king of the genre. I am growing as an artiste. It is not easy to be performing, acting in mainstream films as there is comedy, drama, action, etc. It is my biggest film and I am very excited about it. It is going to be a full-on family entertainer and I want to be part of films like this in future," he had added.

Talking about working with Rohit Shettty, Ranveer had said, "I love him. We've shot a month and 'bohot gehra rishta ho gaya hai humara'. He is an amazing man and an amazing leader. There is so much to learn from him about filmmaking and connecting to a mass audience. His passion and energy is infectious. He is so immersed in the process that you feel compelled to do your best work and that is why he makes the kind of entertainers that he does and his films are successful. Also, he treats his people so well. Most of the people who have worked with him have been working with him for over ten years. For them it is more than just a job. It is true passion to create legacy." Simmba hits theatres on December 28.

Images Source: youtube/relianceentertainment