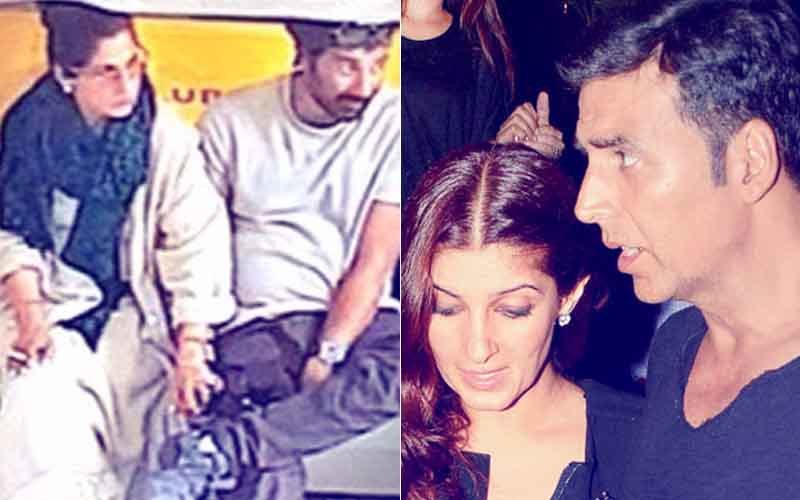 Your browser does not support the video tag.
Sunny Deol and Dimple Kapadia were caught holding hands outside an eatery in London. The photos and video went viral and Bollywood buffs were in for a big shock.

Not very surprising, but trolls got on to what they're best at- passing illogical nasty comments and this time the target was Dimple Kapadia's daughter Twinkle Khanna and son-in-law, Akshay Kumar.

Twinkle aka Mrs Funnybones, who is known for her quirky and witty ways of taking a jibe at people was asked about her opinion on the pictures and videos. They even asked her to write an article on the video as well.

What a shame!


@mrsfunnybones Said: Luv your funny spin-offs on issues, can't wait to see how you are going to spin this one
@mrsfunnybones Said: Would you write an article on this picture? What would you tittle it ?



@mrsfunnybones Said: aise do hmesha Ulta seedha bolte rehti hai...aaj apni maa k bare me bhi kch bat krle



@mrsfunnybones Said: ur comment z awaited



@mrsfunnybones Said: 😂😂😂😂



@mrsfunnybones Said: better to not give any answer & shut up her mouth for ever



BTW THIS Twinkle Khanna who insults everyone without any credibility must also speak on Dimple Sunny dirty affair why is she silent now



Hi twinkle have seen ur mom dimple's pic on Facebook with ex b/f sunny 😀😀😀😀no comoments on ur side



yesterday, Twinkle's mother is smoking & romancing with Sunny in London



@mrsfunnybones Said: hey twinkle, any comment on dimple/sunny vacation video circulating? u usually hve a witty take on everything.



@mrsfunnybones Said: ! What do u have to say about ur mother #DimpleKapadia hanging around with #SunnyDeol in NY? #RajeshKhanna must be sad.



Probably the article should have tittle "Mere Pati ki Hot Mother in Law"



@mrsfunnybones Said: She has her opinion for all/everything. Cant wait..



Trolls did not even spare Dimple Kapadia's son-in-law Akshay Kumar and congratulated him for having a new father-in-law.

Check out a few comments:
Akshay ki Saas khtre me hai 😂😂



@FlopAkshayKumar Said: akshay ki saas sunny paji ke saat london me.. Akshay ka naya sasur sunny paaji ... 😭😭😭



@akshaykumar Said: mubark ho sir g new father in law



Soon #SunnyDeol ll become the Father in law of @akshaykumar 😁😁



Dimple Kapadia with Sunny Deol, holding hands in London.
Akshay Kumar, your new Pa- in- law...Where is the treat?



Couldn't stop myself from sharing this. #Hypocrites spotted ,Akshay doesn't leave any chance to talk big for beti,wife makes MIL a devil.



hmm, really akshay kumar ko naya papa mil gaya baithe bithaye...!! kahin twinkle khanna bhi to twinkle deol nahin hai...!!



@akshaykumar Said: ji ke saas aur sausur ?


Weirdly, Sunny Deol's father Dharmendra too liked Sunny and Dimple's video on self-proclaimed critic, KRK's timeline. If it was Dharmendra's official account (which looks to be if we follow it back to the home page of the said account) then, Papa Dharmendra LIKED the video on Twitter.

Well yes, KRK shared the viral video on his Twitter timeline with a caption, "Sunny Deol and Dimple Kapadia are enjoying their holidays together. They are looking beautiful couple." And there is a LIKE from Dharmendra Deol's account. We are extremely amused considering, Sunny is still legally wed and has not made his affair with Dimple public, as yet and Dharmendra liking the video in such situation, is rather strange.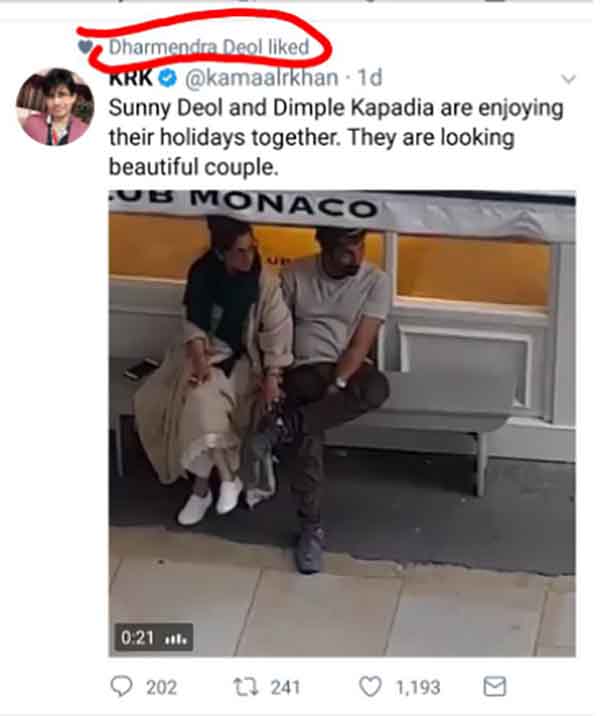 Dharmendra Likes KRK's Post

While Dharmendra liking the video was unexpected but Twinkle and Akshay getting trolled for the video was quite expected considering trolls leave no opportunity to stoop down to the lowest level possible and prove time and again how shallow and frivolous their mentality is.


Image Source: Twitter