Diet Sabya Calls Out Sonam And Rhea Kapoor For #GandiCopies; Sisters Hit Back
An Instagram page known as Diet Sabya called out Kapoor sisters- Sonam and Rhea for wearing Anamika Khanna's copied design. Soon after the accusations, the Kapoor sisters cleared the air around the 'copied attire'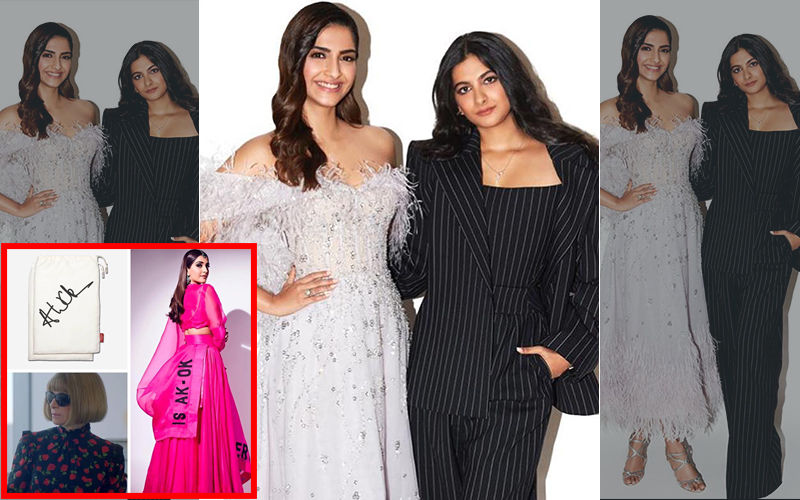 An Instagram page named
Diet Sabya is giving designers of Bollywood a hard time.
The user usually finds the copied attires of Bollywood designers from international attires and targets them on its social media page and calls them #GandiCopies. The latest designer to face plagiarism is Anamika Khanna.
Diet Sabya took to its Instagram page and posted a picture of Sonam Kapoor wearing Anamika Khanna and claimed that 'AK-OK' written on the dress has been copied. It captioned it as, "We know this is going to cause major heartburn, but we simply cannot ignore the fact that @anamikakhanna.in's AK-OK is TOO CLOSE in concept to the Jordans @voguemagazine launched in June 2018, with AW-OK. What would Anna say? 😂Thoughts? #dietsabya #guts"
Commenting on Sabya's post, Rhea Kapoor wrote, "@anamikakhanna.in went through a major health crisis last year, in order to bring her back to her work after an almost year long sabbatical her sons @thevisheshkhanna and @viraj_khanna started saying 'everything is ak-ok mom' and that's where this has come from. Thanks."

She further pasted a link in the comments section and said, "Refer to post kindly, thanks. Anamiks herself first wore it at the vogue awards, the first time she travelled after she was sick."

Replying to Rhea's comment, Diet Sabya wrote, "@rheakapoor well, the @elleindia feature states that the AK-OK idea is in fact by the sons, and inspired from "hip hop music" and "street culture".

Rhea continued saying, "@dietsabya I have worked with Anamika khanna for 12 years. There is no emotional excuse required, she was recovering from a harsh illness for 8 months far away from Instagram and any trend spotting. She had to be cajoled to get back to work. She is a true original and a true artist, far from plagiarism. She lives in her own world in Calcutta but is astute and talented enough to pick up the pulse of what's going on. Your post is truly irresponsible and heartbreaking. AWOK which isn't hyphenated as 'A-OK is, is inspired by virgil who in turn is inspired by Kim jones, raf simons and Prada. Trends and pop culture inform us all, but irresponsible name calling is shameful. And Anamika's copy says 'everything will be ak-ok'."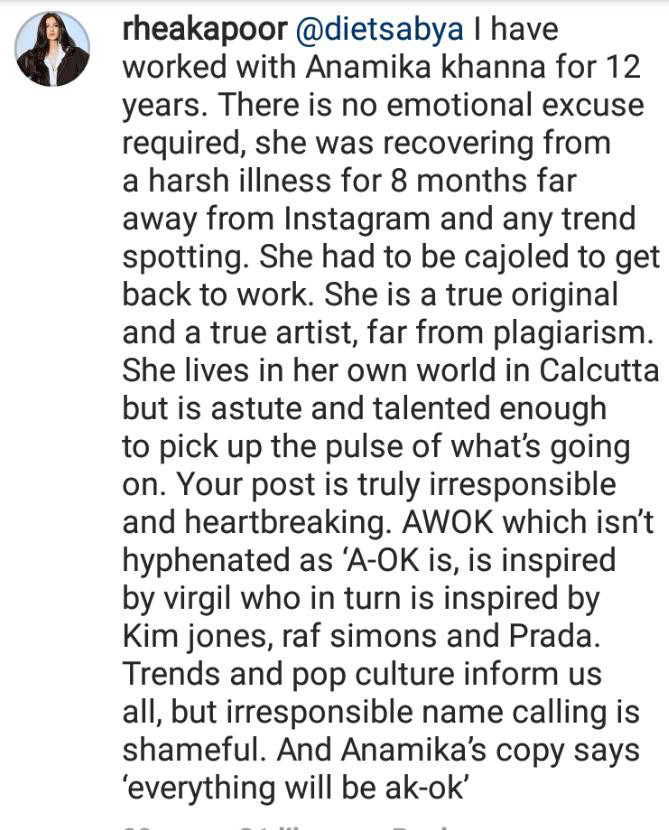 Sonam Kapoor further commented, "Dear Diet Sabya, this is a bit of a reach on your part. I'm a but disappointed. As a fan of your inspired page I hoped for better."

Furthermore, Sonam Kapoor took to social media and posted a picture of her wearing the same attire by Anamika Khanna. She cleared the air about how the designer came up with 'AK-OK'. She captioned the picture as, "My dear friend @anamikakhanna.in had gone through a terrible illness in the last year. Her beautiful twin sons @viraj_khanna and @thevisheshkhanna banded together and surrounded her gave her comfort and inspiration. The common slang that is used amongst people is A-Ok in America. Viraj and Vishesh who just returned from America after four years in the prestigious university of Southern California, used the same term playfully with their mom when she was down, saying "mom everything is going to be AK-OK" dear Anamiks I'm so glad everything is eventually AK-OK im so so fortunate to be your muse and @rheakapoor and I get to collaborate with you. I hope I never take you for granted. Love you so much! I shed a tear when I wore this outfit because I know it was inspired by your boys and they gave you strength during your lowest."

Image Source:-Instagram/Sonamkapoor, Instagram/dietsabya