Entertainment News Round-Up: Salman Khan Issued Gun License For Self Protection Following Death Threats, Shweta Tiwari's Ex-Husband Raja Chaudhary's Girlfriend Shraddha Sharma Accuses Him Of CHEATING, Beyoncé Goes Nearly-NUDE: Flashes Her B**bs As She Puts On A Bold Display, And More
Here's a quick round-up of what happened in the Hindi film and TV industry today - August 1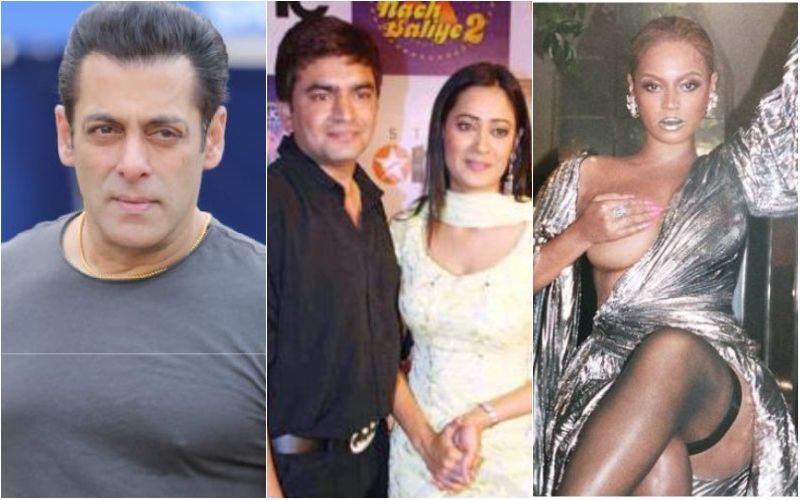 Salman Khan Issued Gun License For Self Protection Following Death Threats

Salman Khan has been issued a gun license for self-protection in the wake of the death threats he received last month. A senior IPS officer confirmed that the actor has been issued a firearm license due to security reasons by Mumbai Police. Last month, Salman submitted a written application to the Mumbai Police, seeking a weapon license for his protection.
Shweta Tiwari's Ex-Husband Raja Chaudhary's Girlfriend Shraddha Sharma Accuses Him Of CHEATING
Raja Chaudhary's ex-girlfriend Shraddha Sharma has levelled some shocking allegations against him. In a recent interview, the Bigg Boss 5 fame Shraddha accused Raja of cheating on her and also talked about his drinking habits. She revealed that Shweta Tiwari's former husband used to get violent after drinking and thus she could not tolerate his violent behaviour. Not just that, Shraddha also mentioned that Raja went to rehab to quit alcohol but all in vain.
Beyoncé Goes Nearly-NUDE: Flashes Her B**bs As She Puts On A Bold Display
Beyoncé is easily one of the most popular singers and she effortlessly manages to put up a tough competition for her rivals. Apart from her songs, she has also engraved her name as the sexiest lady of the twenty-first century, and if you need any more convincing, look at the album cover for her most recent release.
Rakhi Sawant Says Ranveer Singh Has Done Favour To Indian Women By Posing NUDE
Controversy queen Rakhi Sawant is among the actors who have come out in support of Ranveer Singh over his nude photo shoot. The former Bigg Boss contestant has been praising the actor for baring it all for a photoshoot. Now, in her latest social media post, Rakhi has asserted that Ranveer has actually done a favour to Indian women by going nude. Not just that, she also mentioned that all women "felt peace in their eyes, in hearts and everywhere else as they have seen at least one nude guy."
Pat Carroll, Voice Of iconic Disney Villain Ursula In 'The Little Mermaid', Passes Away At 95
Its a sad and heartbreaking day for Disney and its fans as Pat Carroll - a comedic television mainstay for decades, Emmy-winner for Caesar's Hour and the voice Ursula in The Little Mermaid - died at 95.
Patt's daughter, Kerry Karsian, a casting agent, confirmed of Patt Carroll's death and said that she died at her home in Cape Cod, Massachusetts, on Saturday.
Image Source: Instagram