Beyoncé Goes Nearly-NUDE: Flashes Her B**bs As She Puts On A Bold Display While Riding A Horse-SEE PICS!
Beyoncé is nearly synonymous with fashion and she gave millennials the next-level fashion goals with her dramatic ensemble as she put on a titillating look of grandeur and elegance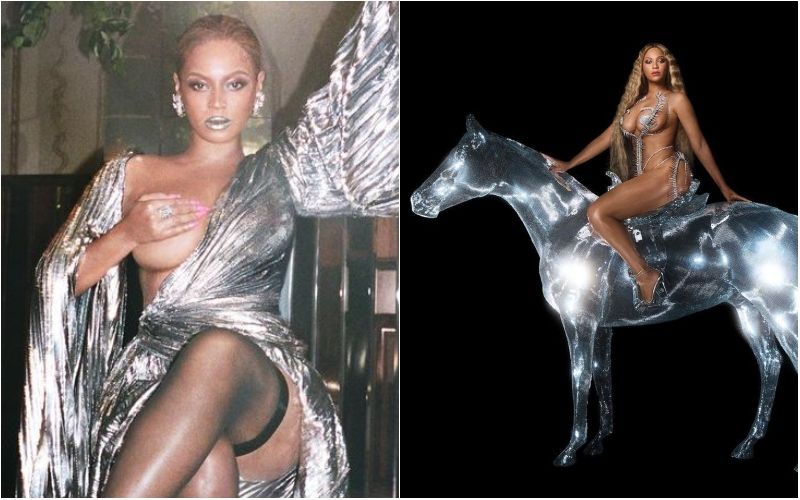 Beyoncé is easily one of the most popular singers and she effortlessly manages to put up a tough competition for her rivals. Apart from her songs, she has also engraved her name as the sexiest lady of the twenty-first century, and if you need any more convincing, look at the album cover for her most recent release.

For the unversed, Renaissance is her seventh studio album on her own, and it has since gained much attention since its release, Thanks to her sexy looks.
In the Renaissance cover, the renowned American singer-songwriter and multiple Grammy winner embodied sensual appeal from head to toe, which was revealed earlier. One of the pictures featured here exposed the right side of her breasts for the album cover as she simply covered it with the palm of her hand.
Several fashion connoisseurs and fans applauded her new and bold look leaving them speechless.
The singer radiated sex appeal as she sat on a crystal horse for her latest pose and you hardly pay any attention to it as Beyoncé steal the scene with her busty curves. The singer struck the quintessential cowboy pose on a horse and she's undeniably the sexiest cowboy ever!
According to the latest reports, music fans voted in a poll published Friday (July 29) on Billboard, choosing the superstar singer's first solo studio release since 2016's Lemonade as their favorite new music release of the past week.

Image Source: Instagram