Entertainment News Round-Up: Sonali Phogat's Family Accuses Kuldeep Bishnoi Of Her Murder, KRK To QUIT Reviewing Films, Falguni Pathak ATTACKS Neha Kakkar, Matthew McConaughey Was MOLESTED & More
Here's a quick round-up of what happened in the Hindi film and TV industry on September 25, 2022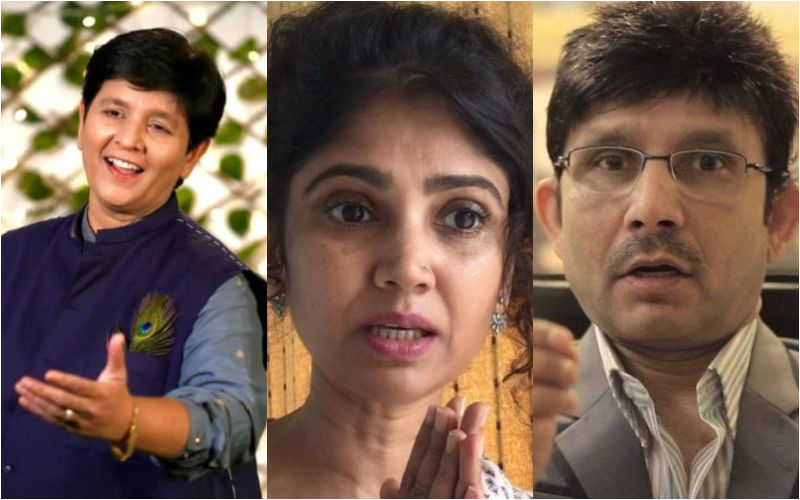 KRK To QUIT Reviewing Films After Hrithik Roshan's Vikram Vedha
Kamaal R Khan, popularly known as KRK, has decided to quit reviewing films after the release of 'Vikram Vedha' starring Hrithik Roshan and Saif Ali Khan. KRK will not be reviewing any film post this actioner as he announced his retirement from movie reviews. KRK also asserted that Bollywood never accepted him as a critic but instead filed many cases against him to stop his film reviews.
Falguni Pathak ATTACKS Neha Kakkar For Remixing Her Song Maine Payal Hai Chhankai
Falguni Pathak is angry with Neha Kakkar over ruining the innocence of her 1999 iconic song 'Maine Payal Hai Chhankai'. Pathak even said she was "about to puke" when she first heard the remixed version 'O Sajna'. Even a certain section of people brutally trolled Kakker saying she has ruined their childhood with her revamped version.
Ratan Raaputh Recalls Facing CASTING Couch
Ratan Raajputh is popularly known for playing Laali in Agle Janam Mohe Bitiya Hi Kijo. She is not just a fabulous actor but also a vlogger, who makes videos for her youtube channel. In her videos, she gives a glimpse of her life in Mumbai. In a recent video, she shared her experience with the casting couch and made a shocking revelation. Ratan Raajputh in her recent vlog she said that had come to Mumbai in 2007-2008 to fulfill her dream of becoming an actor.
Kuldeep Bishnoi KILLED Sonali Phogat?
BJP Leader Sonali Phogat's death case is currently being investigated by CBI. Amidst the probe, the actress's family has accused party leader Kuldeep Bishnoi of murdering Phogat at Sarv Khap Mahapanchayat in Hisar. Sonali's brother Rinku has alleged that Bishnoi's name came up when he sent his acquaintance to the hospital after his sister's death. At Mahapanchayat, Rinku claimed that Sudhir Sangwan, one of the accused, enquired whether the person was sent by Kuldeep Bishnoi.
Matthew McConaughey Was MOLESTED At Age OF 18
Hollywood actor Matthew McConaughey is a known actor who has worked in many films across all genres from romance, comedy, legal drama, war drama, crime, and many more. After doing romantic comedies back to back he was established as a sex symbol. Recently he recalled that he was molested in his teens and mentioned that those past experiences would not ruin his future relationships.
Charu Asopa-Rajeev Sen's DIVORCE Was A Publicity Stunt For Bigg Boss 16?
TV actress Charu Asopa and her husband Rajeev Sen resolved their differences and gave another chance to their marriage months after they announced they were getting divorced. While fans were happy at their reconciliation, some badly trolled the couple saying their divorce was just a 'publicity stunt'. Even some believed that Charu and Rajeev did this 'scripted drama' for the upcoming reality show 'Bigg Boss 16.' Now, Asopa in her latest vlog has reacted to this as well as talked about her and Rajeev's decision to get back together.
Image Source: Instagram