Family Approves! Here's What Nick Jonas' Brother Feels About Priyanka Chopra...
After being spotted with Nick Jonas at various events, Priyanka Chopra attended a family wedding of the former's cousin. Now, that the family has met Desi girl Pee Cee, let's hear what Kevin Jonas (Nick's brother) has to say about the his brother's new girlfriend...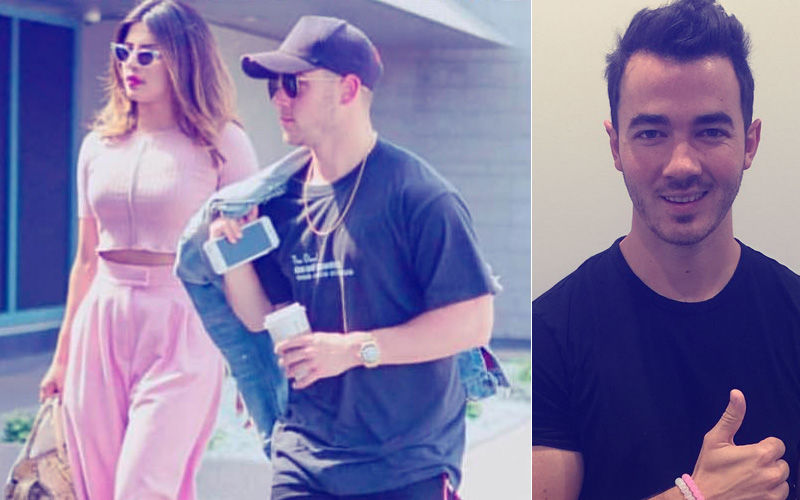 Priyanka Chopra and Nick Jonas' love story is not only all over NYC but Internet too. Every day there is some or the other update about their budding romance. So, what's the latest update on their romantic alliance? Well, Nick's brother Kevin Jonas, who was also present at the wedding which Priyanka attended a few days back, opened up about the Desi girl during a recent interview. Check out the video right here:



Speaking about how the family is accepting Pee Cee, Kevin said, "You have to ask Nick about that. We have met her (Priyanka) in the past. She is super-awesome. But, that's Nick's thing and he can say what he wants to say." Kevin went ahead to also say that Nick wants to get married and have children at some point in his life.

PeeCee and Nick have been painting the town red with their outings. A few days back, the couple was spotted at the JFK airport, New York. They entered together, and sent the shutterbugs in a tizzy. Soon after their arrival, they were seen leaving the airport in a helicopter together. Earlier this month, Priyanka posted a picture of herself pigging out on some delish burgers with her girlfriends. Within minutes of the picture going up on social media, Nick left a comment on it that read, "That smile." Aww! Isn't that adorable? After that Nick was at the Taronga Zoo in Sydney, Australia. During the trip, he took to Instagram to share a video with a Koala bear. He captioned it as, "Hi! Within minutes of the post going live, Priyanka left a comment on it. She said, "Who is cuter? Lol."

Well, let's wait and watch when Nick and Priyanka decide to take their relationship to the next level.


Image Source: instagram/karfashion & instagram/kevinjonas