Hungama 2 Actress Pranitha Subhash On Co-Star Shilpa Shetty Kundra: 'You'd Wonder In The Film Who's Younger'-EXCLUSIVE VIDEO
South actress Pranitha Subhash, who is set to debut in Hindi this year with Bhuj: The Pride Of India and Hungama 2, talks about her career, these two films, and more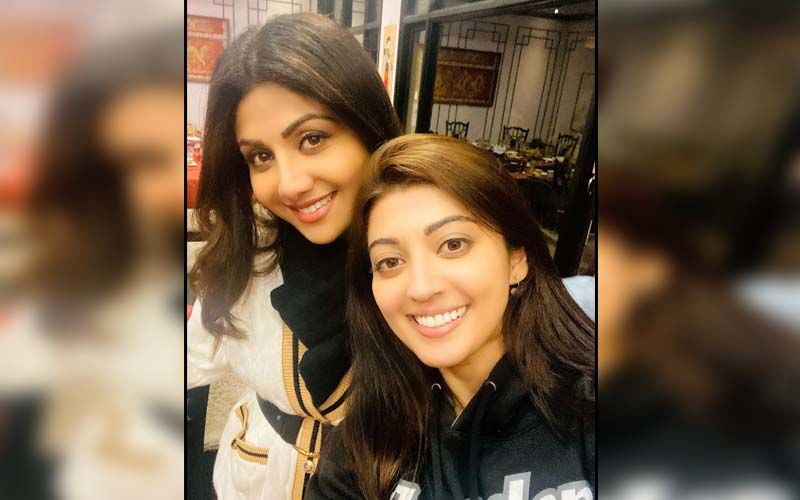 Pranitha Subhash has already mesmerised the South industry in three languages with her immense talent and now she is all set enter the Hindi film industry as well with two already completed Hindi films up for release with Bhuj: The Pride Of India with Ajay Devgn, Sanjay Dutt and Sonakshi Sinha and Priyadarshan's Hungama 2 with Shilpa Shetty Kundra, Paresh Rawal and Meezaan. In an exclusive conversation with Spotboye.com, the actress gets candid about her career, upcoming films and more. Read excerpts from the interview:
How has the transition been for you from the South to Bollywood?
I wouldn't call it a transition as it just has been a natural progression. Be it moving from Kannada to Telugu or now to Hindi, it has all felt like a part of a natural journey of moving to something new.
You have been in the industry for about 10 years and worked in three languages already. Do you still that newcomer jitters?
Absolutely, because it's a new language and a new crowd every time and you don't know the level of acceptance. So, this time too, fingers crossed.
Is it scary starting from scratch in another language after already building a name for yourself in one?
It wasn't that scary in South as all the industries in South are pretty interlinked. People in Bengaluru watch a lot of Telugu films and the Telugu people will keep a track of what's happening in Tamil. So, you fit in their immediately. It's like how Punjabi, Gujarati films get interlinked due to the placement of states next to each other. But coming to Hindi was quite a challenge.
Although even in Hindi, I found a sense of familiarity as people there watch a lot of South films, be it for inspiration or for remakes. Also, these TV channels show Hindi dubbed versions of South films which increases the reach of South amongst Hindi audience. The first few people to recognise me there were waiters, autorickshaw drivers or the concierge at the hotels. That was quite fun as those guys really recognised me as they seem to have watched my films on YouTube.
Later on, eventually I realised that producers and directors also kept a track of South films as everybody is always scouting for talent or looking for stories. So, I found a familiar ground even there.
South Films have actually gathered more prominence in the Hindi market in the past few years…
Especially Bahubali being made in different languages or other Salman Khan films that are remakes of South films. They all somewhere provided a very strong connection. Hindi audience enjoys these mass-masala vibes of the South films and even Meezaan is obsessed with South films. I tell him that he should debut in the South now.
You are debuting in Hindi with Ajay Devgn and Sanjay Dutt as your co-stars. How was that experience for you?
I don't really have any screen time with Sanjay Dutt sir, but I am a really huge fan of him. As for Ajay sir, he has been one of my favourite heroes, especially in the comedy genre. I love his Golmaal series and my dream is to do a comedy film with him, but even Bhuj is a great way to start my journey here.
It is a war film and I am nationalist as a person. I love promoting patriotism and nationalist ideas through films, so to be a part of one such film is really fantastic for me.
What can you tell us about your part in Bhuj?
I play a Marathi wife to Ajay sir's Air Force Squadron Vijay Karnik. The film is based on a real-life incident that happened in 1971 and thus all our characters, including mine, are based on real-life people.
I wouldn't really say that my role is very crucial to the film as it is a war film at the end of the day and it is about Ajay sir and Sanjay sir's characters. Their tracks are more important than the girl in the film, but it's still a great way to start my journey in Hindi films
From your first Hindi film, Bhuj, to your second, Hungama. It's a drastic jump from drama to comedy…
It is a drastic jump but not for me because in Priyan sir's films, no one is trying to be funny or doing comedy. As characters we are not cracking a joke, but the joke is one us. What's happening in the film seems funny to the audience but not to the characters. The characters are in tragedy and the audience is finding it funny, that's how his films are. So, in that sense I didn't have to actually do anything in terms of comedy.
There was a time, before pandemic, when both your films were supposed to release together on August 15 last year…
When it was launched, Hungama 2 was supposed to release on the same day as Bhuj, and by April 2020, I had already signed my third Hindi film. I really thought that I was on a roll but the pandemic definitely changed the course of my life. It does take me into pangs of anxiety at times like my trajectory was so good and how does this happen. But I guess that is how life is and we need to accept it.
So, now since both Bhuj and Hungama 2 are announced to release on OTT, which is going to release first?
I really don't know and I wish I did because if I knew, I could promote that film first which is opening first.
When both the films were supposed to release on the same day, did you ever thought that maybe one should get a bit delayed?
No, because I thought more people would watch my films. Those who like patriotic film would watch Bhuj while those who like comedy would watch Hungama 2. Technically, all of India would be watching me. And since I had also signed my third film, I thought it will be me all around. Everyone would be watching me and I would be on a roll.
When Modiji announced the 21-day lockdown on March 19, I was so anxious that 21 days is too long, what will I do at home and I had my film shoots. But now those 21 days have turned into over a year. Now, when I do interviews, I am suddenly reminded of my career.
With Hungama 2, do you feel the pressure of carrying forward a franchise?
Yes, of course. Me and Meezaan are both new to the industry and we really need to establish ourselves. If Bhuj is even a hit, it is not solely my film that I will take away all the credit. But in Hungama 2, we are really key in the movie and I really wish the audience loves the movie.
How is Meezaan as a co-star?
He is amazing. He is very talented and comes from the Sanjay Leela Bhansali's school of work and his family is full off people who created Boogie Woogie and are amazing at dancing. So, he is naturally good at acting and dancing and at times he would give me some important tips on how to go about things. He is really chilled out and a lot of fun.
With Hungama 2 Shilpa Shetty Kundra is making her acting comeback. Does she still have that spark that she had in the nineties?
One hundred percent. She hasn't aged one bit. She doesn't look a day older, rather you'd wonder in the film who's younger since she's so pretty and nice.
You are working with veterans of comedy in Hungama 2 including Paresh Rawal, Priyadarshan, Rajpal Yadav and Johnny Lever amongst other. Did you learn something in comedy from them?
Paresh sir or Rajpal sir are actually not voluntarily doing comedy in the film. They are actually crying in a cartoonish way and that's what the audience finds nice. That's how their characters are and it's really nice working in the film with them.
As for Johnny Lever sir, he is the best. I have been a fan of him. When we were kids, he was so important in all the films. And when we were shooting, Tik Tok wasn't banned yet, so we used to make so many videos together there. It was so much fun.
Did you find a comfort with Priyadarshan since he is also from the South industry?
Yes, absolutely. It was like the biggest plus for me in the film considering the director was Malayalam and the direction team was full of Tamilians. Half the team on film was from South while other half was from North, so there was no question of feeling out of place. Even on Bhuj, I didn't feel out of place because they were all so warm to me.
Meezaan had earlier said in an interview that Priyadarshan is a school in himself. Did you find that to be true?
Yes. He will act and show you what to do in a scene and you just have to copy that. He will just tell you what to do and would not expect anything else. He doesn't like his actors to be prepared. He won't give you the dialogues a month in advance. He will give them to you just five minutes before the shoot so it's all very natural.
Now, do you plan to focus more on Hindi films?
I have already signed my third Hindi film last April and for now I am hoping to concentrate more on Hindi. Let's see how it goes.
Who is on your wish list of actors and directors you want to work with in Hindi films?
In actors, Ranveer Singh and Shah Rukh Khan. While in directors, I want to work with Sanjay Leela Bhansali, Imtiaz Ali, Shahshank Khaitan. Shakun Batra and Zoya Akhtar. I basically want to work with everyone. Just give me 10 movies a year. I also have some lesser-known directors on my list like Savesh Newara and I want to do films like Badrinath Ki Dulhania.
Since you want to work with SLB, and Meezaan has already done a film with him. Did you take any tips from him on maybe how to impress SLB?
I have to ask him this question very importantly. But I wish it was that simple to impress a director but it would be a dream to work with Sanjay sir and I think very soon I will.
Image source: instagram/youtube