An Instagram page named Diet Sabya, handled by an unknown fashion critic, makes news every now and then. Be it any big Bollywood star or any television actor, the page makes sure to call out those, who have been wearing #GandiCopy of famous designers around the world. The latest celebrity to come under fashion critic Diet Sabya's radar is Katrina Kaif. Diet Sabya compared Katrina's recent magazine cover to Deepika Padukone's.
Taking to Instagram stories, Diet Sabya shared Katrina Kaif's Filmfare cover page and Deepika Padukone's Forbes cover page, where Katrina's styling and pose is quite similar to what Deepika did for Forbes. Pointing the similarities, the handle wrote, "Captioning the photo the handle wrote, "Kinda similar to Deepika Padukone's Forbes cover. 2) Sweater in June."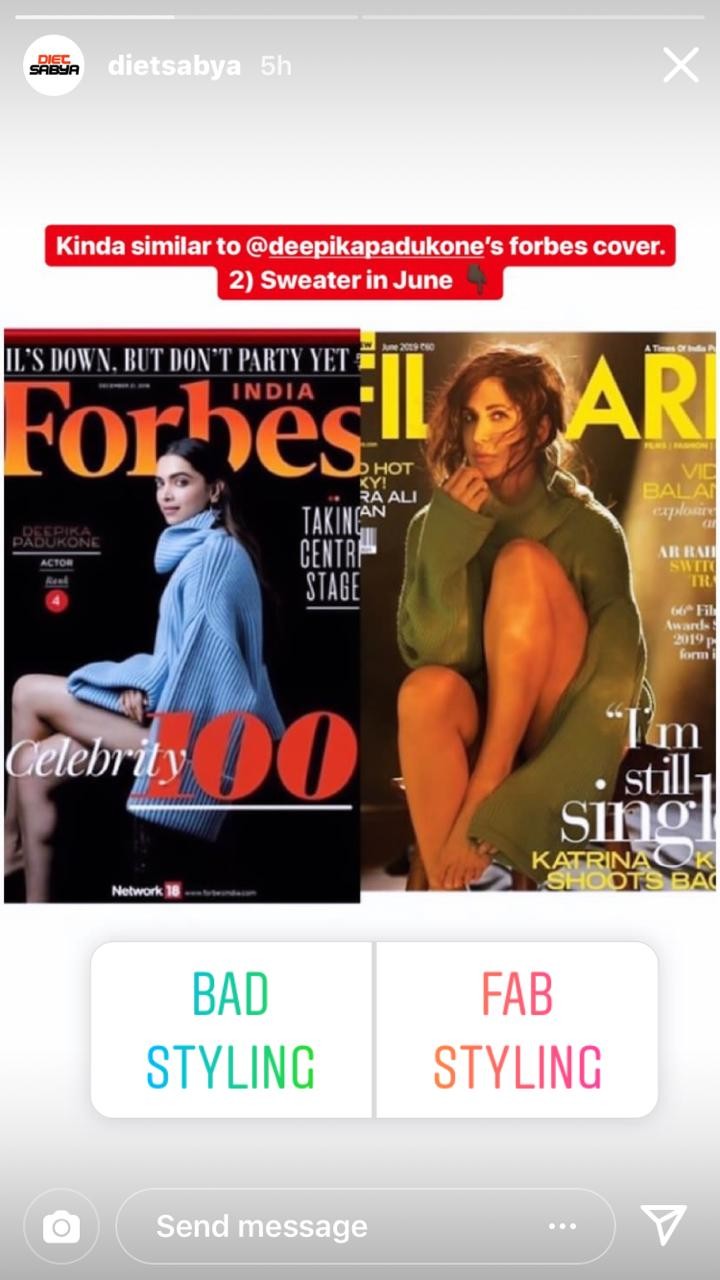 Bollywood celebs are often been targeted by the Instagram Handle. Early this year, Diet Sabya called out ace designer Anamika Khanna for copying 'Everything Is AK-OK'. When the page was slammed by the Kapoor sisters, it then had rendered an apology on social media.


Post Sonam, Shibani Dandekar Hina Khan, Divyanka Tripathi were targeted for wearing #GandiCopy. When the Yeh Hai Mohabbatein actress was called out she had decided to give it back. Replying to Diet Sabya, she had written, "Thank God, this happened with me! Else, I would not have known this side of bullying world. Few may feel embarassed and keep shut...but I prefer calling a spade a spade and bullying- bullying! Nope, I am not a regular celebrity! I am different because "Ii am no different from people watching me" & getting bulldozed for my clothing...well, not acceptable! This happened to me and I felt so pressurised suddenly, felt like digging a hole and burrying my face. Imagine this happening with people who can't afford great dresses and designs, let alone a stylist or designer. In fact, NOT ALL CELEBRITIES AND STARS ARE RICH in contrast to a common expectation."


Images Source: instagram/katrinakaif,deepikapadukone