Diet Sabya Accuses Shibani Dandekar Of Copying An Outfit; Farhan Akhtar's Girlfriend Hits Back, "You Are Seriously Starving For Content"
Diet Sabya is back to target another celebrity. This time, it's Shibani Dandekar who was criticized for her pink dress by the anonymous Instagram page. The actress, however, chose to give it back in a sassy way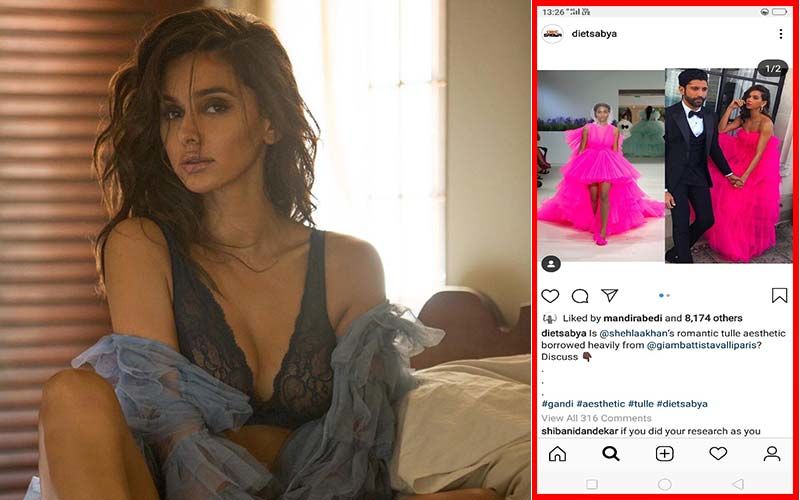 Another actress has hit back at fashion critic Diet Sabya for accusing her to do a gandi copy. The actress in question is Shibani Dandekar who was targeted for her latest pink dress. The anonymous Instagram page which is known to pinpoint celebrities' fashion sense and criticise them claimed Shibani's pink outfit is heavily borrowed from another designer.
Diet Sabya posted on Instagram, "Is @shehlaakhan's romantic tulle aesthetic borrowed heavily from @giambattistavalliparis? Discuss 👇🏿#gandi #aesthetic #tulle #dietsabya".
This definitely didn't go well with Shibani as she replied, "If you did your research as you should @dietsabya you would know that both dresses were worn on the same night within minutes of each other and images were also released at the same time!! you are seriously starving for content! stop trying to discredit designers so that you can become famous! it is tragic".
In fact in the same conversation she wrote, "@besharam_clothing".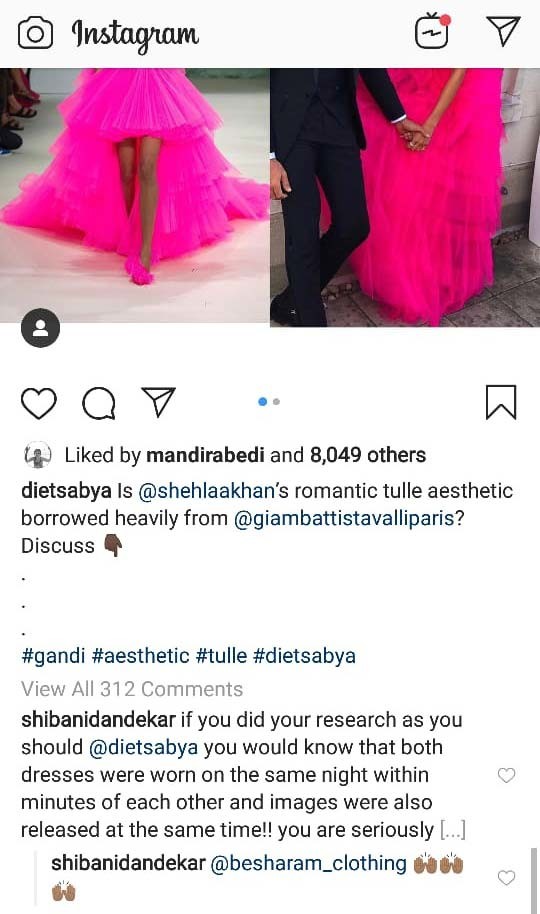 Before Shibani, many actresses gave it back to the fashion critic.
Divyanka Tripathi was targetted for copying a maxi dress' belt
. The pictures were severely criticized by Diet Sabya who pointed out that the waist belt is #gandicopy of Sabyasachi's signature belt. To which,
Divyanka replied
, "THANK GOD, THIS HAPPENED WITH ME! ELSE, I WOULD NOT HAVE KNOWN THIS SIDE OF BULLYING WORLD.
FEW MAY FEEL EMBARASSED AND KEEP SHUT...BUT I PREFER CALLING A SPADE A SPADE AND BULLYING- BULLYING!
NOPE, I AM NOT A REGULAR CELEBRITY!
I AM DIFFERENT BECAUSE "I AM NO DIFFERENT FROM PEOPLE WATCHING ME" & GETTING BULLDOZED FOR MY CLOTHING...WELL, NOT ACCEPTABLE! "
"This happened to me and I felt so pressurised suddenly, felt like digging a hole and burrying my face. Imagine this happening with people who can't afford great dresses and designs, let alone a stylist or designer. In fact, NOT ALL CELEBRITIES AND STARS ARE RICH in contrast to a common expectation."
Hina Khan was also trolled for wearing the same outfit as Nora Fatehi
and Bebe Rexha. While posting the picture of the three celebrities, Diet Sabya wrote, "Spot the fake." In the picture, the three beauties are seen wearing the same neon pink dress. Hina also shared a number of pictures of her outfit saying, "The colour pink makes everything look pretty." And giving a befitting reply in a live chat,
Hina and her beau Rocky in a subtle yet sassy manner
told how when a celeb steps out, it is an effort of an entire team and that taking inspiration from an international designer does not mean copying them.
Image Source: Instagram/dietsabya