Divyanka Tripathi's Response To Diet Sabya's #GandiCopy Post Earns Support From Karanvir Bohra And Ekta Kapoor
Diet Sabya targeted Divyanka Tripathi for copying a Sabyasachi design and the actress gave it back to them. Now, Karanvir Bohra and Ekta Kapoor have stood up in her support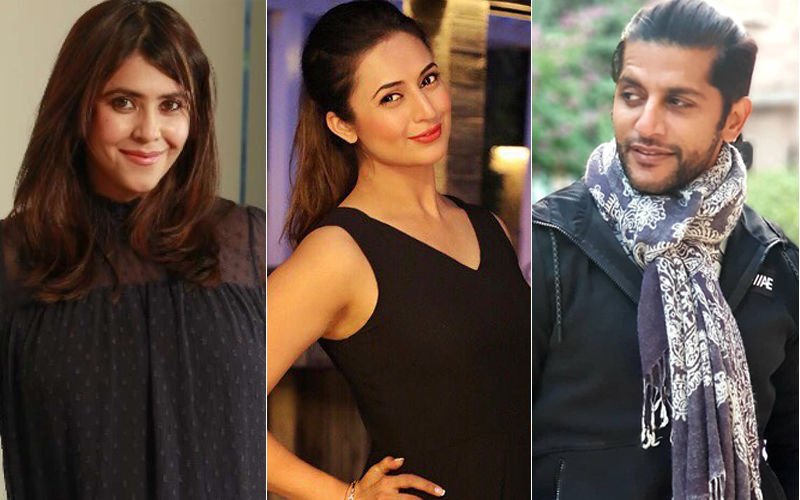 Certainly, Divyanka was not in mood to take this lying low so she gave it back with a strong reply.
And her response garnered support from television actor Karanvir Bohra, who was also an inmate in the Bigg Boss 12 house and Ekta Kapoor. Divyanka wrote, "Sorry guys! I truly wanted to forget yesterday's episode when I was slammed and humiliated (by an insta profile and it's followers) for wearing a belt slightly similar to a branded piece (which I was ofcourse unaware of). But this comment!!!!!! I just couldn't resist putting up your comment on my post!
MORE POWER TO YOU GIRL.
YOU VERBALISED WHAT I WAS THINKING.
EVEN I COME FROM A HUMBLE BACKGROUND!
MAKING MOCKERY OF PEOPLE FOR THEIR DRESSING, IS SUCH AN ARROGANT AND HIGH-HANDED, HIGH SCHOOL SNOB ATTITUDE!
THANK GOD, THIS HAPPENED WITH ME! ELSE, I WOULD NOT HAVE KNOWN THIS SIDE OF BULLYING WORLD.
FEW MAY FEEL EMBARASSED AND KEEP SHUT...BUT I PREFER CALLING A SPADE A SPADE AND BULLYING- BULLYING!
NOPE, I AM NOT A REGULAR CELEBRITY!
I AM DIFFERENT BECAUSE "I AM NO DIFFERENT FROM PEOPLE WATCHING ME" & GETTING BULLDOZED FOR MY CLOTHING...WELL, NOT ACCEPTABLE!
This happened to me and I felt so pressurised suddenly, felt like digging a hole and burrying my face. Imagine this happening with people who can't afford great dresses and designs, let alone a stylist or designer. In fact, NOT ALL CELEBRITIES AND STARS ARE RICH in contrast to a common expectation.
Few become stars because of their QUALITY OF WORK and NOT WHAT THEY WEAR and HOW MUCH THEY EARN or FOR THEIR KNOWLEDGE OF FASHION WORLD! Everybody has a different forté!
Bullying and belittling someone for that is SO DISHONORABLE, MEAN and VAIN! .
(PS : I could be right or wrong but at least I don't keep shut when being humiliated! It's a lesson for my readers-
"Speak up for yourself when oppressors think they are the bosses!")
Aaahh!! Bol ke kaleje ko thandak mil gai "
Ekta Kapoor and Karanvir Bohra supported her completely as they commented: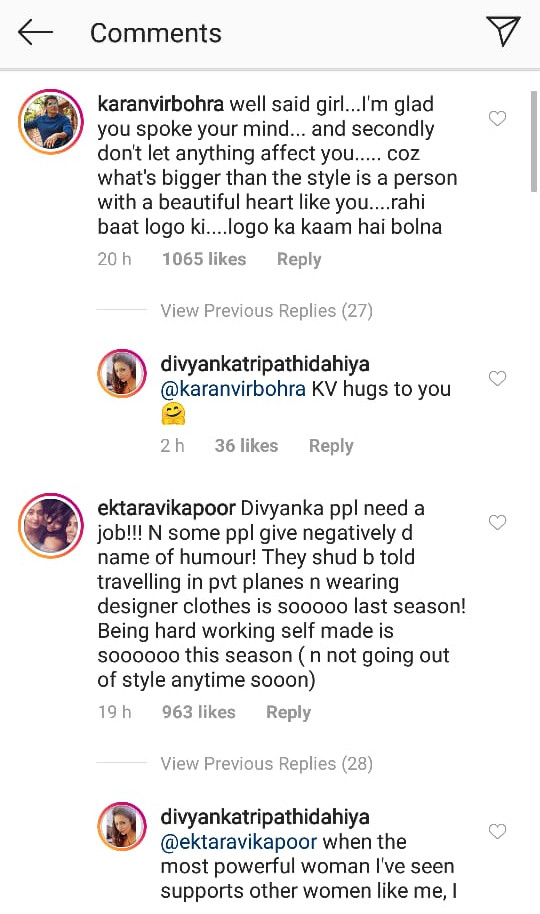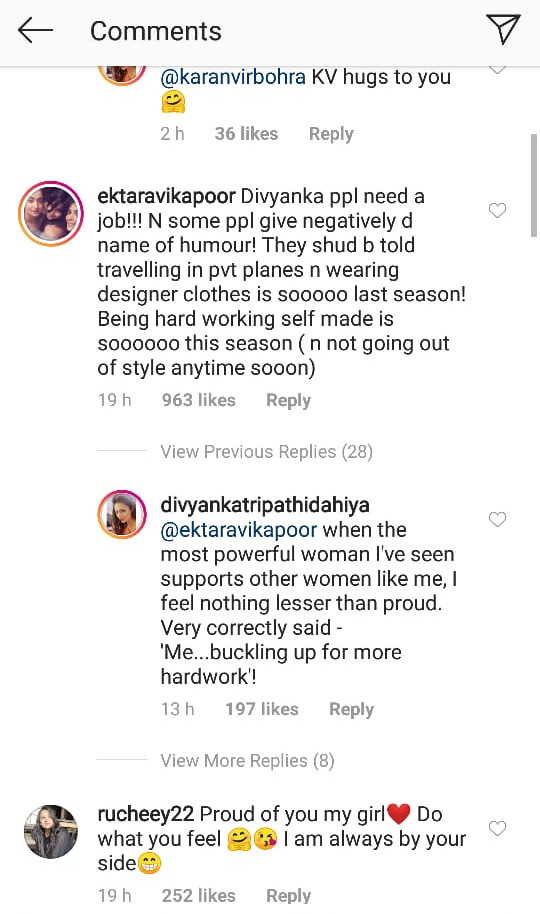 Well done,
Divyanka! You may recall that talking to SpotboyE.com, the actress had spoken about trolls by saying, "Yes, of course!
But you can't keep everyone happy all the time. Like when I post a fitness picture or a video where I am working out, even though I have lost 6 kgs, someone still comments, "Oh! You have got a big tummy, do something about it" But such things don't bother me much. Similarly, when I post my close-up pictures, while many comment that you have a lovely smile, there will be someone who will say, "You have got such a big nose". So, yes people come with various opinions but one thing is for sure, till the time that opinion comes in a polite manner and as a suggestion, it is always welcomed. But when somebody intentionally tries to harass or bash me, then I don't take it lying down. Why should I? This is my space. I just block them. Never let negativity be around you. People with positive vibes are always welcome".
Image Source:-Instagram/dietsabya, Instagram/karanvirbohra, koimoi