Esha Gupta is geared up for the release of her film One Day: Justice Delivered that also stars Anupam Kher in lead role. Ahead of the film's release,
we got talking to the actress wherein she spoke about her role in the film, and many more things
.
We asked her if she had ever faced a situation wherein she was replaced by a star-kid in a movie. Esha replied, "No, it has never happened. In fact, from my first film till now, I have been replacing others." We asked her to elaborate further and give as us an example, so she revealed, "I discovered recently that Zareen Khan was playing my role first and then they got me and I just think it doesn't matter as to Who was selected first or who was selected next. What eventually matters is who is doing the film." Well, she has a point there.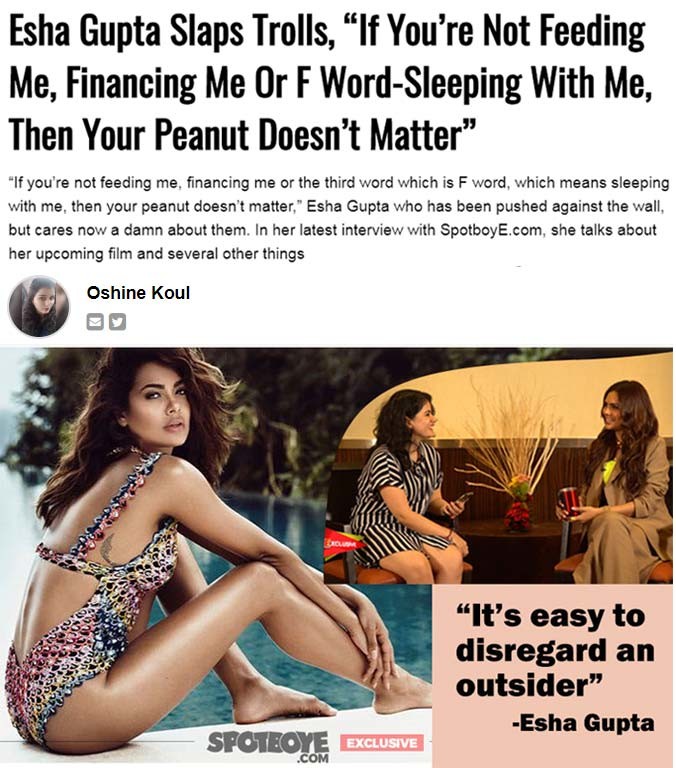 When
we asked her if it's easy to bully an outsider in the industry
, she said, "I won't say bully, but I think it's easy to disregard an outsider." When prodded further and asked if nepotism exits, she said, "Of course, it does." Finally, the topic veered towards dealing with social media trolls. When asked as to how she handles them, the actress replied, "I read this quote somewhere, 'If you're not feeding me, financing me, or the other F word, which means sleeping with me, then your peanut doesn't matter.'"
One Day: Justice Delivered will hit the big screens on July 5, 2019
.
Image Source:- aajkikhabar/instagram/egupta