The famously reticent Yash Raj scion Aditya Chopra broke his silence with a blog post yesterday. With three days to go before the release of his next Befikre, the director finally posted a blog post titled 'My Second First Film'. Written by Adi Chopra, it was posted by Ranveer Singh on his Twitter account (
Aditya Chopra Speaks Up For The FIRST Time After 21 Years!, Dec 5).
Today, there's a second blog titled 'Ranveer was in Befikre even before I was' and it reveals a lot about Aditya Chopra as a director. Aditya said that he felt exposed and scared when he decided to direct Befikre without Shah Rukh Khan but later realised that both Ranveer and Shah Rukh better his work and cover the flaws.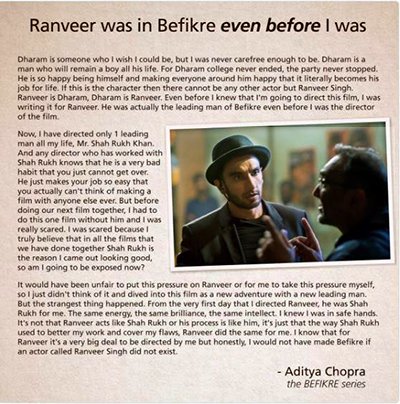 This blog not only brings forward Aditya Chopra's views on Befikre but also shows his face, which is a rare sight because the filmmaker goes out of his way to avoid the camera.
Amidst all the fun and frolic, we spotted a glimpse of Aditya's back in the making of Befikre videos. We waited till the end to see his face, but to no avail. We wondered why? But now we have the answer. Looks like Aditya Chopra was planning this surprise for his fans.
Aditya was a part of the 'making' videos of his debut film Dilwale Dulhaniya Le Jayenge. After which he completely went in to a shell and did not make any appearances to promote neither Mohabbatein nor Rab Ne Bana Di Jodi.
But Aditya is leaving no stone unturned to promote Befikre which releases on December 9. But will this new candid approach translate into box-office numbers?
Thumbnail Image Source: Manav Manglani & voompla