Salman, Shah Rukh & Aamir's Gesture For Ailing Irrfan Khan...
The three Khans have come together for another Khan in his time of need. Reports are that Salman, Shah Rukh and Aamir will help Irrfan's film, Blackmail, to get maximum eyeballs as the actor is unable to promote the film due to his sudden illness...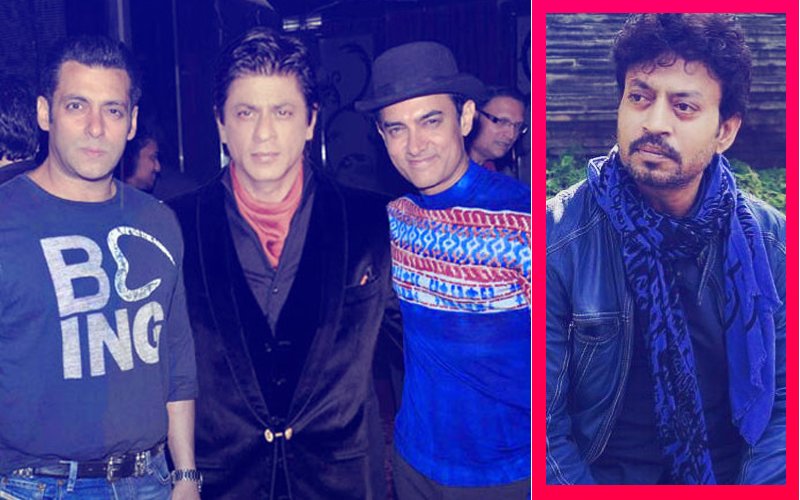 The 3 Khans of Bollywood- Shah Rukh, Salman and Aamir have reportedly come together for Irrfan Khan.

According to a report in Mumbai Mirror, the Khan trilogy will attend screenings of Irrfan's upcoming film, Blackmail, slated to release this Friday (March 6).

The reports suggest that special screenings are being organized for all 3 superstars, where they will speak about Irrfan's film, thereby getting associated with it in some way.

This gesture is truly heart-warming as the actor has not been able to promote his film at all due to his sudden illness. Salman, SRK and Aamir stepping in for him, is definitely worth appreciation.

While Irrfan's Blackmail has generated enough curiosity by its trailers and songs, the superstars' help is just a way to show their solidarity and support towards the ailing actor in his tough time.

Irrfan Khan has been unfortunately diagnosed with NeuroEndocrine Tumour and is still in London for the treatment. A few days back, the actor had shared an emotional poem on Instagram which read as follows:

God speaks to each of us as he makes us,
then walks with us silently out of the night.

These are the words we dimly hear:

You, sent out beyond your recall,
go to the limits of your longing.
Embody me.

Flare up like a flame
and make big shadows I can move in.

Let everything happen to you: beauty and terror.
Just keep going. No feeling is final.

Don't let yourself lose me.
Nearby is the country they call life.

You will know it by its seriousness.
Give me your hand #rainermariarilke

Irrfan is surely being strong in these difficult times. And Bollywood is also doing its bit to be there for him, in whatever way possible.


Image Source: imgur & instagram/irrfankhan