Sonakshi Sinha Addresses Dating Rumours With Shahid Kapoor; Says 'It Never Bothered Us, We're Good Friends Even Today'
In a recent interview, Sonakshi Sinha opened up about the old link-up rumours with Shahid Kapoor, and said that it never bothered them. She also opened up about her wedding plans, read on!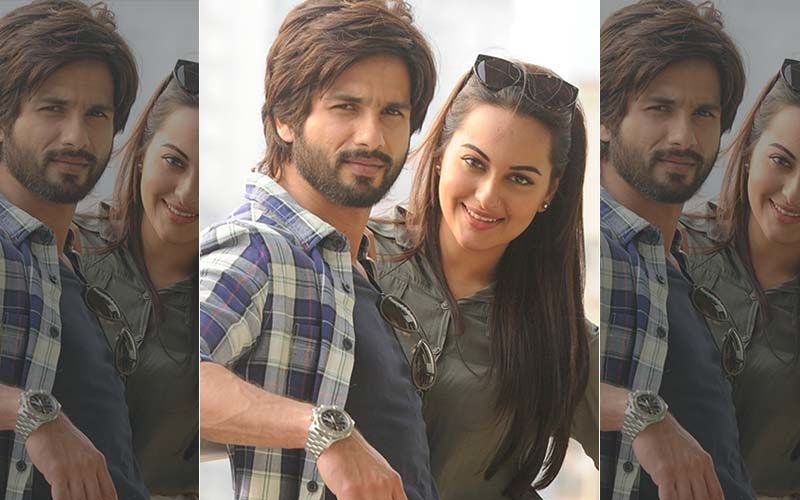 Rumours of link-ups with co-actors have been quite common in the Indian film industry especially if they're working on a project and have great chemistry together. Sonakshi Sinha and Shahid Kapoor starred opposite each other in the Prabhu Deva directed movie R Rajkumar in 2013 that went on to be a hit at the box office. There were a lot of link-up rumours during the shoot of the movie as well as after it. Now, Sonakshi has cleared the air on her link-up with Shahid Kapoor saying that was a rumour and that they are good friends even till this day.

In an interview with Pinkvilla, Sonakshi said that the rumours never bothered with her or Shahid and that they would laugh it off. "I feel like sometimes people just, these rumours just start, people don't have many things to talk about. When two single people are shooting, they are like, 'oh what to do, chalo let's start a rumour. It is quite funny. It did not bother me. Shahid and me are good friends even today. At that time, we would laugh it off too. It never bothered us," she said.
Sonakshi also opened up about her wedding plans and said, "My family doesn't pressurise me because they see how happy I am. They know I am working and enjoying my work. And I have to find a boy, only then I can get married."
Image Source: Twitter/shivaninarsingh