STOP TROLLING! What Wrong Did Priyanka Chopra Do By Wearing A Tricolour Scarf?
Change your thinking and then talk about changing the country's ideology. Priyanka Chopra yet again becomes a victim of senseless trolling because she wore a tricolour dupatta. Kudos to our mentality!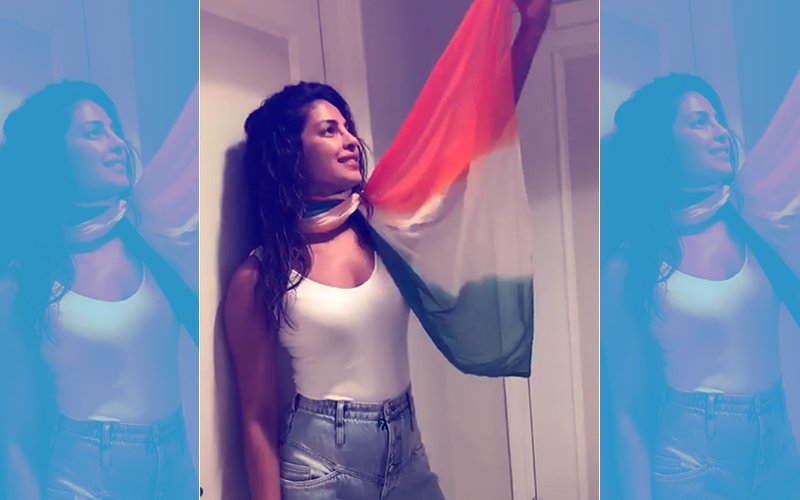 I am an Entertainment Journalist. I was attracted to this genre because I wanted to be the mediator between the celebrity and people.

With Internet's growing popularity, celebrities have a platform to keep us updated with what's happening with them on social media. But the celebs are becoming victims to unnecessary trolling because of this convenience.


Trolls, Trolls and more Trolls – it's getting on my nerves now. Every day, every picture, every post – good or bad is being trolled. Faceless Cowards who use mean language, abuses and utter dirt cheap stuff for them.
Who are these trolls – we don't know! Where are they – we don't know! How about you achieve something first and then question those who have slogged the a** and reached where they are.
Latest example,
Priyanka Chopra
, who posted a picture on Instagram wearing an amazing tank top, high waist jeans and a beautiful tricolour dupatta on Independence Day, and what happened next? She was trolled. Priyanka has been trolled for anything and everything since the time she's become a global icon. Her short dress, her accent in Quantico,
for her lips
,
nose
,
long trench coat
and this time, a dupatta.
Her fans definitely take a stand for her but the others who we call trolls are asking her to never return to India, why is she not wearing saree on Independence Day and calling her post a shameful act. Really?
Bharti Singh wore a tricolor dress – not a problem. Trolling her was not reported. Why, because she is a TV actor?
Have we become so intolerant? Baat ka batangadd kyu bana rahe hain?
Those are just tricoloured clothes available in every street and corner, on traffic signals days before Independence Day – everyone wears it. Do we start trolling common people who wear tricolour scarfs, dupattas, dresses, jewellery?
Utter bulls**t. X actor sitting and eating Hamburger – Troll (he must be eating beef). Y actress wearing a bikini at Miami beach – Troll (she's an Indian and should not wear a bikini). Z actress takes a selfie – troll (she has got a surgery done). C actor working out in a gym – troll (he/she is fat or skimpy). When do we stop with this?
Yes, I have written stories about celebrities getting trolled but have started reconsidering all of that. Why are we spending energy and time on such insane people who cannot change their thinking but want to change the nation?
My Solution: Celebrities should just disable their comments section.
Image Source: instagram/priyankachopra