Tanushree Dutta Sexual Harassment Scandal: Kangana Ranaut Thunders, "I Appreciate Her Courage"
Not just Kangana Ranaut, even actresses like Koena Mitra and Payal Rohatgi have come up in support of Tanushree Dutta, who has claimed that she was sexually harassed by Nana Patekar during the shoot of an item song for Horn 'Ok' Pleassss back in 2008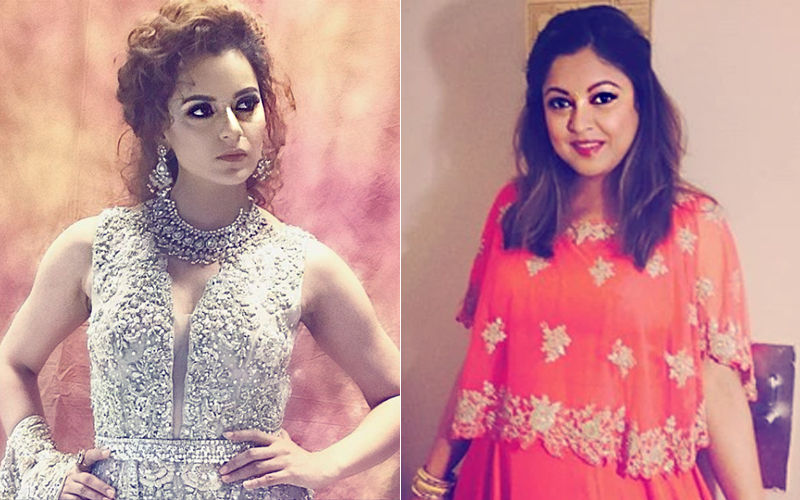 Speaking to a portal, Kangana said, "I am not here to pass judgement. That's neither my place nor my intention. I appreciate her courage to speak about alleged harassment that has been caused to her. It's her and the accused's fundamental right to speak about their experience of the same situation. Such dialogue is very healthy and it will bring about a lot of awareness. Unfortunately, the way most Indian men are raised by their mothers; they even lack basic etiquettes like lifting the lid before peeing.
Raja beta needs to be told the meaning of 'NO' as well.
It's in the interest of society that the Raja betas are told what their parents fail to tell them. They must know that the fundamental human rights are the same for men and women. Trust me, it will be news to some of them. The kind of rape, harassment and teasing news reports we hear every other day, I wonder if some of these zombies out there qualify to be a human. We need to talk about it and we all must share our stories. It will also bring a sense of shame and fear in them as they will know that a girl can stand for herself at any point in time. Our life stories have no expiry date."
Koena, as well, was supportive of Tanushree. During an interaction with another portal, she said, "Let's be honest, we need this Gundagiri to stop! We need to stop the men in the industry from dictating the narrative. Listen, I am not a man-hater, neither am I a feminist, but I have been a part of the industry too long to know how it operates. As a woman who has worked in mainstream cinema, I can openly say that you need to be subservient to men and follow their orders if you want to get work. You need to look small to make the man look big, you need to shut up to let the man be heard. You need to bow down and let the man tower over you. It's not just Tanushree but there are so many girls with so many stories that perhaps might not get the same attention or platform that she got."
Payal also spoke up about the incident in an interview with DNA. She said, "As a woman, I want to believe her (Tanushree) and want her story to be heard. It's similar to my story when I spoke about a director's inappropriate behaviour with me. But many people believed that since he's a good filmmaker, he's a good human being as well; forgetting that profession and work ethics are different from what one is as a person. Back then, directors like Anurag Kashyap and Sudhir Mishra called me mentally unstable. And, now, Anurag has spoken in support of Tanushree.
However, when the name of director Vivek Agnihotri came up, I felt this was getting a political colour
. Feminism in India is very fake. People hold placards to protest against a rape allegedly in a 'Devasthan', but those same feminists don't speak against the rape of a nun. Just because of the #MeToo movement in Hollywood, after Oscar-winning actresses including Angelina Jolie came out and spoke against Harvey Weinstein, we also want to talk about something that has been happening in Bollywood for long; like several years ago, Mamta Kulkarni had spoken against filmmaker Rajkumar Santoshi. It (The Dibakar Banerjee incident) did affect me, but I didn't give up. I didn't do films for a few years, instead, I took up reality shows. There are a lot of criteria when people want to support you and when they don't want to. I fail to understand why the #MeToo campaign in India didn't gain momentum when Malayalam actor Dileep was arrested after an actress was abducted and assaulted or when Telugu actress Sri Reddy was banned for talking about sexual harassment. These instances were more deserving of the #MeToo movement than anything else. We should be talking if an incident like this happens, but we should treat all such instances equally, not selectively."
Meanwhile, reports of Nana sending a legal notice to Tanushree have been doing the rounds. Refuting the speculations, the actress released a statement which read, "Given the recent developments I am putting together a team of lawyers and advocates to defend my interests.Also contrary to claims made by nana's lawyer I have not received any legal notice.So bluffmaster gogo needs to step up his game a bit here.Instead of making empty threats to intimidate me into silence, send me a legal notice and then you will see what I will do with it!! Another very important issue that this current scenario raises is how when a victim speaks up there are morally bankrupt and corrupt lawyers and advocates who come forward to defend serial harassers and offenders for their two seconds of fame. Despite witnesses coming forward and all evidence in my support im being subjected to criminal intimidation and harassment by nanas helper.Im sure this guy has many skeletons in his closet too as birds of a feather always flock together. This is the story of countless millions in our country who are still waiting justice because they got dragged into a web of legal mumbo jumbo and were silenced into submission. They make a mockery of not only our judiciary but also our esteemed constitution by trying to disrupt a person's freedom of speech by such threats. This lawyer along with his client should both be questioned and taken to task. I have a humble request to the bar association of India to call out and take action against him and other such people who help perpetators further harass their victims and witnesses in the name of law (sic)."
Image Source: instagram/iamtanushreeduttaofficial/teamkanganaranaut