Tanushree Dutta 'Thanks' Priyanka Chopra & Twinkle Khanna For Support But Has A Problem With Their Tweets
Tanushree Dutta has appreciated Priyanka Chopra and Twinkle Khanna's tweets supporting her fight against the sexual harassment charge against Nana Patekar. However, she has some queries. Read on to know what they are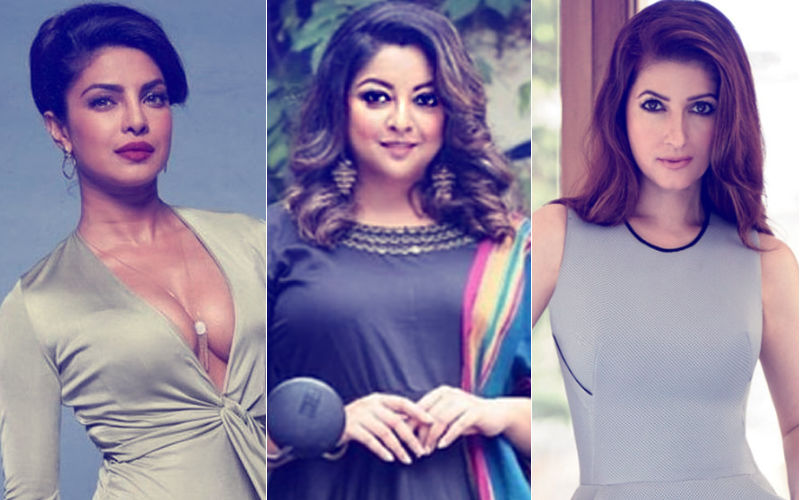 Tanushree Dutta's sexual harassment controversy against Nana Patekar is the current burning topic in B-Town
. Tanushree has spoken up about being harassed on the sets of Horn 'Ok' Pleassss back in 2008 by co-star, Nana Patekar. Past two days,
she has been getting support from many people
in the film industry. Priyanka Chopra, Twinkle Khanna,
Sonam Kapoor, Parineeti Chopra, Kunal Kapoor and many others
have openly lent their support to Ms Dutta. She is indeed happy that she is getting support from celebs, but she has a few queries from Twinkle and Priyanka.
As Tanushree's controversy is gaining momentum, Nana is out of town shooting for Housefull 4, starring Twinkle's hubby dearest Akshay Kumar. Tanushree isn't quite happy about that. Talking to Zoom, the actress said, "Thank you, ma'am, for supporting me but your husband is about to or is even shooting the film with Nana Patekar. What about that?' She further added, 'that is the question I am asking and how much of that support is genuine because if it doesn't result in any kind of disciplinary action. They have not apologised to me and they are already spinning lies so when you go ahead and work with them they have the sense of victory. I have gone through ten years of what I have gone through and the losses that I have incurred financially, emotionally and psychologically with my reputation are irreparable."
Please read this thread before judging or shaming #TanushreeDutta a working environment without harassment and intimidation is a fundamental right and by speaking up this brave woman helps pave the way towards that very goal for all of us! https://t.co/f8Nj9YWRvE

— Twinkle Khanna (@mrsfunnybones) September 28, 2018
Not just Twinkle, Tanushree also spoke up about Priyanka's tweet calling her a survivor. "Well, it's amazing. She (Priyanka Chopra) has finally decided to join the bandwagon. It's probably a smart thing to do at this point of time. But I just want people to know that I am not going to be reduced to a survivor. I have a name, I have a story and I have this truth that I am trying to get out because it's not for me but for people who will come forward in the generations to come," said Tanushree while speaking to Zoom.
Amidst all this, Tanushree's sister Ishita Dutta also spoke up about her sister's sexual harassment controversy. During an interview with a section of media, Ishita opened up saying, "What she (Tanushree Dutta) is trying to achieve is that she is trying to set an example. If something like this happens, it is not your fault. You should not shy away from it. And speak about it. I still remember, I was at home and I saw the video; people jumping on the car, banging the glass, the horrified and terrified face of my sister and family. I was so scared because I wasn't there with them. I didn't know what to do. That memory will never go away."
Image Source: instagram/iamtanushreeduttaofficial/baywatchthemovie/filmymonkey