Twinkle Khanna HITS OUT at Mallika Dua, Says What Akshay Kumar Said Had No SEXUAL CONNOTATIONS
In her latest tweet, Twinkle Khanna supports Akshay Kumar. The lady who is known to be upfront and vocal asks if Vinod Dua's deleted post "I'm going to screw this cretin Akshay Kumar" should be taken literally too?...
Akshay Kumar and Mallika Dua have been making it to the headlines, thanks to Akshay's offensive comment aimed at the lady, "Mallika Ji, aap ghanti bajao main apko bajata hoon."

SpotboyE.com told you that Mallika had lashed out at Akshay in an open letter, asking if he would not be offended if the same joke was on his daughter Nitara?

And now, his wife, Twinkle Khanna, has jumped into the controversy, supporting her husband with an open letter on Twitter.

The actress has slammed Mallika Dua's father, Vinod Dua for his statement where he said, "I am going to screw this cretin Akshay Kumar." Read Twinkle's full statement here:
For those who've come in late, a video is going viral on social media wherein Akshay is seen telling Mallika while ringing the golden bell, "Mallika Ji, aap ghanti bajao main apko bajata hoon." This happened on the sets of popular TV show The Great Indian Laughter Challenge a few days back and has left the Duas enraged.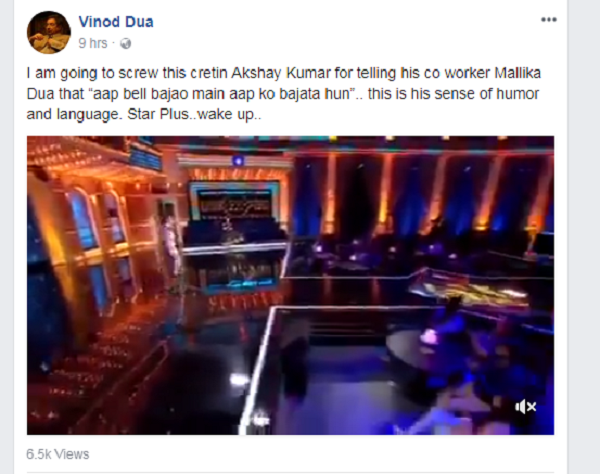 Sources close to the channel have blasted the Duas stating that the clip that they referred to while accusing Akshay was from the very first episode. So, if they did have a problem with the comment, why did Mallika continue to shoot the rest of the episodes with Akshay? "The clip belongs to the first episode, and if Mallika had a problem with it why didn't she raise the alarm right then? She continued to shoot with Akshay for further episodes, and they got along well. Why has this post only come up after the news of being replaced from the show?" the source questions.

Coming back to Twinkle Khanna's stance, do you think what she is trying to say here is legit? Tell us in the comments below.