What goes around comes around. This saying seems to be turning true for Vivek Oberoi.
The actor tweeted a meme yesterday, taking a jibe at Aishwarya's past relationships with Salman Khan, himself and her eventual marriage to Abhishek Bachchan.
The meme took the angle of Exit Polls. Clearly, it seemed like the actor wanted to cash in on his soon-to-release film on PM Narendra Modi.
In no time, it turned out into a major controversy as the actor started getting trolled massively and even
celebrities expressed outrage on social media
. Amongst them were Sonam Kapoor, Madhur Bhandarkar, Urmila Matondkar who made their disappointment evident. Later,
National Commission For Women sent him a notice demanding explanation over his tweet on exit polls.
Meanwhile, last night, during a special screening of Modi biopic in Delhi,
the actor defended his tweet and even mocked Sonam Kapoor,
who
called his meme 'disgusting and classless'
. Said Vivek, "React a little on things like this, don't make it political please. This is life. People move on. Not a single obscene comment was there. I am ever ready to say sorry. But tell me what wrong have I done? The story happened and it's everywhere in media for ages. So it's nothing like I am claiming something. I just forwarded it. Let woman commission come. I will also clarify. How much have people like Sonam Kapoor who criticized me worked for women empowerment? I am working for the empowerment of abused women for ages. Sonam was more busy with her makeover."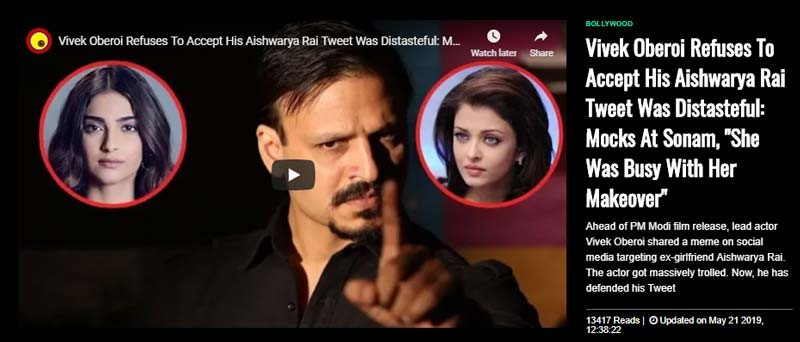 Story Thumbnail

Then, in another interview,
he yet again took a dig at the actress
and said, "Aap apni filmon mein thoda kam overact karein aur social media pe thoda kam overreact karein. I've been working in women empowerment for 10 yrs now. I don't think this is hurting anyone's sentiments. Sometimes people do such things to look cool. I want to ask Sonam how much she has worked on women empowerment."
Vivek apologised and deleted the tweet.
However, the damage has been done and we don't think this controversy is going to die down anytime soon. Meanwhile, Aish's hubby Abhishek has maintained silence so far and netizens have been urging him to speak up whereas his father, Amitabh Bachchan had co-incidentally had put up a tweet saying, "Social media par soch samajh kar zikr karo, ae-dost, kahin saamajik aitabaar se gair munaasib na ho." This was just hours before Vivek's tweet.

Image Source:wordpress.com,Twitter/SalMansCommando,SarcasticRofl